Well, this is officially the least frequent route on the MBTA – every 24 hours! In other words, the 434 only runs once a day in each direction, with one trip inbound in the morning and one outbound in the evening. I took the latter one, although things didn't exactly go as expected on the trip…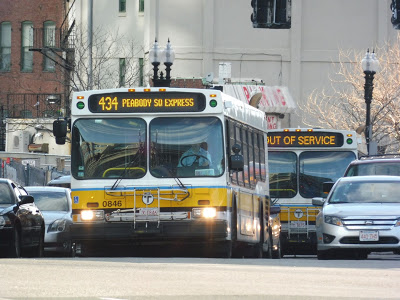 The bus coming into Haymarket.
After about 50 million 111s, the 434 finally arrived at Haymarket Station. I was expecting it to have more people, but with few on board, we headed up onto North Washington Street. And then…continued down North Washington Street? And…uh…over the Charlestown Bridge? And then…onto the on-ramp for the Tobin Bridge? What madness was this? The 434 is supposed to use the Callahan Tunnel!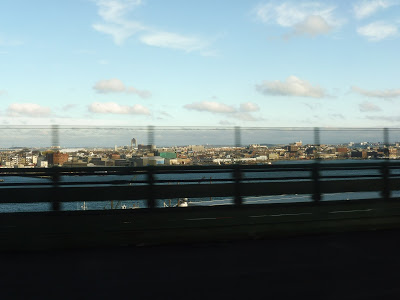 Still, though, can't get enough of that view!
We continued on Route 1 through Chelsea, curving through the city on the elevated highway. Eventually it returned to ground level, and after that, we took the exit for Revere Beach Parkway. I have to be honest, I had never been on this exit before, and had no idea it existed. You learn something new every day, I guess!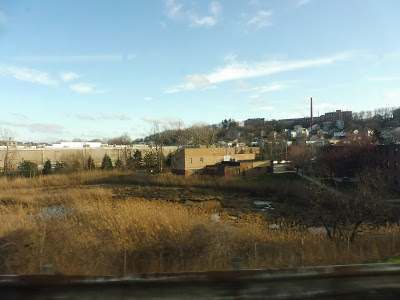 What is this mysterious land???
Revere Beach Parkway was sort of a pseudo-highway, with a few proper interchanges but also some level intersections. Oh yeah, and it was wall-to-wall traffic. After a miserably long amount of time stuck behind other cars, we finally got to Bell Circle, rejoining the ACTUAL route.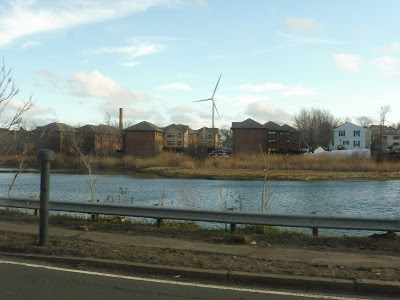 A pond and a wind turbine seen from Revere Beach Parkway.
Now on American Legion Highway, we passed various motels, businesses, houses, parks, churches, industrial buildings – it was pretty varied. However, things got primarily industrial at another rotary, and once we merged onto the Salem Turnpike, it was just marshland. We started going fast at this point, with pretty much nothing on either side of us.
Well, there are those buildings wayyyyyy in the distance.
Eventually, the street curved onto a bridge and became Western Ave – we were in Lynn now. The surroundings were still industrial, but we did manage to go by West Lynn Garage without a driver switch, which was a relief. It was urban after that, the street becoming lined with houses and businesses.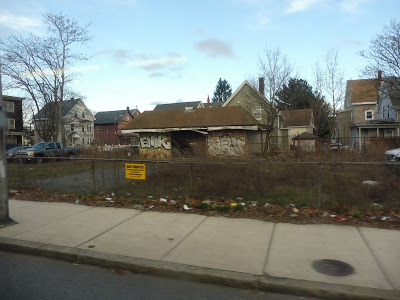 An abandoned piece of land.
Market Square branched off the road heading toward downtown Lynn, but we were having none of that. Remaining on Western Ave, it got more residential, with dense houses and apartments lining the street. There were still plenty of businesses, though, including a huge Stop and Shop at the intersection with Washington Street.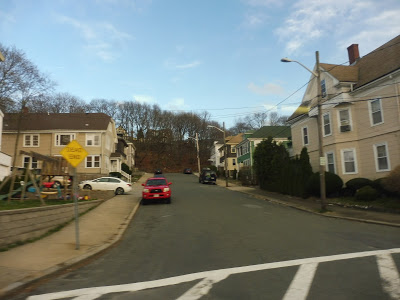 A hilly dead end street.
We soon reached Chestnut Street, onto which we turned, joining the 436. After going by a corner of Flax Pond, the street became Broadway, and was lined with houses. However, the retail came back in the form of Wyoma Square, which featured a block of small businesses.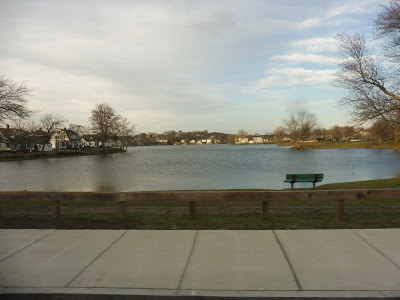 The lovely Flax Pond.
The street was now called Lynnfield Street, and it was once again residential, coming close to Sluice Pond. After that, there was a cemetery on one side, then the street made a few curves in an "s" formation. By this point the houses weren't as tall or close together, and it generally felt more suburban.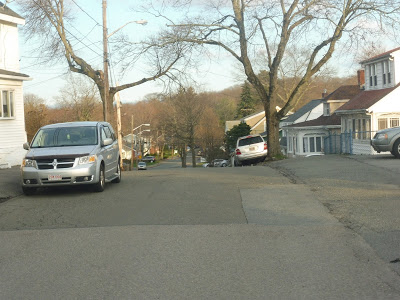 A hilly residential road.
We passed a hospital, then the street went under some pylons. We then arrived at Goodwins Circle, straddling the border between Lynn and Lynnfield. The bus would normally go all the way around the massive rotary in order to serve the Goodwins Circle stop, but no one was going there when the driver asked, so we merged right onto Salem Street instead. This became a different Lynnfield Street as we entered Peabody.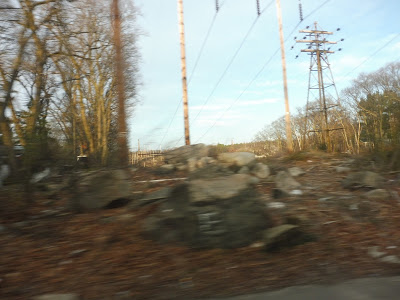 Oh gosh…worst pylon picture ever.
It was residential for a while, though there was a YMCA at one point. We also passed some office parks at the intersection with 1st Ave, where the 436 goes – I believe that route goes by many more of those on its way to the Liberty Tree Mall. However, we stayed on Lynnfield Street, now on the 434's only independent section.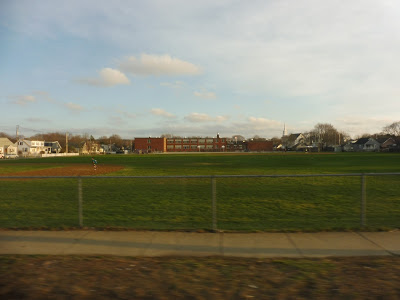 That's a big field.
Not that it was a very interesting section. It was just a bunch of houses, and there weren't any stops along there, not even at the occasional shopping plaza or school! We soon merged onto Washington Street, though, joining the 435 and making stops once more. After passing a factory, the houses got denser and eventually gave way to the businesses of Peabody Square. However, the 434 didn't go into the square itself, with the last stop at the intersection of Washington Street and Main Street. The bus went "out of service" after letting me out and headed back towards Lynn.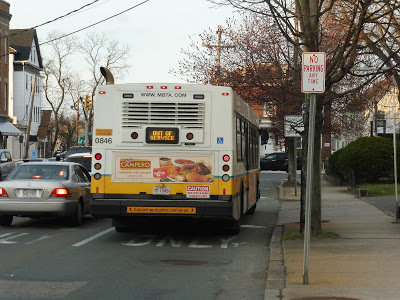 Goodbye, 434!
Route: 434 (Peabody – Haymarket EXPRESS via Goodwins Circle)
Ridership: Considering it only runs once a day, one can expect the 434's ridership to be quite low. It is the third least-used MBTA bus route behind the 431 and 171, with only 60 riders per weekday. Still, though, that averages out to 30 per trip, which is pretty much optimal for an express. My ride had fewer people, though, with only about 20 passengers. Perhaps it's because it was on a Friday, or maybe the inbound trips just get more ridership.
Pros: Well, the main pro is that it serves a lot. The 434 is the only express service that runs to Peabody, and it serves a good amount in the process. In fact, only three or four people went as far as Peabody, with the others getting off before that. Also, I know once a day seems like an awful schedule, but considering its ridership and the fact that it's a niche route, I think it's suitable for the 434.
Cons: HOWEVER, what was the deal with that Tobin Bridge fiasco? I would imagine going over the bridge and cutting across Revere takes longer than just heading through the Callahan Tunnel like the route is supposed to do. Perhaps there was traffic in the tunnel and the driver was aware of that? I mean, we still hit traffic on Revere Beach Parkway. Also, why are there no outbound stops on the 434's independent section? Sure, it's a short part of the route, but it has stops on the inbound side (though not too many)! Why give people a way of getting into Boston with no means of getting out?
Nearby and Noteworthy: Peabody Square is definitely the most interesting locale the 434 serves. With a surprisingly eclectic selection of small businesses, (including a model train place!) I can easily see myself spending a few hours here. When you're hungry, Downtown Pizza offers cheap slices and very friendly service, especially for a pizza joint.
Final Verdict: 5/10
This is not one of the better North Shore express routes. Sure, it does serve a large area that no other expresses serve, but why doesn't it make any outbound stops on its independent section? Plus, I don't know what the deal was with the Tobin Bridge routing. It may have been a nice view, but it was A) a complete deviation from the regular route, which isn't good, and B) a longer trip! I guess the 434 does its job fine, but it could really use some improvements with stops and consistency (i.e. not making random deviations for seemingly no reason).
Latest MBTA News: Service Updates