Okay, I really wish I was doing a review of the 431 right now. When the 435 reaches Lynn, it does a tiny separate loop route, the 431, and then returns outbound. I was planning to take the 431, do the loop, and then take the 435 up to the mall. Unfortunately, things didn't exactly turn out that way, as you've probably read here. Thus, we're just looking at the 435 today.
The bus in Lynn.
Leaving the Lynn Commuter Rail Station, we headed up Union Street, then turned onto Central Square. The multi-story buildings of downtown Lynn lined the street, but they thinned out when we merged onto Washington Street. There was a block of pseudo-industry, then there were dense houses on either side, with the occasional business.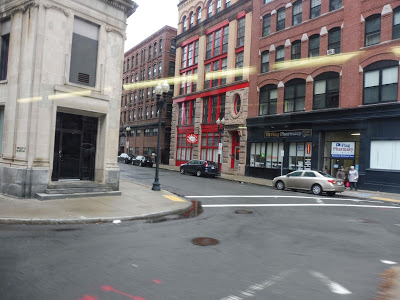 Downtown Lynn.
We eventually reached a Stop and Shop and a gas station, and here we turned right onto Boston Street. I would like to point out that two rush hour trips in each direction turn left here instead, taking an alternate route through a different neighborhood. Along the main route, though, Boston Street had a forest on one side and businesses with big parking lots on the other.
The intersection of Washington Street and Boston Street.
We soon turned onto Chestnut Street, getting a nice view of Flax Pond (on the opposite side of the bus from me, unfortunately, so I couldn't get a picture). We left the big parking lots behind, but it wouldn't be the last time we would be seeing them along this route. Chestnut Street was lined with dense houses and businesses, then we turned onto Maple Street, which was mostly residential.
The road became Euclid Ave, and it went right up to Flax Pond, which was again on the left side of the bus. It's too bad, too, because this view was great. This curvy road still had dense houses along it, and they lasted all the way up to when we turned onto Broadway, where we rejoined the rush hour deviation.
There was a bit of retail at the intersection, but Broadway was also lined with houses for the most part. We went through a cemetery, and soon after, we entered Peabody, the street becoming Lynn Street. And then there was another left-side pond view that I couldn't get a picture of! Come on, 435! Let the people sitting on the right have some views, too!
The street passed under some pylons, and now the houses were getting slightly more spread out. We went by a church, and later on there was a bit of retail, but residences were the predominant surroundings. Soon Lynn Street and Lynnfield Street merged, becoming Washington Street, and there was heavy industry and a whole bunch of open land on the left side of the bus (meaning no pictures – again).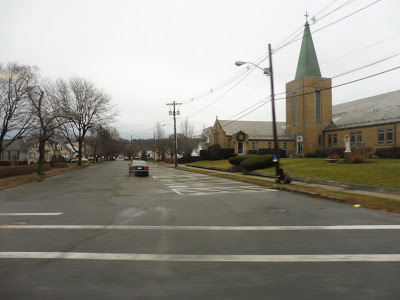 Well, at least I have a picture of a church and a side street!
The industry continued for a little bit, then the houses got a lot closer together. Also, the dividing line between the two sides of the street was colored red, white, and blue, which is always a nice touch. It also usually signifies a downtown, and sure enough, we soon reached Peabody Square!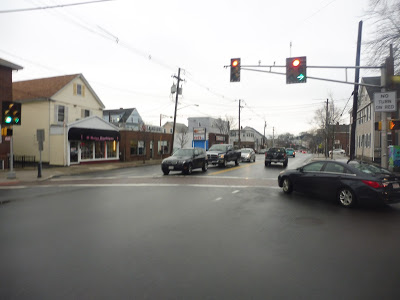 Mmm. Gotta love the blurry photo looking in the opposite direction of the square itself.
We turned onto Main Street here, which was lined with lovely two-to-three story brick buildings with businesses on the ground floors. There were also some historical buildings, like the Peabody Institute Library, and some modern ones, like the brutalist (admittedly pretty ugly) Peabody District Court. We turned onto Central Street, crossing a seemingly unused train track, and soon left Peabody Square behind.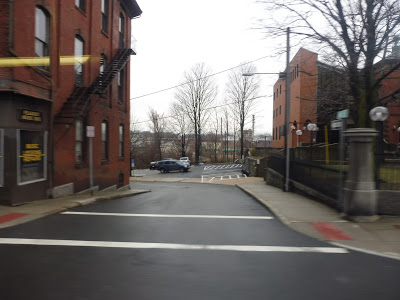 A side street in Peabody Square.
The road was residential once more, up until the intersection with Endicott Street. Here, there were a few retail blocks. The street we were on became Andover Street, and it was once again all houses. However, that all changed once we went on a bridge over Route 128. Things would never be the same again beyond that bridge…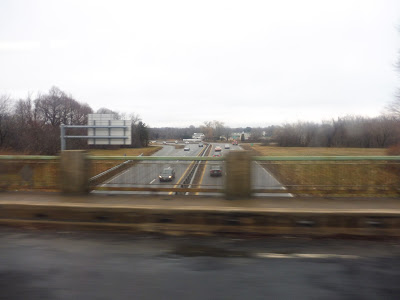 Abandon all hope ye who cross this highway…
On the other side of the bridge, we entered a massive parking lot. And when I say massive, that does not even properly convey how big this parking lot was. Slowly navigating between the cars, we arrived at the Northshore Mall bus stop. A lot of the passengers cleared out here, and then it was back to more navigating through parking lots. Fun!
Boy, I love malls. The previous sentence had a sarcasm level of 57 million.
Eventually we made our way to Essex Center Drive, which curved right. We went by the Lahey Clinic, then a "postal center" and the back of a Toys 'R' Us. There were also a few more large retailers, as well as some office buildings, and of course, the ever-present parking lots. Turning onto Prospect Street, there were a few developments in view where all the houses are the same…okay, seriously. Malls, housing developments…am I in Florida again? Because I'm pretty sure I finished those posts already.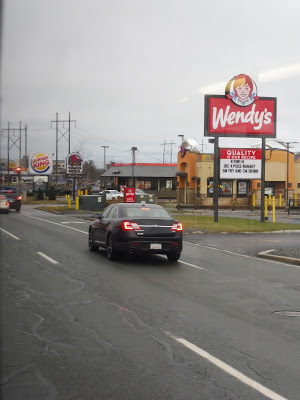 Three fast food restaurants all next to each other fight for supremacy…who will come out the victor? Well, certainly not their customers experiencing all the health problems that come with eating at fast food restaurants.
We soon turned back onto the wide Andover Street, passing more businesses with parking lots. We then merged onto Sylvan Street, and Endicott Street soon after. From there, it was time to play "Navigate Through the Mall" once more! This time it was the Liberty Tree Mall, and we pulled up to a sheltered stop to let the remaining passengers off.
The bus getting ready to go back to Lynn.
Route: 435 (Liberty Tree Mall – Central Square, Lynn via Peabody Square)
Ridership: Well, I can certainly say that MY ride was quite busy. There were about 40 people in total, which is great for a Lynn bus on a Saturday afternoon. Almost all of these riders got off at either the Northshore or Liberty Tree Malls, so clearly this a route for shoppers. I think my ride might've been some form of fluke, though, because the 435 gets pretty low ridership overall: an average of 912 riders on weekdays, 744 on Saturdays, and 385 on Sundays.
Pros: This route serves a lot of local areas in Lynn, and a huge part of Peabody. Considering this is one of only three consistent routes serving the latter (not counting you, 434), and the only one that runs on Sundays, it's pretty important. But certainly the most important places the 435 serves are the two malls. Like it or not, they generate most of the route's ridership, especially on weekends. Now, I'm of two minds about the schedule, but considering it's a long suburban route (especially weeknights, where it gets extended to Danvers Square), I guess it makes sense – about every 70 minutes all day weekdays and Saturdays, every hour at night, and every 110 minutes on Sundays. Okay, that last one is pretty terrible.
Cons: Of course, I also have a lot of problems with this route. Firstly, the schedule can certainly be prohibiting to people who might want to take the bus to the mall, since it's very infrequent, especially on Sundays. It makes sense economically, but passengers won't like it. Secondly, the route itself can be really twisty at certain points. The Lynn section is all over the place, while it takes up to 12 minutes to get between the Northshore Mall and the Liberty Tree Mall. I guess the former is to serve local neighborhoods and the latter is to serve the Lahey Clinic, but the route could be a lot more efficient. Finally, there's the issue with the 431. I can't tell if this short loop is an efficient way of taking up layover time, or a hindrance that prevents the 435 from running more frequently. I'll look at this more in depth once I ride the 431.
Nearby and Noteworthy: As one who's not a fan of malls, I would instead recommend Peabody Square. It looks very pedestrian friendly with some great historic buildings and businesses. But I suppose I'm obligated to talk about the malls, too. Personally, I think the Liberty Tree Mall looks better than the Northshore Mall for the sole reason that the former has a movie theater and even a Skyzone! Best mall ever.
Final Verdict: 7/10
It has to be said, a lot of the issues I have with the 435 have reasons to them. The schedule is sensible considering how long the route is, the twists and turns are to serve certain places, and the 431 is…something. Also, this is the only route that runs through Peabody on Sundays, which definitely counts for something. It could certainly run more often and stand to be straightened out a bit, but the 435 ultimately serves a lot and is an important route for those places.
Latest MBTA News: Service Updates
Thank you all for the response on my Transit Tales post! The Retweets and Facebook comments helped immensely to get attention to the MBTA about what happened, so thank you so much for that.