Okay, let's talk about the 435 for a sec, a route which I gave a 7. This is a prime example of the fact that I can be incredibly wrong sometimes, because the 435 sucks. It doesn't run nearly as frequently as it should, so it's always packed all the way up to the North Shore and Liberty Tree Malls. The 436, on the other hand? Man, if you're going from Lynn to the malls, this route is so nice compared to its sibling!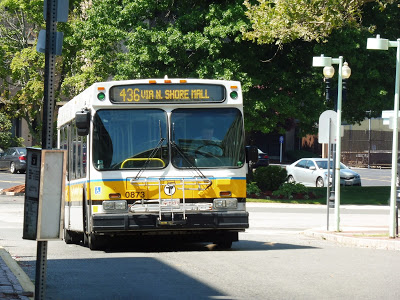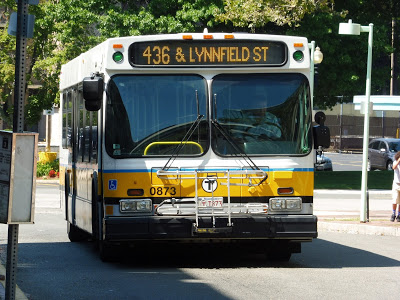 Two shots of the bus in Lynn.
Leaving the Lynn busway, we headed up Union Street, going by the businesses of downtown Lynn. We passed under the Commuter Rail tracks, and the retail continued on the other side. Eventually the scenery diversified to become a mix of residential buildings and businesses, then we turned onto Chestnut Street.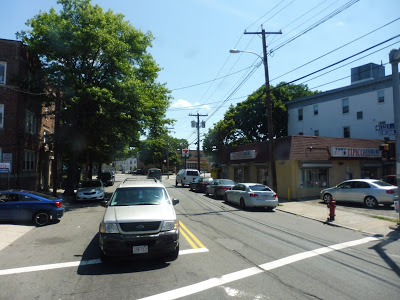 There's where the 455 and 459 go!
Chestnut Street was mostly residential, lined with dense houses. There was still the occasional business, though, especially at the intersection with Western Ave. It was here that the 434 joined our route, and the 435 a block later. There was some industrial scenery later on, but I was too focused on the view of Flax Pond to notice.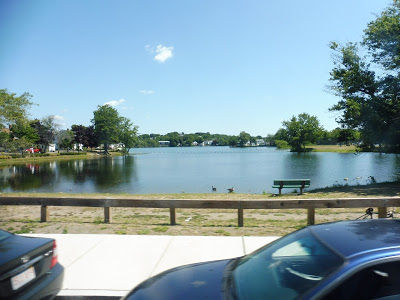 That's lovely!
The 435 left us soon after, and the street became Broadway. It gained a median, then we passed through Wyoma Square, where we headed onto Lynnfield Street, passing retail buildings. We came pretty close to Sluice Pond (but houses were in the way, unfortunately), and after passing a graveyard, the street curved north.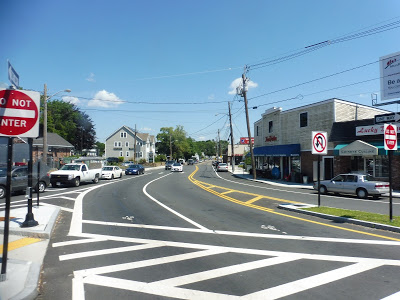 Wyoma Square.
The street was almost entirely residential by this point as it curved west once more. At one point, the houses were broken by a hospital, some telephone wires, and a small convenience store. After another residential neighborhood, we reached Goodwins Circle. We looped around the rotary in order to serve a few businesses and a housing development, then looped around again onto Salem Street.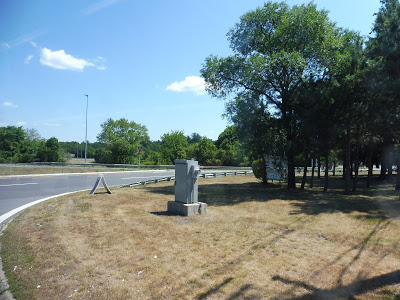 Goodwins Circle.
The street became Lynnfield Street as we entered Peabody, and it was lined with houses once again. However, those houses eventually became office parks – at that point, we turned onto 1st Ave, then Centennial Drive. The route moved quickly at this point, since the only buildings along the street were scores of office parks.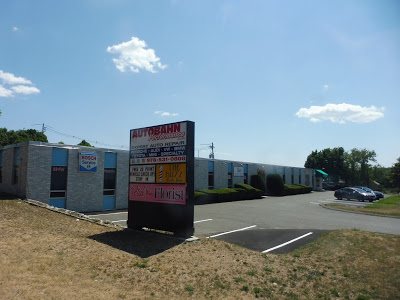 Like this one, for example.
At one point, we made an interesting deviation into a Children's Hospital, looping around the parking lot, then returning to Centennial Drive. We then turned onto Summit Street, heading up through the woods before turning onto Forest Street, which was lined with houses. Next, we turned onto Lowell Street, and after some more houses, we went under Route 128.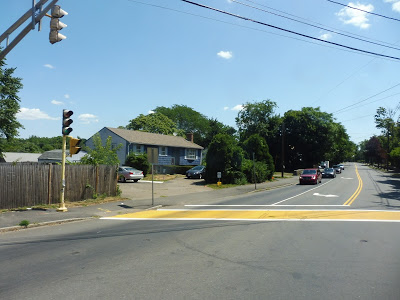 My, that's a bright crosswalk!
Eventually we turned onto Prospect Street, and Essex Center Drive later on, joining the 435 and 465. We passed a few office parks, a Toys 'R' Us, and Lahey Clinic, then made our way into the North Shore Mall. From there, we headed out onto Andover Street, then Sylvan Street, going by lots of businesses, office parks, and parking lots along the way. Finally, we turned onto Endicott Street before pulling into the Liberty Tree Mall, the last stop on the route.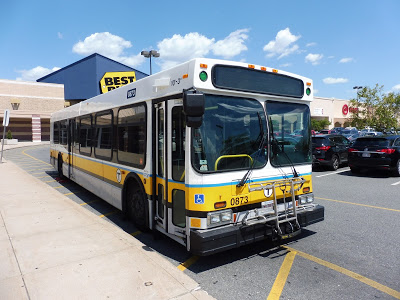 The bus at the mall.
Route: 436 (Liberty Tree Mall – Central Square, Lynn via Goodwins Circle)
Ridership: In terms of the total numbers, the 436's ridership isn't anything special – only 823 riders per weekday and 527 per Saturday. However, when you take the numbers on a per-trip basis, each bus has an average of 25-30 passengers per trip! However, it never seems to get crowded like the 435 does.
Pros: Like I said, it never seems to get crowded like the 435 does! Also, although the schedule is infrequent, it's generally sensible – every 20-30 minutes during rush hour, and every 70 minutes during the day and on Saturdays. And how about the ride? Yes, office parks make for pretty boring scenery, but it's a surprisingly peaceful trip for a Lynn route.
Cons: Sunday service would be nice, especially to take some of the pressure off of the 435, but there are definitely other Lynn routes with more pressing service needs. Also, serving Goodwins Circle always seems like a hassle, but I suppose it's a necessity.
Nearby and Noteworthy: Most people use this route for the malls…unless you like OFFICE PARKS, of course!
Final Verdict: 8/10
The 436 does its job pretty well – it gets people to work on weekdays, and it helps the 435 get people to the malls on Saturdays. Sunday service would be nice, but it's not a huge necessity. Other than that, the 436 is just really peaceful for a Lynn route, and an enjoyable ride in general!
Latest MBTA News: Service Updates