So many MBTA bus riders demand that their routes get more service, whether they're deserving of it or not. Well, here's a route where those complaints are definitely justified. It seems like the 240 is always packed, no matter what time of day it is. Why could that be? There's only one way to find out…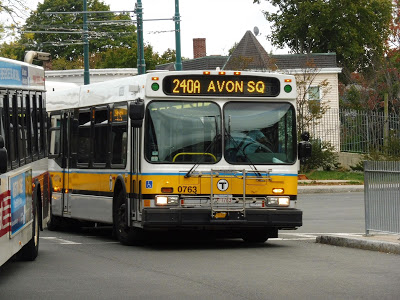 The 240 inching its way past the BAT.
After the huge crowd at Ashmont boarded the bus (and believe me, it took a while), we left the busway and headed down Dorchester Ave. It was lined with houses for a bit until we passed Carney Hospital, and later on there were businesses as we entered the Lower Mills neighborhood. There was a nice view of some repurposed factories as we turned onto River Street.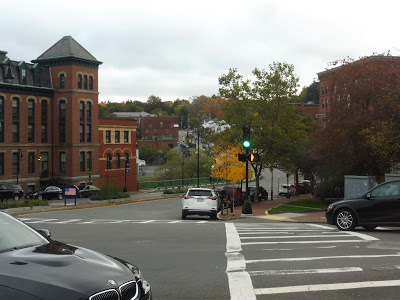 Lower Mills is such a cool neighborhood!
River Street had some houses and some businesses, but we didn't stay on it for long. Soon, we turned onto Central Ave, crossing the Neponset River and connecting with the Mattapan Line. Beyond there, the street became all residential, aside from a very fleeting view of a nice little pond.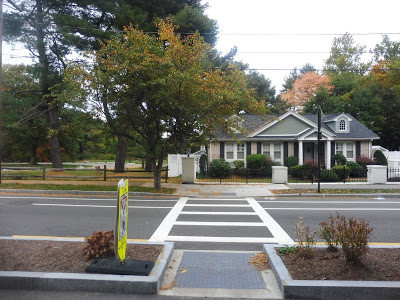 The pond is just around that house.
Outside of a middle school, we merged onto Reedsdale Road, now joined by the 245. It was still lined with houses, but there were points of interest unseen from the road: a fire station, Milton's town hall, and a hospital were all located on side streets. Next to a church, the 245 headed its own way while we turned onto Randolph Ave.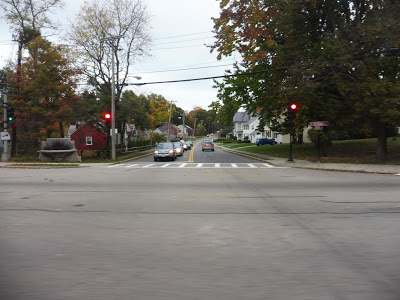 A side street.
Houses were still the principal buildings, but they were a lot further apart, and the woods basically dominated the east side of the road. We passed a golf course, and then houses lined the street again for a time. However, soon after going by a few farms, that was it – we were heading through the Blue Hills Reservation in Quincy with trees on both sides.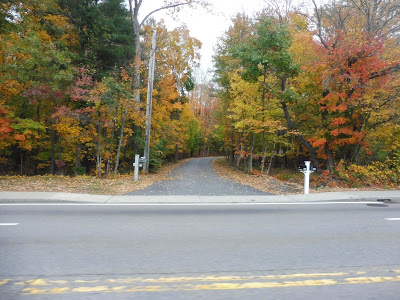 What a pretty driveway!
There wasn't much of note for a while, but once we made it past a traffic snag, the bus was going fast! We went through a gigantic cloverleaf interchange with I-93, and beyond there, we were in Randolph. The street was called North Main Street now, and we were back in civilization.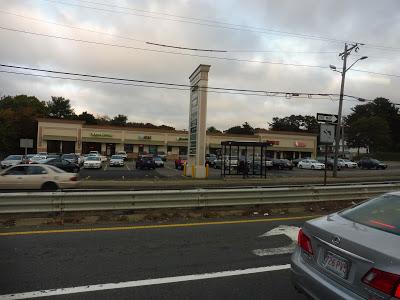 A shopping plaza.
There were a few gross parking lots and hotels immediately past the interchange, but it was houses again beyond there. This became retail pretty soon after – indeed, the street was lined with businesses. A little later it became more of a mix, with housing developments or just plain ol' houses coming between the businesses.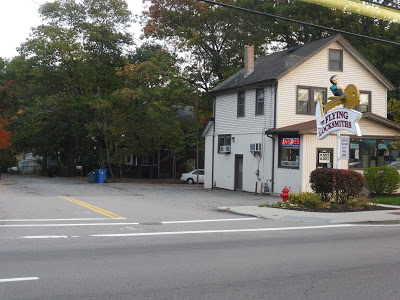 Well! It's a man on a key! Okay!
Eventually, we reached another shopping plaza. And then another. And one more! Yes, we were in Crawford Square, and shopping plazas with parking lots seemed to be popular, though there were also some normal businesses lined up along the street. On weekends, this is where many trips terminate, while on weekdays, some trips follow the 238 down Union Street to Holbrook/Randolph Station. However, we were on the full route to Avon, so instead we merged onto South Main Street.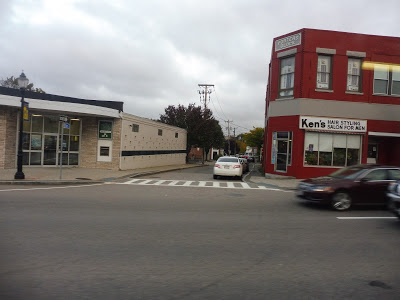 A side street in Crawford Square.
We went by a few municipal buildings and businesses before it became mostly residential again. Some telephone wires crossed over the road and we passed a tennis court, and later on, we went through a brief industrial section. Soon after that, we entered Avon, and arrived at our terminus pretty quickly from there, The driver pulled into the front drive of a church and let us off at a BAT shelter. It was a weird place to end, for sure…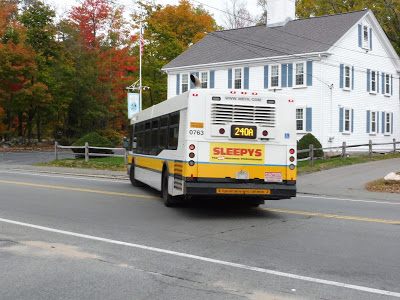 The bus pulling away toward Ashmont.
Ah, but you thought that was it, didn't you? Nope – the 240 has another trick up its sleeve. You see, it has a total of eight trips (seven on weekdays and one on Saturdays), inbound only, that run express to Quincy Center. Yup, you heard me right! So Nathan, Sam, and I waited in Avon to catch one of these strange runs, and indeed, the only one that starts in Avon – the others are from Crawford Square.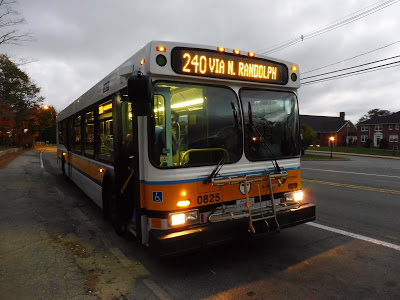 "VIA N. RANDOLPH"??? No, I missed "Quincy Center"! ARGHHHHHH!
It was the same scenery as before, up until North Randolph, back at that huge highway interchange with I-93. Instead of passing through it, we took that exit and merged right into…traffic. Okay, there was a bit of an accident on the highway, but eventually we passed it and started actually running quickly.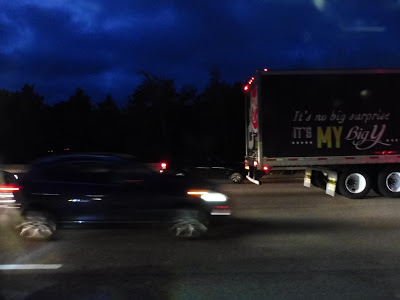 At least traffic allows for somewhat non-blurry pictures.
So, what kind of amazing things were there to see? Not much at first – the highway was just running through woods. However, there was still a really cool novelty factor of being on an MBTA bus travelling down southern I-93! Eventually, we got to see some office parks, which was…not particularly exciting.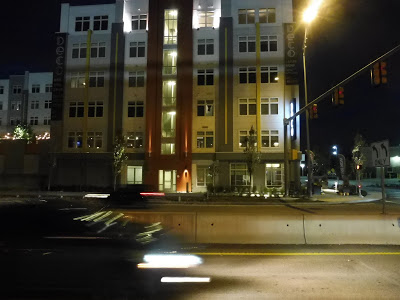 A building (after we left the highway).
We arrived at the Braintree Split, taking the exit and going on Route 3 for just a tiny bit before merging off. We ended up on Thomas E. Burgin Parkway, going right past Quincy Adams, actually! The Parkway became its own little "express" road soon after that, travelling next to the Red Line tracks without any intersections.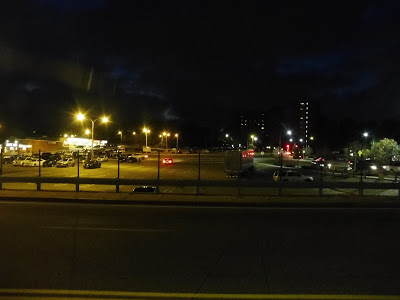 What a beautiful parking lot.
We rose up to ground level again and passed a few shopping centers. After that, we only had to pass a few houses before we got to Quincy Center – the drop-off busway to the west of the station. And with that, the bus headed off to go back home to Quincy Garage.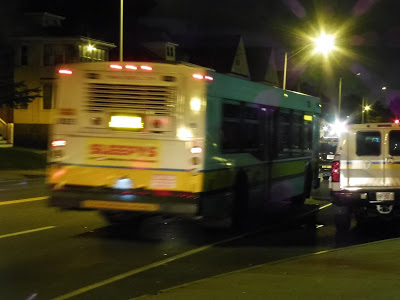 Not in service, unfortunately…I was hoping to get a picture of it signed as the 240.
Route: 240 (Avon Square or Holbrook/Randolph Commuter Rail Station – Ashmont Station via Crawford Square, Randolph)
Ridership: Very, very high. The route gets 2,912 riders per weekday, 1,640 per Saturday, and 912 per Sunday. Those numbers may not seem too large for the T, but since the 240 doesn't run as often as other routes, it's very often packed. My rush-hour trip squeezed about 50-60 people on board, and the route is frequent at rush hour!
Pros: The 240 serves a lot. A lot. The North Main Street corridor in Randolph is huge, and it's where most of the ridership goes. Also, I understand that the schedule tries its best to alleviate crowding for the most part – the route is anywhere from every 10-20 minutes during rush hour, and every half hour during the day and on Saturdays.
Cons: But the route is always so crowded. It doesn't help that it runs every 70 minutes at night and every 75 minutes on Sundays. There are also some problems with schedule intervals – on Saturdays, for example, inbound buses at Crawford Square depart on the :00 and on the :20. That means there's a 20 minute gap in service, then a 40 minute gap. I understand that this discrepancy is because the route is interlined with the 238, but it would be great if the intervals were more consistent.
Nearby and Noteworthy: Mayyyyyyybe Crawford Square, but even that doesn't seem to be too interesting. Avon Square has a historical building, I think.
Final Verdict: 6/10
The 240 tries its best, it really does – it just can't seem to satiate its crowds. Also, it doesn't try at all at night. Or on Sundays. But anyway, this is a lifeline route to Randolph, and seeing how many people use it, it would really benefit from more service, if possible. A good start would just be to even out headways on Saturday inbound service, as well as midday outbound service. Oh, and also, those Quincy express trips are fun if you ever get the chance to take one.
Latest MBTA News: Service Updates