Okay, I'll start off by saying this: Sullivan Square is admittedly better than Community College. I mean, they're quite similar aesthetically. They both have center platforms, they're both under the elevated I-93 structure, and they both use copious amounts of concrete. Don't get me wrong, I hate Sullivan for its looks. But other than that, I have to begrudgingly admit that it's a decent station.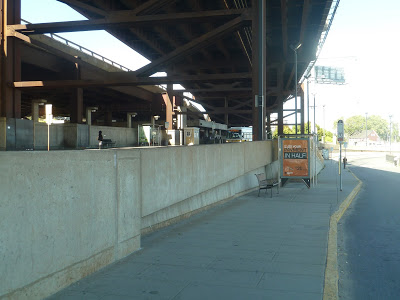 The two busways. And a highway.
I guess one good thing about the busways is that they're always sheltered…by a massive noisy highway. But they're sheltered regardless. Honestly, I do like Sullivan's busways other than that. Most of Sullivan's whopping 12 bus routes serve the upper busway, but it's well-signed which ones board on the lower. That said, the highway makes waiting there a rather dingy experience.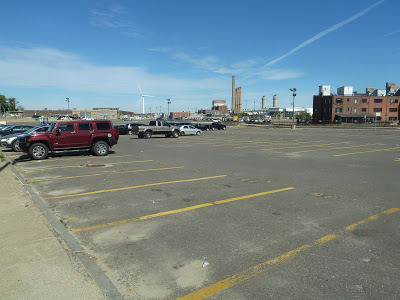 Hey, it's the sky! This is the only time you'll be seeing that at Sullivan.
Although Sullivan has parking, it doesn't have much. Its small lot holds 222 cars, and those spaces fill up quickly. That said, Wellington is the northern Orange Line's park-and-ride behemoth, and it's only two stops north. I think Sullivan's lot is basically first come, first serve, so you have to get up early if you want to nab a spot here.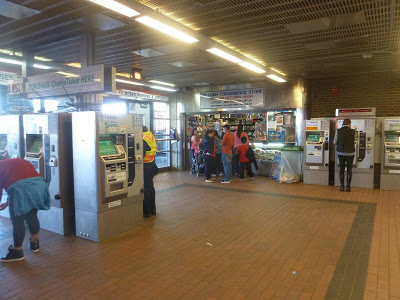 The mezzanine.
Aesthetically, Sullivan's mezzanine is just like any other Orange Line station – it's boring. That said, Sullivan once again does great when it comes to functionality. Not only does this mezzanine have a bunch of fare machines and gates, but it's got two convenience stores! Perhaps they're responsible for attracting all the pigeons to this station. Seriously, Sullivan has a lot of pigeons.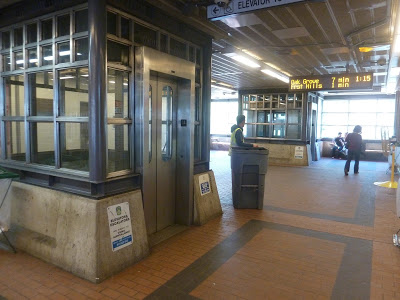 Past the mezzanine.
The area past the mezzanine is boring as well in terms of looks, but again, it functions well. This is basically an area where passengers can wait if it's cold outside, so it has benches along the walls. There are elevators leading to each platform, plus upward escalators from both (as well as stairs, of course).
The platform.
Sullivan Square's platform layout is kind of interesting, since the station has three tracks. The third one was going to be for express trains to Reading, but since that extension never happened, the track is just kind of there now. This creates the awkward situation where there are two "center" platforms, one of which serves both inbound and outbound trains.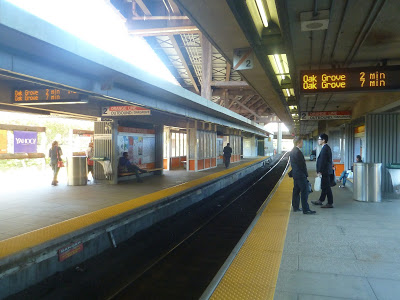 The platform, looking the other way.
So…aesthetics. Well…there's lots of concrete. And a bunch of steel from the highway above. Oh, and let me tell you, it's hard to ignore that huge structure. For one thing, it's incredibly noisy, but for another, it has a support that goes through the platform! Just look at this: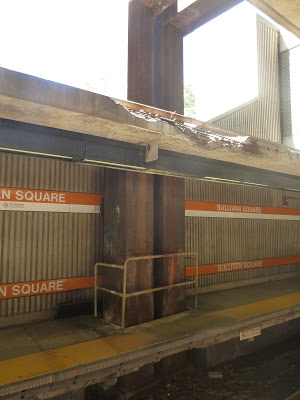 That looks…safe?
The platforms themselves are pretty standard fare. Luckily, there are regular benches to go along with those weird bench shelters, the latter of which seem to be abundant along the Orange Line. Some of the seating areas also have artwork done by kids, which is nice. I also want to just point out that the maps here say that Assembly is still yet to be opened. I mean, really?! Assembly's only one stop north, you'd think they'd update the maps.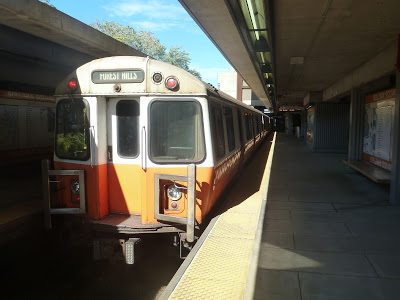 I ran onto this train after I took the picture.
Station: Sullivan Square
Ridership: I believe a large amount of Sullivan's ridership comes from buses, since it's served by a lot of busy routes. Well, wherever the ridership comes from, there's a lot of it. Every weekday, Sullivan gets 10,125 riders, making it the second-busiest station on the northern Orange Line after Malden Center.
Pros: Well, there are the buses, for one thing. As I mentioned, Sullivan is served by 12 bus routes, many of which are in the MBTA's top 50 for ridership. And not only is the station a bus hub, but its busways are reasonably simple, with good signage. Plus, Sullivan is a very straightforward station, with a clean, easy layout (aside from the platforms, maybe) and a great mezzanine.
Cons: Once we get into the aesthetics here, it starts to go downhill. I can't stand brutalism, as many of you know, and Sullivan is made worse thanks to that stupid highway. But I have a practical con, too! The platform has a few places where the space between the wall and the tracks is rather tight. It's not as bad as Malden Center, but it still feels like it could be unsafe.
Nearby and Noteworthy: You know, this flies under the radar of a lot of tourists, but there's so much to do around Sullivan! I mean, there are parking lots to run around it, huge roads to attempt to cross, industrial warehouses to gawk at, and so much more! Hmm…on second thought, maybe it's a good thing the guidebooks leave Sullivan out…
Final Verdict: 7/10
Sullivaaaaaaaaaaan! I wanted to give you a low score, but then you had to go ahead and be a decent station. Look, I know you're really straightforward and you've got a bunch of bus connections and whatever, and I guess this 7 is well-deserved. But know this, Sullivan: I hate your guts. I hate your concrete, I hate your grittiness, and I hate the disgusting highway that blocks any sliver of sun from getting down to your bland, gray platform. You may have won the battle, Sullivan, but you haven't won the war…
Latest MBTA News: Service Updates