"Miles, you don't review Commuter Rail stations!" Well, I don't usually, however I happened to be at Reading Station and I figured I'd write a review for it. And how did I end up in Reading? As usual, I had taken a bus for fun – the 137. I was going to just take the 136 back so I could do both buses in a single review (they follow very similar routes), but it turned out a Commuter Rail train was coming in 15 minutes. Since I take the Commuter Rail so rarely, I didn't want to miss this opportunity. So I left the bus behind and waited for the train at Reading Station.
Now if you haven't ridden the Commuter Rail before, you should know that Commuter Rail stations are much less impressive than their subway brethren. Many stations are simply bus shelters on strips of concrete, some minus the shelters. Reading, luckily, is a bit nicer than the others. Despite having a neglected feel, typical of suburban stations in general, it was actually very nice. It's a short walk from the station to downtown Reading, and indeed, there are businesses right by the station anyway. There's a sizable parking lot here as well, with 113 spaces.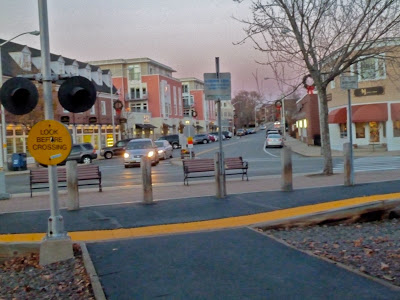 Nice view of the street and its Christmas wreaths (I was here a while ago). Keep in mind to "LOOK BEFORE CROSSING."
The station is essentially split into two parts. The majority of the platform is ground level and just concrete. There's also a building on the platform that seems to have no useful purpose. There are some nice artifacts over here, too, specifically a Commuter Rail map that dates from around 2000. I don't know why the MBTA still has it up, and as far as I remember it's the only map in the station (someone correct me if I'm wrong). I feel it works here more than it does in, say, Park Street (where there are signs saying the E still goes to Arborway/Forest Hills) – I doubt Reading is likely to attract too many tourists.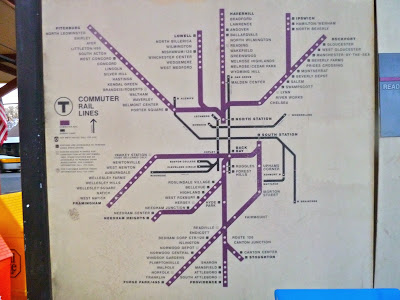 I just noticed, you can see a bus in the background.
The second section of the station is a wooden high-level platform. This is where passengers are required to wait to get on the train, and there were a fair amount that accumulated over time. When I first got there, there was no one except for a large group of swaggering guys shouting loudly to one another. As time went on, however, more people came to the station. There's an interesting sign at the bottom of the stairs to the platform – it looks like it says "Will Not Cleap Man on Side of Car," but I believe it actually says "Will Not Clear Man on Side of Car," which…doesn't make any sense, either.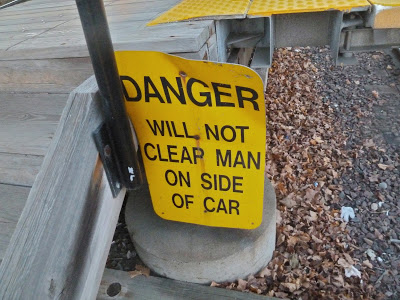 I'm surprised I noticed it; it's not very apparent.
When the train came, I was excited to see that it was double-decker. The conductor was trying to get people to go into the back car, which had no one in it. It was also a single-decker car, so of course I opted for the more crowded one, on the top deck, of course. The stations are very close going down into Wakefield and Melrose. What I like is that they're designated as "flag stops," so if nobody wants to get on or off, the train skips right through them. It was dark by the time we got to North Station, but I really enjoyed the ride despite not being able to see anything in the night.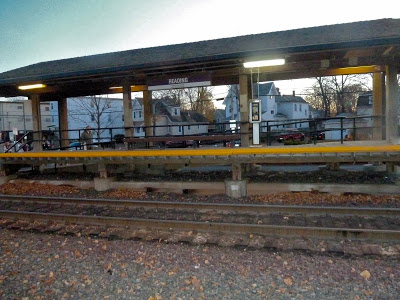 The platform, empty when the picture was taken. Note the pay phone – I wonder if anyone uses it?
Station: Reading
Ridership: It was actually very crowded by the time the train came. There were quite a few people crammed into a fairly small platform. There were a lot of people with grocery bags and the like, as well as a father and two cute kids.
Pros: I thought this was a really quaint station. The old-fashioned wood structure was just so…charming. There is ample parking here, too, and it seems to be very well-used for a Commuter Rail station. Also, its full-high platform is definitely a plus, as many Commuter Rail stations lack this.
Cons: As I said, the platform's a bit small for a lot of people. And it is a little annoying having level crossings on either end of the station. But overall, not too many cons.
Nearby and Noteworthy: Yeah, yeah, I didn't explore downtown Reading at all. It seemed to have that quaint "small town feel," though.
Final Verdict: 9/10
For a Commuter Rail station, this is top notch. I mean, sure, if this were a subway station it would probably get a 3, but the Commuter Rail has much lower standards than the subway. I just really liked the old-fashioned feel of the station (complete with old MBTA artifacts), and for the fifteen minutes I was here, I really enjoyed it.
In what may be the worst news ever for Boston travelers, the
Callahan Tunnel is closed
from today until March. Also,
the MBTA issued a request for proposals
from companies looking to buy naming rights for nine stations, as well as the Red, Blue, and Green Lines ("The next Dunkin' Donuts Line train to Braintree is now arriving")! I'm fine with naming stations, but entire lines may be going too far. But by far the most important news (in my humble opinion) is that this is Miles on the MBTA's hundredth post! Admittedly, only about a third of them have been legitimate bus or station reviews, but I've really enjoyed writing every single one. I hope you've all enjoyed reading, and here's to many more posts to come!