Welp…I'm officially jealous of Greenfield. Their bus system, the FRTA, only gets about 155,000 riders annually, yet they get this absolutely amazing terminal! Some of the T's antiquated hubs can get that much in a week! Oh well…as long as we're out here, we'll take a look at Greenfield Station and the John W. Olver Transportation Center.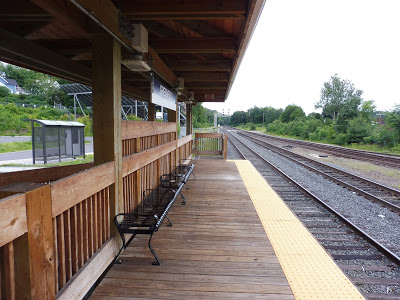 The Amtrak platform.
We'll start with the Amtrak station, since it really isn't much. Serving the Vermonter once a day, the stop is little more than a wooden mini-high platform with benches on it…and yet, I really like it! It has this amazing woodsy smell and a surprising amount of character, especially for such a new construction.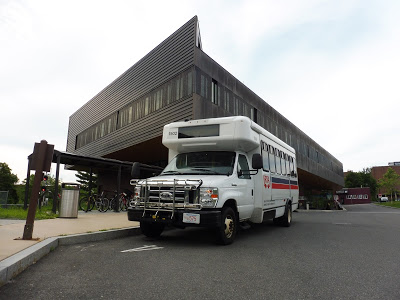 I've got a publicity shot for you, FRTA!
My gosh…this building is just beautiful. The architecture is so modern, and yet it somehow captures the rural nature of Franklin County perfectly. Did I mention it's net-zero? There's a gigantic solar array set up to the south of the building to generate electricity.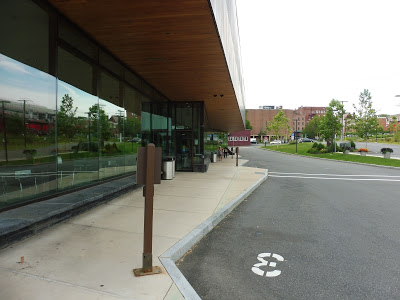 The bus boarding area.
The bus boarding area is great, with benches underneath the shelter of the building, along with wastebaskets. There's also a bike shelter that had a surprising number of bikes in it, considering how middle-of-nowhere the FRTA usually is. This outdoor area even has a little picnic table alongside the tracks! Unfortunately, car parking is limited to only a few half-hour short-term spaces.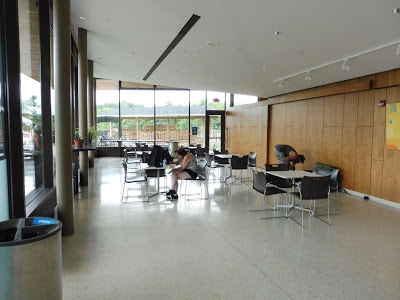 WOAH.
And now we get to…the inside. Ohhhhhh my gosh, the inside. Where do I even begin? There are lots of benches, both waiting-room style and in table formations. Along the wall, there are some lovely paintings, as well as a bunch of charging stations, including chargers for every type of phone.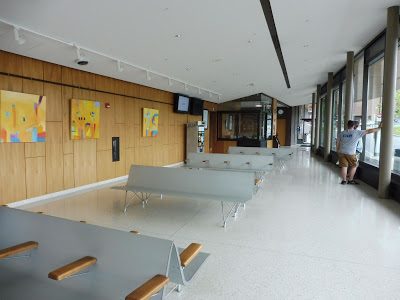 This is AMAZING.
Further down the terminal, there are television screens showing live bus departures (they unfortunately weren't working when we were here). Beyond there, you've got a ticket machine and a ticket booth, as well as schedules for every FRTA route, and every route that the FRTA connects to. I mean, come on, how many amenities can a place have?? It's also worth noting that the paper for the FRTA schedules is WAY better than the paper for the PVTA or MART schedules. Take that!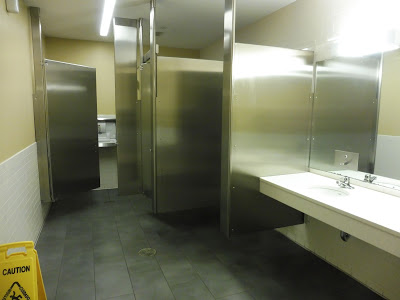 Of course I always have to get this shot!
Oh man, this place has some nice bathrooms. They're modern, functional, and squeaky-clean! Heck, the doors to the bathrooms even have an accessible door-opening button! Outside the bathrooms, there's also a set of water fountains.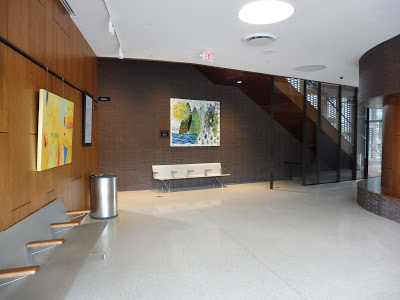 The atrium.
Moving towards the front of the building, we get to the atrium. This area has more benches, more artwork, and stairs and an elevator up to the second floor. The upper level has FRTA offices, the Franklin Regional Council of Governments, and, apparently, a meeting room!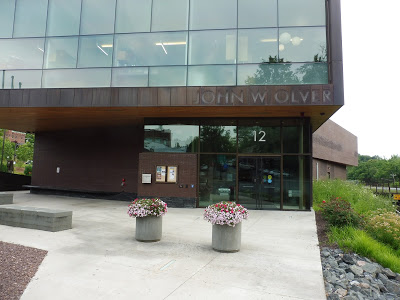 The front of the building on Olive Street.
Station: Greenfield (Amtrak)
Ridership: Assuming most FRTA ridership comes from this hub, I'd estimate that about 500 people use it every day for the bus, give or take. As for Amtrak, the station got 5,885 riders in 2016, meaning about 16 riders per day. Peter Pan and Greyhound buses also serve the hub, but I can't make any assumptions about their ridership. Still, I think one thing is clear: very few people use this place.
Pros: Uhhhh…everything? I mean, my gosh, it's all so perfect! The building's exterior is gorgeous, the Amtrak station has a ton of old-timey character, the bus boarding area works great (aside from a rather tight loop for full-sized buses), and the inside is just unspeakably amazing. From the multiple types of seating to the incredible chargers to the impeccably clean bathrooms, I have not a single complaint about the customer experience here.
Cons: One thing: there's no long-term parking! That's a big problem for Amtrak passengers who are going long distances, probably for a few days.
Nearby and Noteworthy: I didn't get the chance to explore downtown Greenfield, but I've heard good things about it, and Google Street View makes it look like a nice little town center.
Final Verdict: 9/10
Yes, the short-term parking is definitely a problem, but that's not the true reason this place is getting a 9. No, it gets a 9 because it just doesn't feel necessary. I mean, look at T stations like Sullivan with more bus routes than the entire FRTA system and more ridership in a week than the FRTA gets in a year, yet they're decrepit, disgusting, and falling apart. Why does Greenfield get the big, beautiful, expensive hub that's going to be used by so few people? Oh well…as a station, it's near-perfect and I absolutely love it. I just wish it was in a place where it was more necessary.
UPDATE 2019: This station gets three Amtrak trains a day now, thanks to the new Valley Flyer Amtrak service up to Greenfield.
Latest MBTA News: Service Updates