Huh…y'know, this station is practically identical to Greenfield, and yet…yeah, I just don't like it nearly as much. Why could this be? Well, we'll have to take a look and find out. Here's Northampton Station!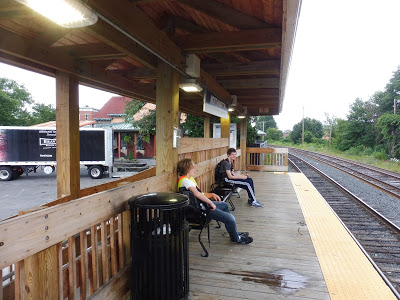 Well, this platform looks familiar.
Yeah, this is the exact same platform as Greenfield. It's small and wooden, with a few benches and a wastebasket, and that's about it. But whereas Greenfield worked because the station melded with its rural setting perfectly, Northampton is right in the city. And it's hard to appreciate a charming wooden platform when you've got a big truck growling behind you the entire time.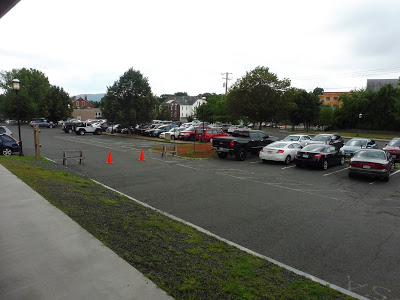 Parking? Ha, that's a joke.
Ready for the stupendous parking at Northampton? Alright, here we go: 10 short-term parking spaces; no long-term parking spaces. You know, short-term parking for a day trip – on a once-a-day service. I think this bothers me more than it did at Greenfield because there's a whole parking lot to work with, yet most of the spaces are flat-out reserved for other places.
This is about the extent of Northampton's "bike parking."
This one bothers me even more: there's essentially no bike parking. Sure, there are the really sketchy bike racks seen above that just aren't attached to anything, and four proper ones wayyyyy at the end of the parking lot where they can't be found. I wouldn't normally be too upset about this, but this is Northampton – it's probably one of the biggest bike cities in western MA, and the station is located near multiple bike trails. Come on!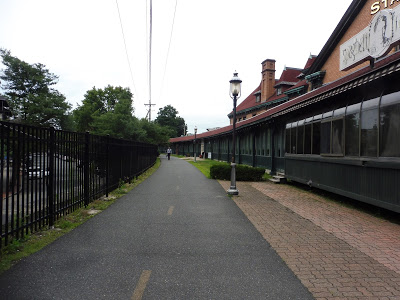 "Union Station."
The station happens to be located right next to the old Northampton Union Station, but that's been taken over by restaurants. It's too bad the station can't be taken over by, you know, trains, but after laying dormant for years, I doubt the station will ever see train service again. There's also a nice bridge the tracks pass over further down the bike path.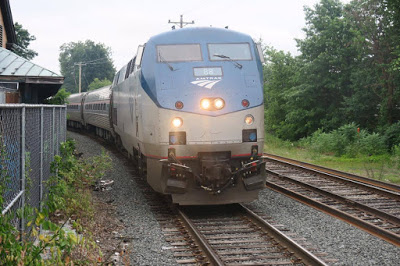 The southbound Vermonter coming in. Photo credit to Sam.
Station: Northampton
Ridership: Ridership at this station has far exceeded the 2009 projection of 10,000 riders per year – in 2016, 17,332 riders boarded here. That's about 47 riders per day, or 23 passengers per train. This will come back in the "cons" section…
Pros: It has really basic amenities. I mean, the platform's high-level, so it's accessible, and there are benches and a wastebasket. But…like…that's kinda it.
Cons: No bike parking. Hardly any car parking. A tiny wooden platform that can barely handle the riders that use it. For a Commuter Rail station, this would be somewhat acceptable, but Amtrak generally has a higher standard than this.
Nearby and Noteworthy: Once again, Northampton is a lovely town. Still…probably not the best idea to use the once-a-day train to get here.
Final Verdict: 4/10
Apparently MassDOT is planning on rebuilding this station to have a longer platform and more amenities. This is great news, because currently, this place is too basic for the amount of ridership it gets. Once it gets redeveloped, I doubt I'll have the chance to revisit it, but I certainly hope they can do better than this.
UPDATE 2019: This station does get three trains a day now, thanks to the new Valley Flyer Amtrak service up to Greenfield.
Latest MBTA News: Service Updates