Holyoke was a newer addition to the newly-rerouted Vermonter, and it shows. This thing was designed with people in mind, and unlike Greenfield and Northampton, it actually has a full high level platform! Would you like to see more? If not, then you probably should, uhhh, close the tab or something…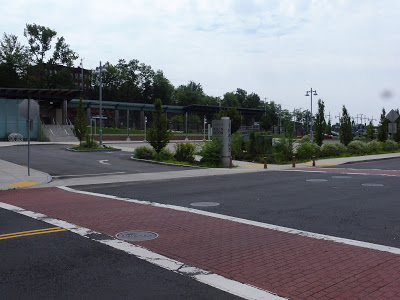 The entrance to the station.
The Holyoke Amtrak station is a bit of an oasis in the area it's in. Located in the Flats section of Holyoke, this neighborhood is dominated by abandoned industrial buildings. Thus, this modern station with lots of green trees around it sticks out in a great way.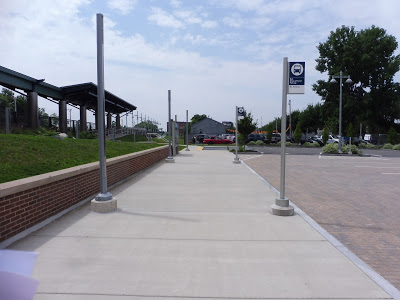 The…"busway"?
I'm not entirely sure what buses stop here, if any (definitely nothing on the PVTA), so I have no idea why this place has a bus area. Truth be told, it seems like it would be tough to fit a bus into the parking lot anyway! Speaking of the parking lot, this station actually offers long-term parking! Yay! There are 9 short-term spaces and 16 long-term ones. THANK YOU for actually providing long-term parking on this one, Amtrak! There are also ten bike spaces.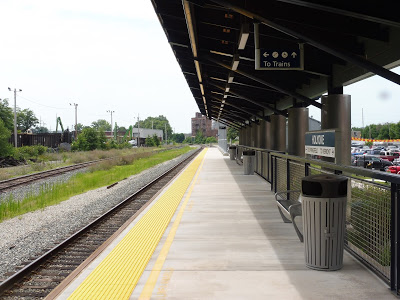 The platform.
Like I said, the entire platform is high-level, and a huge amount of it is sheltered, to boot! There are plentiful benches and wastebaskets along the whole thing, and it all feels modern and clean. Also, down on the far end of the platform, there's an interesting emergency exit that just leads into the grass. Better than Boston Landing's prison cells, I guess!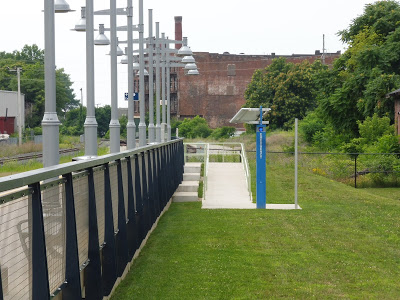 It actually GOES somewhere!
Station: Holyoke
Ridership: Well…granted, this is a new station, and it would definitely take a while to gain traction, but…three people per day in 2016? I mean, gosh…that's, uhhh…that's ridiculously low. Obviously.
Pros: The whole station is really modern and clean! I love that most of the platform is sheltered with lots of seating, while the station also offers long-term parking and a few bike racks. It feels like a welcome addition to downtown Holyoke.
Cons: Geez, that ridership…Holyoke has the opposite problem of Northampton. Northampton had a platform that was far too small for the number of riders it gets, while Holyoke's station seems way fancier than necessary! I just hope ridership grows as it settles in, but it's hard to attract passengers with only two trains per day.
Nearby and Noteworthy: Good ol', weird ol' downtown Holyoke, baby! Love it or leave it!
Final Verdict: 8/10
As a station, Holyoke is very satisfactory, providing basic amenities in a clean modern space. It would just be nice if more people could experience it! Apparently there are tentative plans for a commuter rail line from Springfield to Greenfield, which would definitely boost demand here, but until that happens (if it ever does), I can't imagine growth here being very fast…
UPDATE 2019: This station does get three trains a day in each direction now, thanks to the new Valley Flyer Amtrak service up to Greenfield.
Latest MBTA News: Service Updates