There isn't much that's more exciting than a new Commuter Rail station! Well…maybe a certain Green Line Extension would be nice (COUGH), but that's not the topic of today's post! No, today we'll be looking at the Worcester Line's newest infill station, located in Allston and funded by New Balance (which feels weird to say): Boston Landing! For the record, I did visit this station on the first day of service, but I wasn't able to write the review yesterday because of an event at my school…sorry!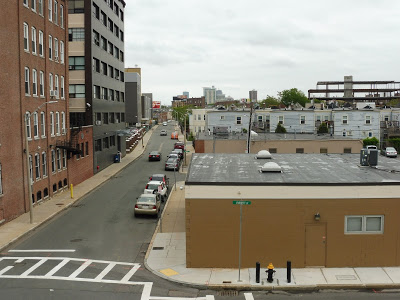 The station's surroundings…from above.
Yeah, I figured I'd mention that this station's surroundings are…weird. I mean, Josh and I came in from the 66 to the east, and walking down Braintree Street, it was just an industrial dump. Then, all of a sudden, the buildings immediately get newer and a little less sketchy…and there was Boston Landing, right on the tracks parallelling the street!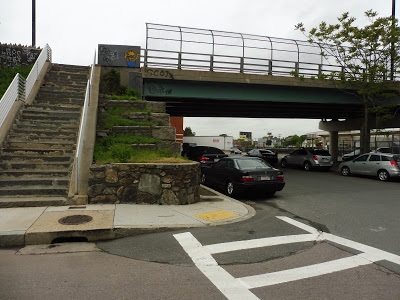 Eww…
Unfortunately, you can't get to the station quite yet. No, you have to traverse a really awful, old, decrepit stone staircase to get up to Everett Street. I know this isn't part of the "station", but from what I saw, a good amount of the riders came this way, so a ramp would be much appreciated…or at least an updated staircase!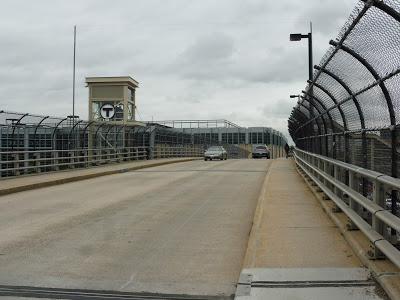 Land ho!
And now we finally get to the station itself. Along Everett Street, there's an interesting setup where the elevator is on one side (with a nice T symbol!) and the staircase is on the other. The problem is that there's no crosswalk between the two, so if a disabled person wants to cross the street to get to the elevator, they're basically out of luck…and Everett Street can be busy!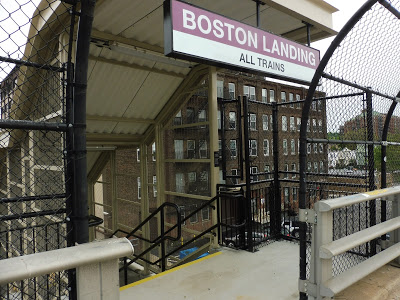 The staircase entrance.
Look, this staircase is fine. It's all sheltered, and even though the roof is kinda bland, and even though the bars on the side will probably get rusty soon, it's a fine staircase…but come on, what's with this entrance? Why does it shift over when you get to the top? The sign is obscured by the fence when you look at it straight on! I'm sorry, but this just looks ridiculous!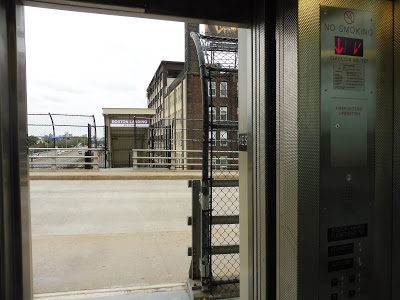 Yeah, see what I mean? Look across the street!
Luckily, the elevator is great, at least for now. It has a lovely new smell, and the glass walls allow for a view on all sides. I do think it's rather interesting to be in this modern glass elevator with a disgusting old factory right across the street, though!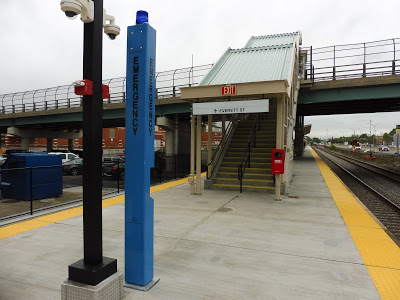 The Everett Street end of the platform.
It's kind of odd that the stairs lead to a pretty desolate part of the platform, but I guess that means better accessibility for people using the elevator…even though more overall riders will want to use the stairs, but I digress. This end of the platform doesn't have much, but it does feature a fire extinguisher, a blue EMERGENCY pole, and fire alarms. The blue poles and fire alarms are prevalent throughout the whole station, so clearly there was a big focus on safety.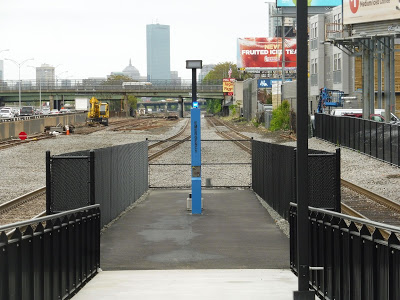 Big focus on…safety?
Okay, this is weird. Both sides of the station have "emergency exits" that feature big ramps leading to what I can only describe as "prison cells." I mean, they're just chain link fences with an emergency call button within, and no way to leave! The better "emergency exit" would just be to jump off the platform! At least then you could actually, you know, ESCAPE an emergency situation. I'm sorry, but I cannot see the point in these prison cells that offer barely any protection from the disasters that would necessitate their usage.
UPDATE (5/24): The "jail cells", otherwise known as "areas of refuge," are apparently required by code, due to the fact that Boston Landing lacks a sprinkler system. They still seem pretty useless, but thanks to Dave's blog for the information!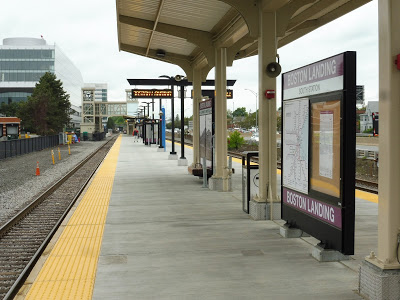 Looking down the platform.
Okay, luckily the platform itself is great! Sure, it's not the most exciting station in the world, but it's nice and modern with a fully high-level platform. There are shelters that run for a bit next to each entrance, and they have benches and wastebaskets underneath. More benches sit out in the open area too, but they're probably less likely to be used. Also, there's a speaker system that reads out what the electronic signs say, but the audio quality is terrible!
Sweeeeeet!
Other amenities on the platform include updated maps with the new station included, as well as some really neat historical photographs. It's always sad to see how beautiful this corridor was before I-90 came barreling through (the highway makes for a noisy presence at Boston Landing), while there are also some amazing old streetcar shots! Additionally, I only found one grammatical error in the text, so…yay?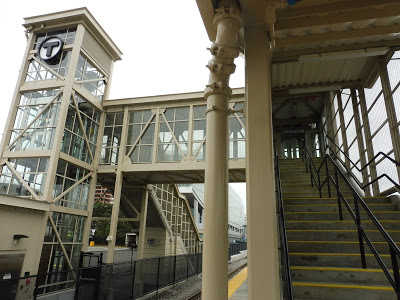 The station's footbridge.
The other side of the station offers a second entrance, leading to the its main attractions: the New Balance building and the Warrior Ice Arena. This entrance consists of a footbridge over the inbound track, with stairs and elevators leading up to both sides. I can tell you that the elevators were both clean and modern, while the stairs were…well, perfectly fine stairs.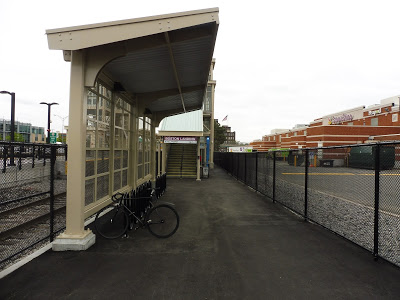 The second entrance.
This entrance plays host to an emergency light, a wastebasket, and a rather nice sheltered bike rack with a bunch of spaces! Surprisingly, someone actually had a bike in there on the first day. A concrete path leads to another Boston Landing sign, complete with a…really squashed schedule. I mean, it looks awful, and they only squashed it to be able to fit in a "See something? Say something!" sign…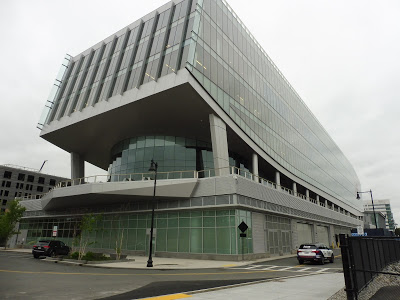 The huge New Balance building.
This station is, of course, primarily meant to serve some vast new developments that have been built in the area…after all, New Balance was the company that funded it! Their building is beautiful, and it already seems to be a pretty big hub of activity (aside from the incredibly overstaffed New Balance store inside, but…oh well). Hopefully as the development grows, so will station ridership and train frequency!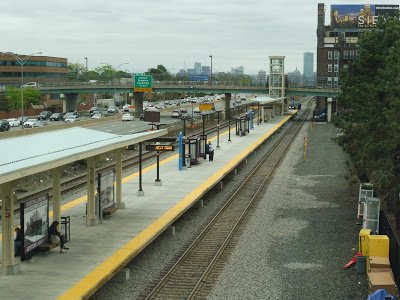 The platform…from above!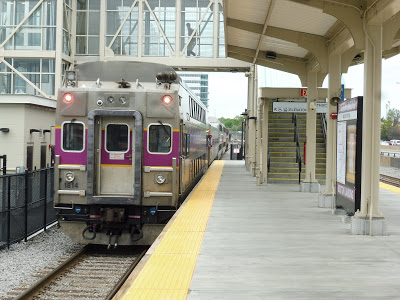 An outbound train leaving.
Station: Boston Landing
Ridership: Okay, considering that this was the first day of service for an infill Commuter Rail station that didn't get too much pomp and circumstance…ridership was surprisingly good! There were about 15-20 people for each train we saw, and they were going both outbound and into the city! Sure, it was rush hour, but it's definitely a good sign to see such good ridership on opening day. They weren't even people checking out the station, either, just regular commuters – it felt like the place had been open for years!
Pros: The platform is where this station shines, I think. There's a good amount of shelter near each entrance, lots of blue emergency lights everywhere, and some fantastic historical information on the station signs. Of course, the accessibility of Boston Landing is great, too – the elevators are all clean and modern, at least for now. Although no vehicle parking is provided, it isn't at all necessary, given the urban nature of the station. Instead, a good amount of bike parking is given! This is how Commuter Rail stations should be designed, rather than the barren wastelands of Old Colony stations…
Cons: My main problem with Boston Landing is its schedule: namely, trains only stop here during peak periods on weekdays…but then they come all day on weekends. If all-day weekend service is considered a necessity, then let's get some weekday midday service here, pronto! Other than that, the cons mostly come in the forms of specific annoyances: the staircase from Everett Street is falling apart, the speaker system here sucks, and those "prison cells" are just…weird. Also, Josh, who has a passion for exit signs, would like to add that "the station uses a type of glow-in-the-dark exit signs that will not work if in direct sunlight, which is a possible safety issue." So yeah…that's a big problem too!
Nearby and Noteworthy: Aside from the eponymous Boston Landing development (i.e. New Balance and the Warrior Ice Arena), this station is really close to Union Square, Allston. Indeed, taking the train from Boston Landing can cut the commute time to Boston by around 15 minutes! There are also many dense neighborhoods within walking distance, so if you happen to be heading to Allston, the Worcester Line could be a quick alternative to the 57 or 66.
Final Verdict: 7/10
Overall, Boston Landing is a great addition to the Commuter Rail system. It's great to see the T (well, New Balance) investing in urban rail stations instead of horrible parking lot wastelands like they usually do. I would consider raising the score here to an 8 if the T improves the weekday schedule, since I think that's a pretty big detraction from this place being successful. It's an urban station, so ridership should be expected at all parts of the day, not just rush hour! Still, though, aside from a few other random quirks, Boston Landing is pretty good. Now…when are we getting that Green Line Extension?