I've used the 77 many times, and would consider myself quite familiar with that route. But from around Porter Square down to Harvard, there's this other mysterious bus that shows up sometimes: the 96. It doesn't come around too often, but it used to almost threaten me when I was younger. Whereas the 77 used those familiar New Flyers, the 96 used loud, agressive Neoplan diesels on its route. Well, it's time to put those strange Neoplan fears to rest and finally ride…the 96.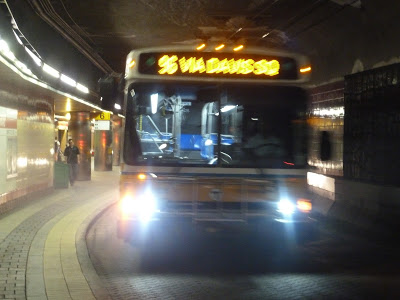 Usually you can take any awful picture you want and pass it off as "artsy", but I think doing that for this would be an insult to artists everywhere.
So as I mentioned, the 96 follows the 77 for a stretch north of Harvard. Thus, we headed onto Mass Ave, going by lots of familiar businesses for me. It was a bit odd – like being on the 77, but significantly quieter. The road curved towards Porter, and soon after that, we turned onto Beech Street, leaving the familiar section behind.
Right after that, we turned onto Elm Street, joining the 87. As this was an outbound trip, we bypassed downtown Davis Square, going on side streets until we reached the Davis busway. From there, we turned onto College Ave, which was residential. There were a few businesses at Powderhouse Square, otherwise known as The Rotary Of Infinite Slowness Because It Has Traffic Lights. Seriously, a rotary with traffic lights? Come on!
After that mess, we continued up College Ave, going by a big field before passing through Tufts University. Turning onto Boston Ave, we went by more university buildings, including one that was under construction. There were some restaurants marketed toward students, then we turned onto Winthrop Street, crossing over the Commuter Rail tracks.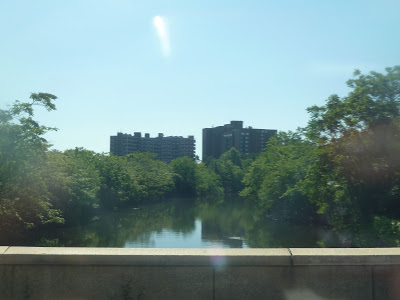 Crossing the Mystic River.
This was the 96's solo portion, and it was mostly residential. Soon, we turned onto George Street, going down that for a while. Then we turned onto Main Street, joining the 101 and passing through a short industrial area. We crossed the Mystic River, then turned onto Riverside Ave, now in Medford Square. I got off in the square, while the bus continued one stop further to its terminus at Medford City Hall.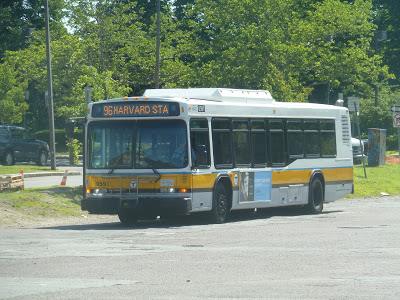 The bus at City Hall.
Route: 96 (Medford Square – Harvard Station via George Street and Davis Square Station)
Ridership: On my trip, there were less than 10 people that rode. This was evidently a fluke, though, as the 96 does generally get pretty good ridership. On weekdays, it gets an average of 2,192 riders; on Saturdays, it's 1,364; and on Sundays, it's 696. Most people on my trip used the route for the Medford portion, either for the Square or for residential neighborhoods south of it.
Pros: It's one of two links from Davis Square to Medford Square, and it's the more direct one. Also, it goes all the way down to Harvard, making a link from Cambridge to Medford, as well. Its weekday schedule is pretty good, running every every 17 minutes during rush hour and every 35 minutes during the day.
Cons: Unfortunately, the rest of the schedule is much worse. The 96 runs every 40 minutes at night, every 50 minutes on Saturdays, and every 70 minutes Sundays! That's less blasphemous than the 101's Sunday schedule, since that route gets more ridership, but it's still horrible.
Nearby and Noteworthy: I spent a bit of time walking around Medford Square, and it seemed pretty happening. I don't have any specific businesses, though.
Final Verdict: 6/10 8/10 (see addendum)
Briefly, I was considering giving the 96 a 7. I figured that it gets less ridership than the 101, so the bad schedule is slightly more justified here. Honestly, this route just looks bad on the 101's part, since that has significantly more ridership yet the exact same headways on Sundays. In regards to its routing, though, the 96 is pretty good. It's just the schedule that drags it down. Addendum: Okay, so it turns out the 96 is coordinated with the 94. This means that together, the two routes actually run quite frequently to Medford Square, so I'm raising the 96's score to an 8.
Latest MBTA News: Service Updates