I've taken the 77 more times than I can count, but I had never taken it past North Cambridge before. I finally got the chance after taking the 79. The 77 is a big, bunching behemoth, stretching from Arlington Heights all the way down to Harvard Station. Not to mention it often takes a lot longer than advertised, and as I hinted before, this bus is a bad one for bunching.
I made sure to review the 79 first, as most of that route follows the 77, but the 77 has a unique portion south of where the 79 splits off. Anyway, after getting off of the 79, I got on the first 77 that came. It was quite empty at Arlington Heights, as I expected, but more people filed on as we got further into Arlington. But I was surprised that people were getting off already, too. I know this bus is used for local service in Cambridge, but I never really thought people would get off in Arlington.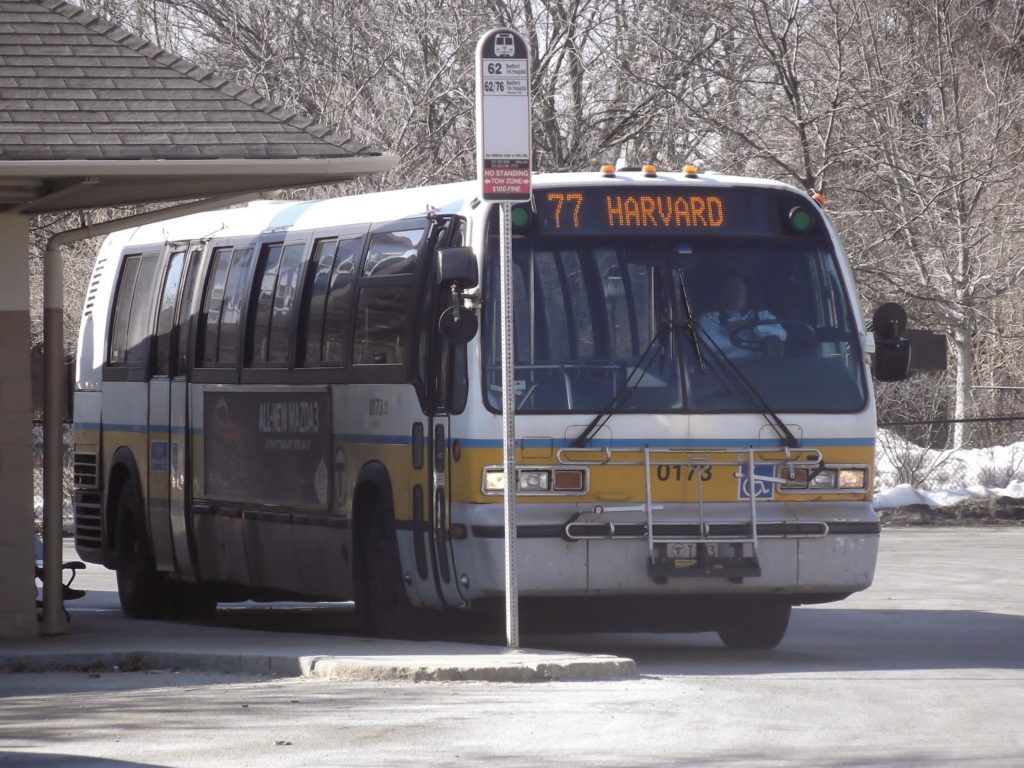 The 77 isn't usually this serene, trust me.
Anyway, I'll skip ahead to where the 79 splits off (see that post to see what the route is like in Arlington). It was fairly residential when the bus first entered Cambridge, but the businesses started popping up quickly. We went by the North Cambridge Carhouse, where trackless trolley short-turns on the route terminate, then a huge church. We were soon joined by the 83 at Rindge Ave, and soon after the 96 at Beech Street (where another massive church is located).
It's coming for me! This was a different bus, obviously.
Shortly after we stopped at Porter Square. This is always a major stop, where lots of people both enter and exit the bus. The 83 route splits off here, as well. From Porter, there were some taller apartment buildings, but mostly the road was lined with a variety of small businesses. There were even some houses dotted in between, but these were also businesses.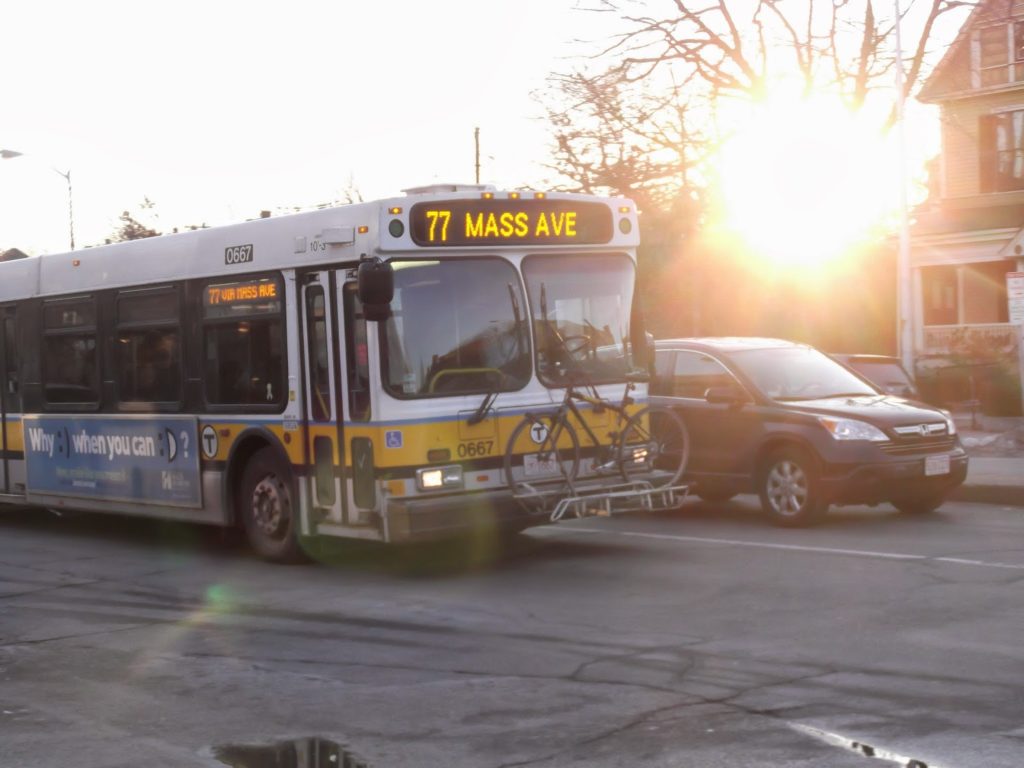 A different bus, yet again. That sun is really bright.
The buildings started getting taller coming into Harvard Square. We went by the Cambridge Common (where I used to get off to go to soccer practice many times), then headed down into the Harvard Bus Tunnel. After a little while, we entered the Harvard Busway. Everyone got out, and filed around the bus to get to the platform (the platform's on the left, while the bus doors are on the right). I tried to get a picture of the bus, but the driver drove away before I could. Darn.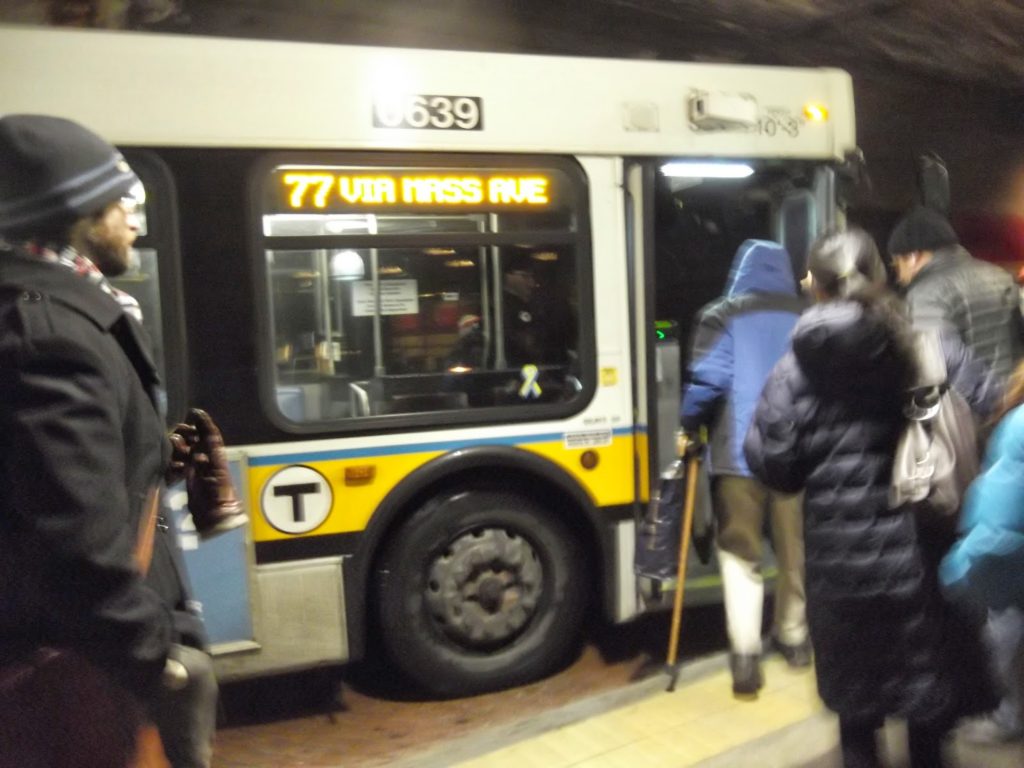 And once again, another bus. You may say this is a horrible picture…and you'd be right, actually.
Route: 77 (Arlington Heights – Harvard Station via Massachusetts Ave)
Ridership: This particular ride was actually the quietest 77 I've ever been on. Only 25 people rode in total, whereas normally the bus is packed to the brim even leaving Harvard. It was a Tuesday, a little before rush hour. But this bus is usually a madhouse, even on Sundays.
Pros: Although the only unique portion of the bus is between Rindge Ave and Alewife Brook Parkway (the rest is shared by the 79, 83, or 96 depending on where you are), it's still a massive route, running down Mass Ave, the veritable hub of Cambridge and Arlington, the whole time. Also, since it's a Key Bus Route, the schedule is nothing to sneeze at: every 10 minutes rush hour, every 12 minutes during the day, every 13 minutes at night (and soon, every 15 minutes from midnight to 2 A.M. on Fridays and Saturdays – see "Latest MBTA News" for details), every 10 minutes Saturdays, and about every 15 minutes Sundays. Also, with the recent Key Bus Route Improvement Program, they eliminated some of the stops on the route, making it go much faster than before.
Cons: Of course, this bus is almost always insanely crowded, except for the one bus I took. And the 77 is a really bad bus for bunching – once, for example, there were four 77's in a row! Alas, this was pre-blog so I didn't have a camera.
Nearby and Noteworthy: Mass Ave is full of interesting places to go. Here are a few: Greek Corner, which offers fantastic lamb kabob, as well as a great view of the North Cambridge Carhouse; WardMaps, the official MBTA store (where a shirt signed by Adham Fisher and me is hanging up); Made By Me, where you buy something like a bowl or cup, then paint it however you like; and Stone Hearth Pizza, where many kinds of thin-crusted pizza are offered.
Final Verdict: 8/10
Maybe I'm a bit biased, as this is the bus I've probably taken the most, but it's still great. The schedule's fantastic, the route's great, and there are a lot of places to go along it. The bunching is probably the worst problem with the route, which caused it to lose some points.
Latest MBTA News: Service Updates
Late night service is starting tomorrow, the 28th! On Fridays and Saturdays, the rapid transit lines and Key Bus Routes will run until about 2:30 AM. Click here for more information. But with good news comes bad news: there will be a 10 cent fare increase in July. Though 10 cents isn't that much, I feel it will be a bit annoying to get exact change now. Finally, you may remember my post about the MBTA's online map (it may even be what introduced you to the blog, as Universal Hub made it quite popular). I sarcastically pointed out a bunch of errors I found with it. Well, the MBTA saw the post and fixed the map! Thanks for listening to my (admittedly quite rude) suggestions, MBTA!