There are quite a few bus routes that go from Sullivan or Wellington up to Malden Center. They all more or less travel in crescents, in order to serve neighborhoods not served by the Orange Line. Most of these routes serve the eastern side of the tracks, while there are only two on the western side: the 108, which sticks very close to the Orange Line right-of-way, and the 101, which is much more circuitous. Making a huge crescent going as far west as Medford Square, no one would take the 101 from beginning to end. However, many people use it, as you're about to find out.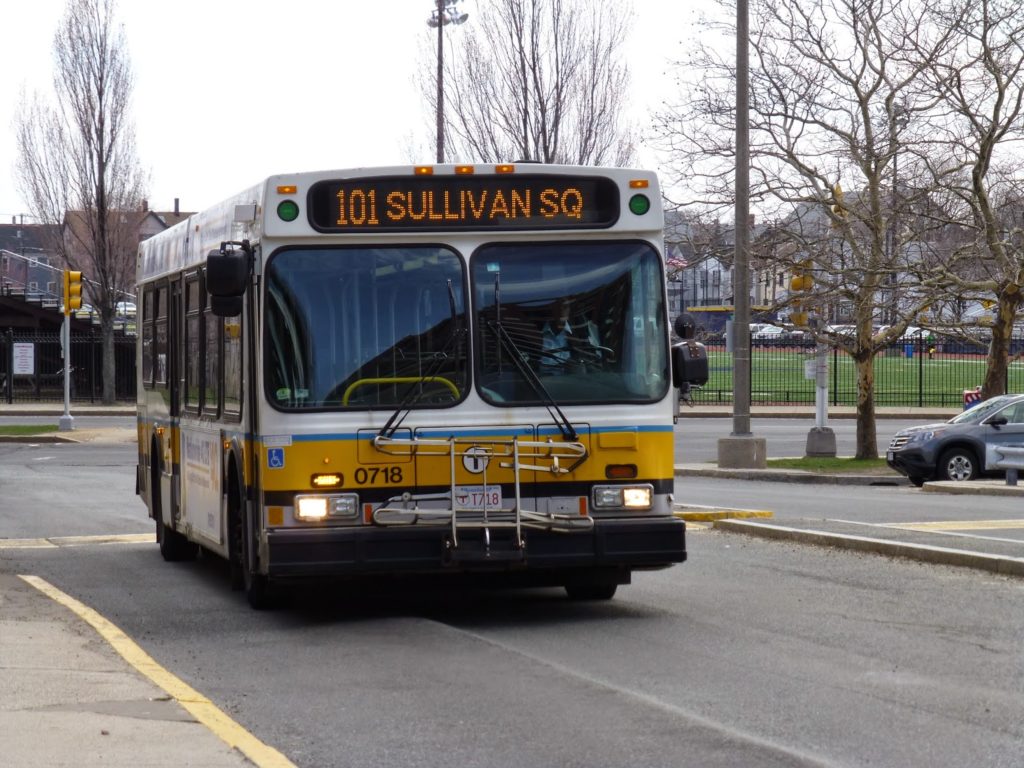 The bus coming into Malden Center.
We headed down Pleasant Street, pretty quickly leaving behind the tallish buildings of Malden Center. It was residential until we crossed the Fellsway West, where there was a mall and a bunch of small businesses. We also went by the Fellsway bus yard, which was pretty cool.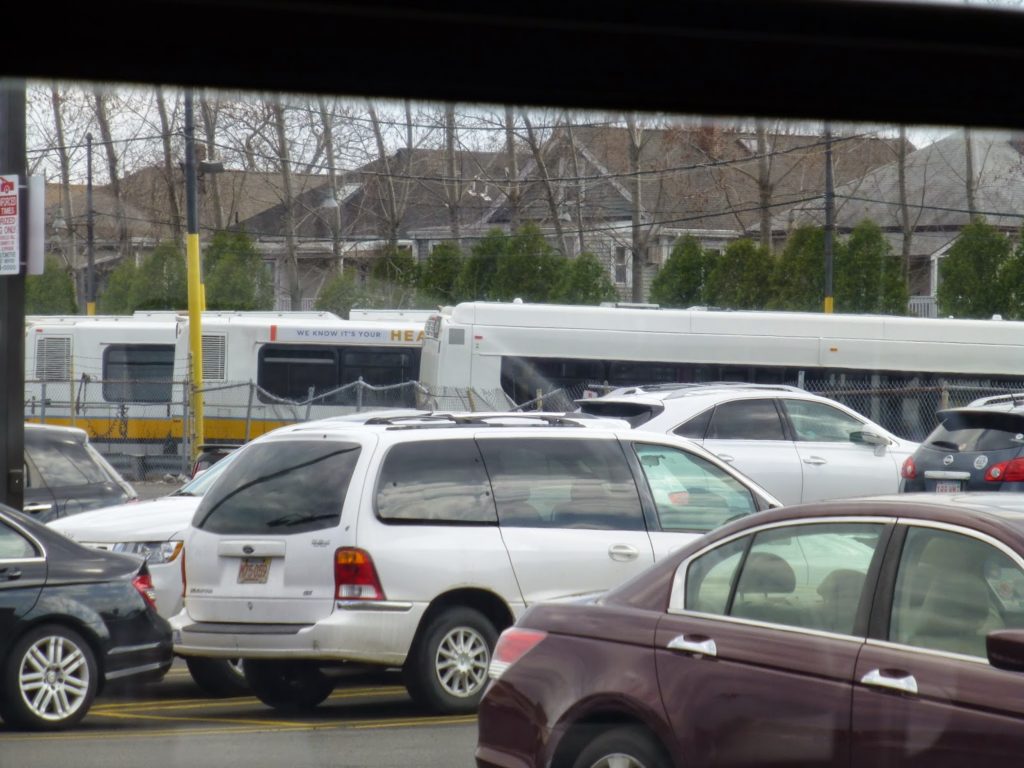 This is what happens when the awesome bus yard is on the left side of the bus and you're sitting on the right. You get a bad picture.
From there, it became a mixture of houses and businesses. Eventually, we reached a big rotary which went under I-93. We were in Medford Square once past that, where the road was lined with shops. Turning onto Main Street, we crossed over a bridge, under the Mystic Valley Parkway, and into an industrial area.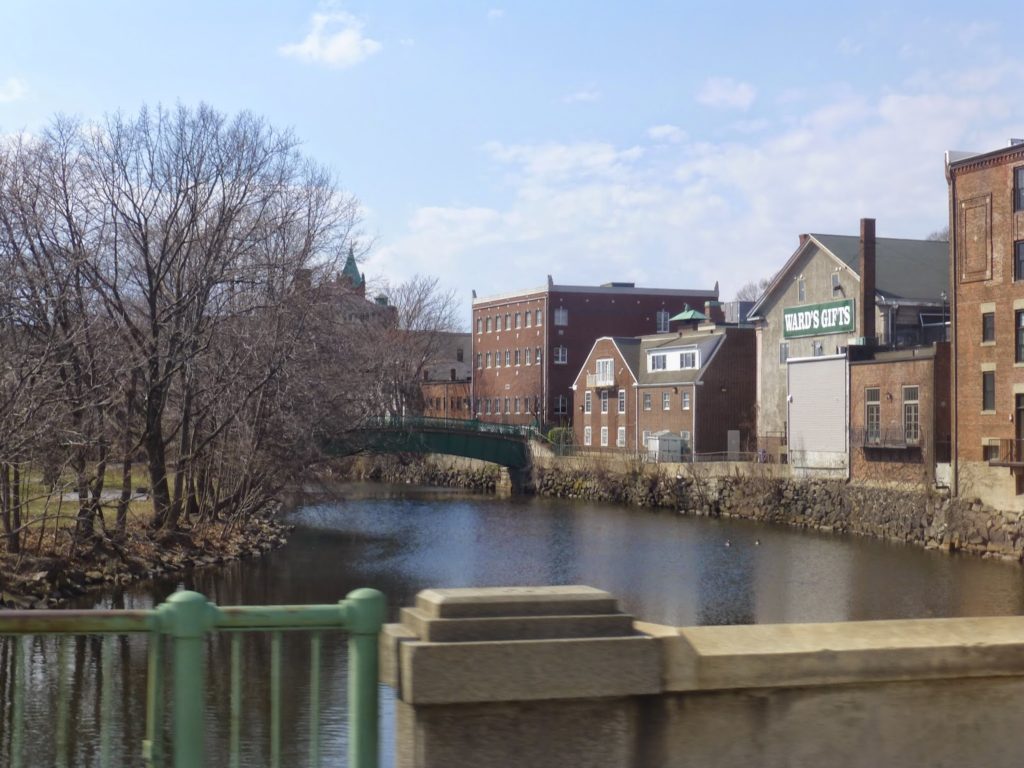 Nice view.
Luckily we left the industrial area almost as quickly as we entered it (the 95 continues through it, and you may remember how – um – scenic that ride was). But we continued down Main Street, which was nice and residential. Soon enough, businesses began to pop up, and it became a mix between those and houses.
Main Street curved eastward a bit, and became entirely residential again, with more closely-spaced houses. There was a great view out of the front of the bus when we reached Winter Hill, but I couldn't get any pictures. We joined the 89, merging onto Broadway, which had a nice tree-lined median. This was once again a mixture of businesses and houses. After a period of time with an 89 in front of us stealing all our passengers, we reached the Sullivan Square busway.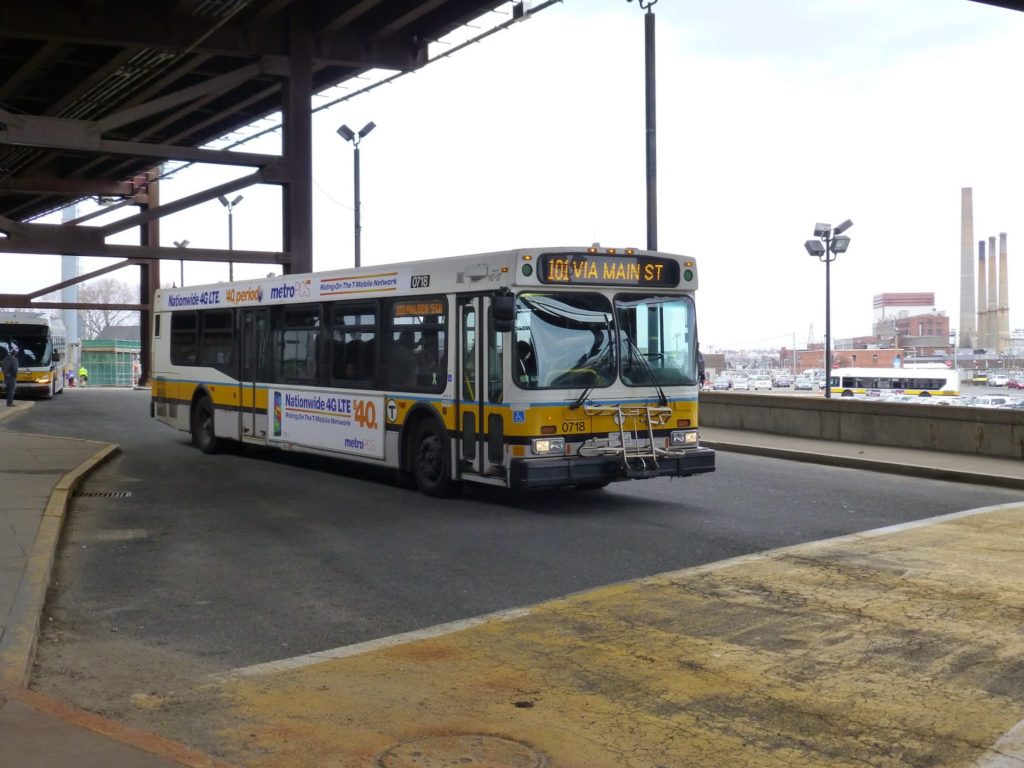 Well, things certainly got gloomier, didn't they?
Route: 101 (Malden Center Station – Sullivan Square Station via Salem Street, Main Street, and Broadway)
Ridership: There were about 40 people on my ride, and this was a Saturday! And there were a bunch of people waiting at Sullivan, so it headed back to Malden with a full load, as well. The 101 is in the top 30 bus routes when it comes to ridership: 4,767 riders per weekday, 2,397 on Saturdays, and 1,119 on Sundays. Medford Square seems to act as a halfway point for the route, where most of the people from Malden have gotten off and people start getting on to go to Sullivan, and vice versa.
Pros: The 101 cuts right through Medford, which is great. It serves a lot, and also has a pretty good schedule: every 10-15 minutes rush hour (nice!), every half hour during the day, and every 35 minutes on Saturdays.
Cons: But it's every hour at night and every 70 minutes on Sundays. The Sunday schedule in particular is pretty awful, especially since the route still gets high ridership on Sundays.
Nearby and Noteworthy: There were lots of small businesses along the route. Medford Square looked nice.
Final Verdict: 6/10
The 101 seems like a really popular route. If that's the case, then why does it run so infrequently on Sundays? Seriously, every 70 minutes seems really bad. That said, the route still serves large portions of Medford and connects them up to the Orange Line. Routewise, the 101 is a great bus, and it does run frequently a lot of the time, but that Sunday schedule is horrible.
Latest MBTA News: Service Updates