I originally had this grand plan to take all the Lechmere buses I haven't taken yet in one day. This plan fell flat because the 87 ran late. Come on, 87! Anyway, this route is a pretty straight run from Lechmere, up through Union Square and Davis Square, to Arlington Center. It's also incredibly popular, if my ride is to judge!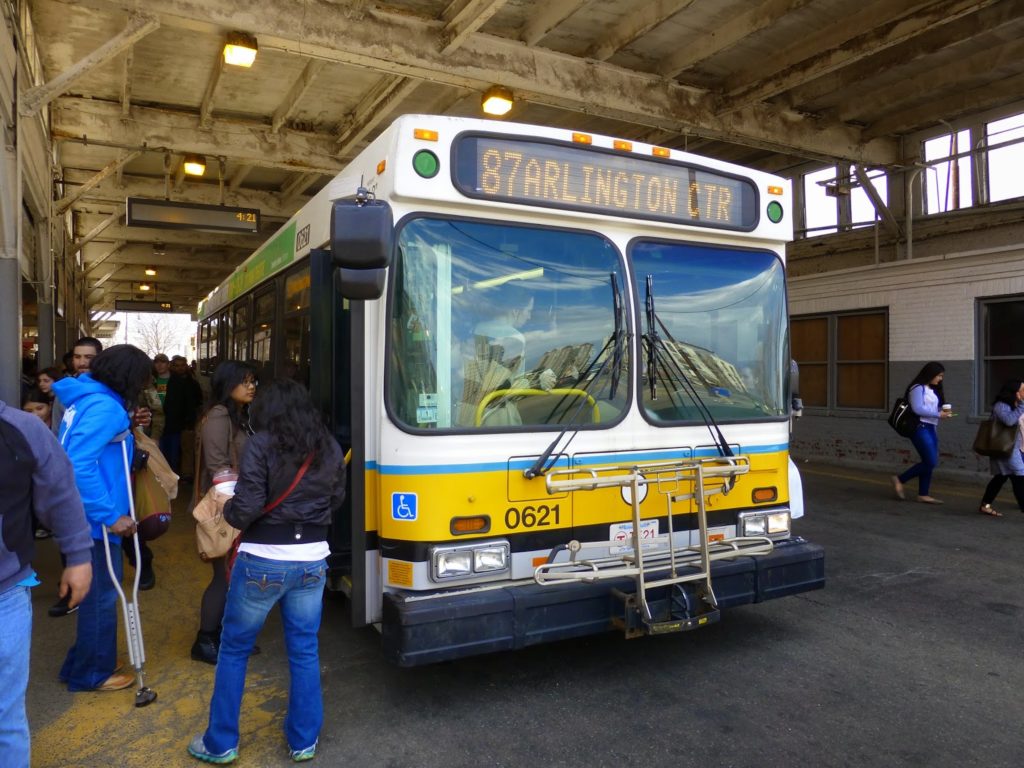 Dinginess, thy name is the Lechmere busway.
We made a hard left turn onto the McGrath Highway and sped onto a bridge over some Commuter Rail tracks. We exited off the highway, then made a u-turn to the other side in order to get onto Somerville Ave. This was a mixture of houses and businesses, but it became all of the latter once we reached Union Square.
We turned onto Bow Street, which went up and around, then merged back into Somerville Ave. The street got a bit industrial, though there were still houses and businesses mixed in. We were joined by
the 83
at Park Street, and passed a playground and ice skating rink. Soon after, we merged onto Elm Street, going solo.
This street was much more residential. We went by the Porter Square Shopping Center, with the Red Line station just visible – the 87 bypasses the latter, though. After going by some more houses, we came into Davis Square. Going inbound, the route doesn't really serve the "downtown" area, opting for back roads instead. So, we turned onto Cutter Ave, then Highland Ave, then Grove Street, and then into the Davis Square busway.
From there, we made our way to Holland Street, now running with the 88. We passed some final businesses before it became more residential. The retail came back at Teele Square, where we merged onto Broadway, joining the 89. Soon after, we reached Clarendon Hill, where the 88 and 89 end. Also, the 87 terminates here nights and Sundays.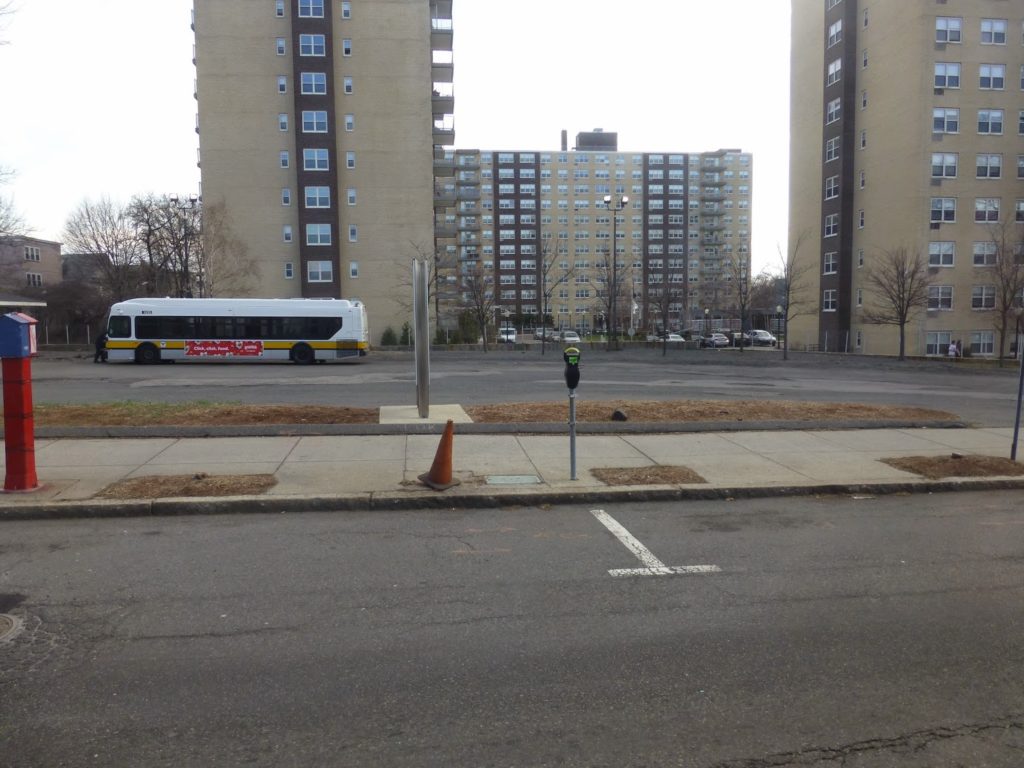 Clarendon Hill, with a bus laying over.
This being a Saturday, though, we continued onward towards Arlington Center. We passed a cemetery, then Broadway got residential again. There wasn't much of note along this section, and we entered Arlington Center soon after.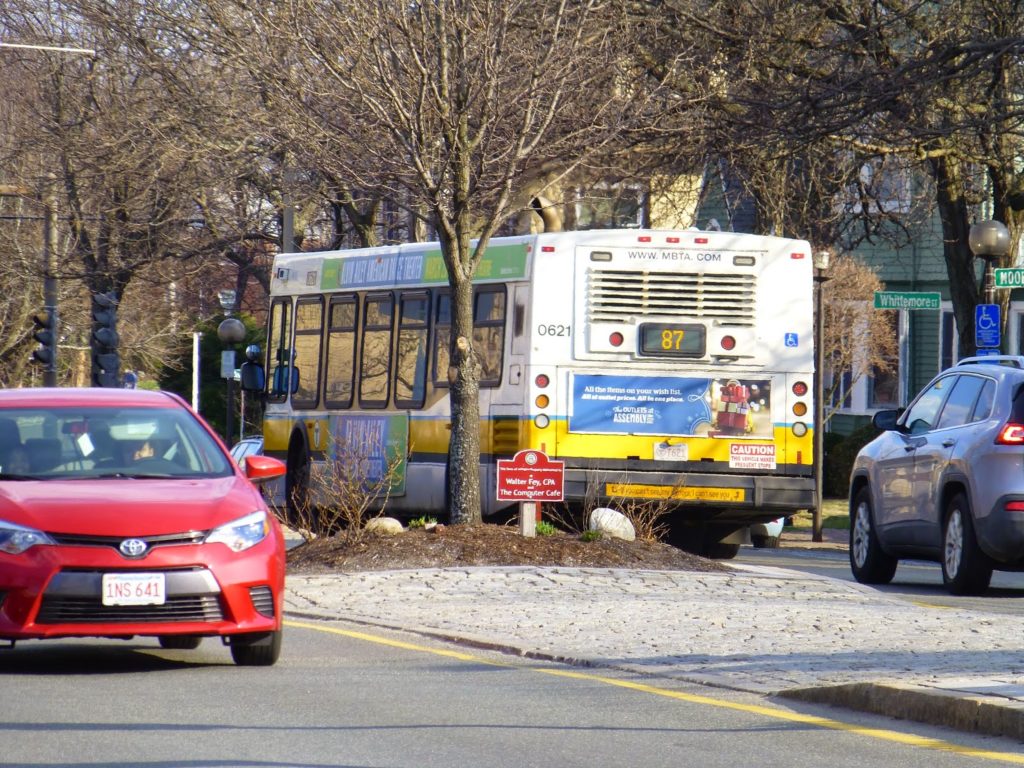 The bus heading down Mass Ave.
I was assuming that the bus would continue north along Mass Ave and then turn around somewhere else, so I was standing up the street all set to get an awesome picture of the bus. What I wasn't expecting was the thing to cut across a bunch of traffic and go over the median of Mass Ave in order to cross over to the other side! I guess the route is supposed to do this, but it was certainly unexpected. It also ruined my photo opportunity.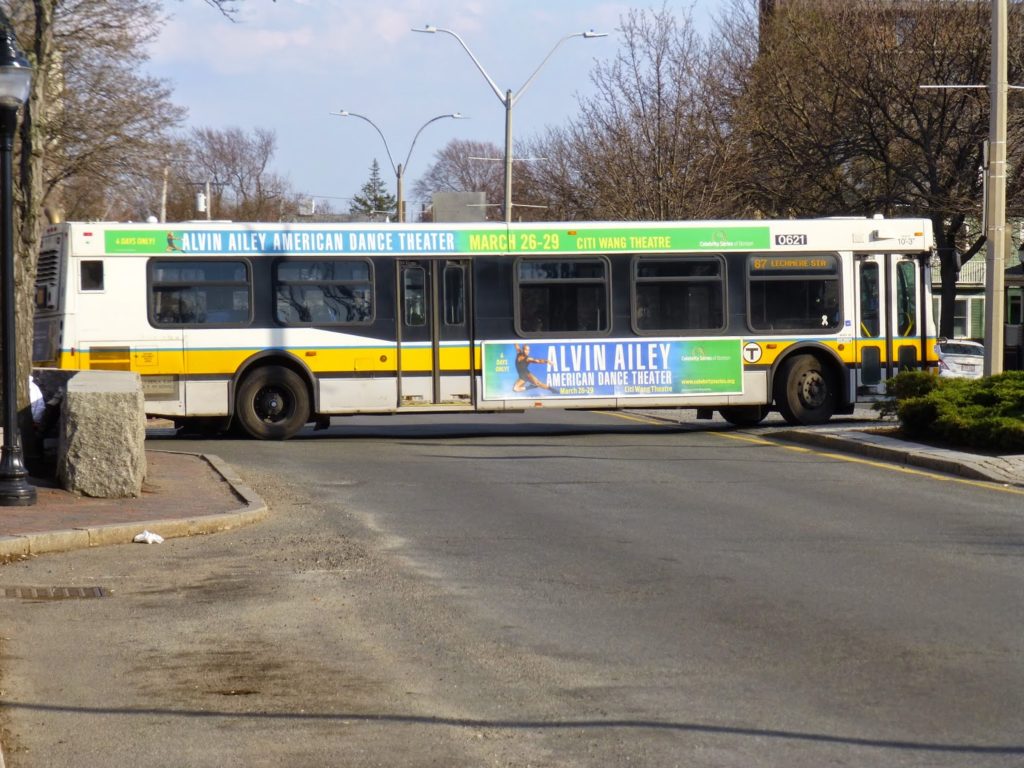 Okay, this is actually a pretty cool picture, though.
Route: 87 (Arlington Center or Clarendon Hill – Lechmere Station via Somerville Ave)
Ridership: I was blown away by the amount of people who rode this bus! There were over 60 riders, and it was a Saturday! The numbers show high ridership, too – on weekdays, the route gets an average of 3,796 riders; on Saturdays, it's 2,858; and on Sundays, it's 1,917. On weekends, the route is actually in the top 25 bus routes for ridership, which is great.
Pros: The 87 cuts through some densely packed areas, and links them to both Lechmere and Davis (and technically Porter). It also has a pretty good schedule across the board, running about every 15-20 minutes rush hour, every 30 minutes during the day and on Saturdays, every 35 minutes at night, and every 40 minutes on Sundays.
Cons:
I guess every 40 minutes on Sundays might be a bit infrequent, but it's not horrible, especially compared to
the last bus I reviewed
. Also, it's annoying how the 87 doesn't go all the way to Arlington Center on Sundays, but on my ride, there were only two people going up there, anyway. It may just not be a portion of the route with a lot of ridership.
Nearby and Noteworthy:
This route goes by
Johnny D's
, which I can't believe I forgot to mention in my
Davis review
. I've been to a lot of breakfast places and eaten their french toast, but out of all of those, Johnny D's is the clear winner. They also do a lot of live performances at night.
Final Verdict: 8/10
This is a pretty standard route, but also a good one. It serves a lot, runs often, and clearly gets used often. Also, the bus was never too crowded, because the riders were pretty spread out along the route. So yeah, the 87: it's pretty good.