The 83's primary function is to sew together the parts of East and North Cambridge that other buses don't serve. In that sense, it does its job well. The route is the opposite of straightforward, making a lot of crazy turns along the way. In Central Square, note that it leaves from Magazine Street, not the large shelter on Mass Ave. The first time I took this bus, I got lost trying to look for it. Also, the bus shelter at Magazine Street can sometimes attract some… questionable characters. Once, I was waiting there next to a woman creepily singing the ABC's. When I took the 83 for the blog, there was a guy trash-talking the bus, then storming off when he almost got run over.
Anyway, there were 18 people on the bus leaving Central. The bus cuts across Mass Ave and goes onto Prospect Street immediately after leaving the bus stop. The stop after Central, Bishop Allen Drive, is also a big one, with 6 people getting on there. However, Harvard St, the next stop, saw three people getting off already. We were only three stops from Central Square! After crossing Broadway, there were voluntary standees on the bus. Calvin St, the stop after Inman Square, was surprisingly a major one, with 6 people getting off (a shout-out to my friend Calvin, by the way). The bus then goes straight on Beacon St for a while before making a turn onto Park St that narrowly misses the curb. On the short straightaway, it makes a sudden stop at the railroad tracks. Though it may seem annoying, it's a good precaution in case a surprise train is coming.
After the railroad tracks, the bus turns again onto Somerville Ave. This is where it starts to slowly leak out its passengers, with one or two people getting off at each stop. Unfortunately, this is also where the traffic starts. The bus can get stuck for a while on this street. Two people got off at Porter, and then the bus turned onto Mass Ave to follow the 77 for a bit. At Rindge Ave, there's a deadly traffic light. Lately, I've been lucky with it on the bus, but it can be torturous if you're stuck at it. The portion on Rindge Ave up to Clifton Street is where most people get off. However, some actually get on to save what can be an awful walk in inclement weather. The bus passes the Peabody School/Rindge Ave Upper Campus where many students get off in the morning and on in the afternoon.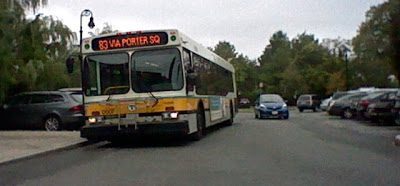 The 83 at its little terminus.
From there, it goes a few more blocks, then ends at its terminus at Russell Field. For a while, I was wondering why it doesn't go to Alewife, which is a block away. Then I realized that when going back to Central Square, it would have to go on Alewife Brook Parkway, go around a rotary, and then go back up Alewife Brook. It would be too convoluted, plus the bus would get stuck in a lot of traffic. Still, service to Alewife might be nice. Anyway, instead the bus ends at a funny little area by Russell Field. It originally had a nice bus shelter with orange glass. Over the years, however, the glass slowly disappeared (most likely by vandals) and now it's just a frame with a bench. On most trips, the 83 pulls into the driveway-esque area, then struggles to turn around while avoiding the parked cars. However, sometimes the 83 will turn into another route with service from Alewife. On my ride, the 83 turned into the 62 to Bedford as it navigated the large traffic jam to Alewife.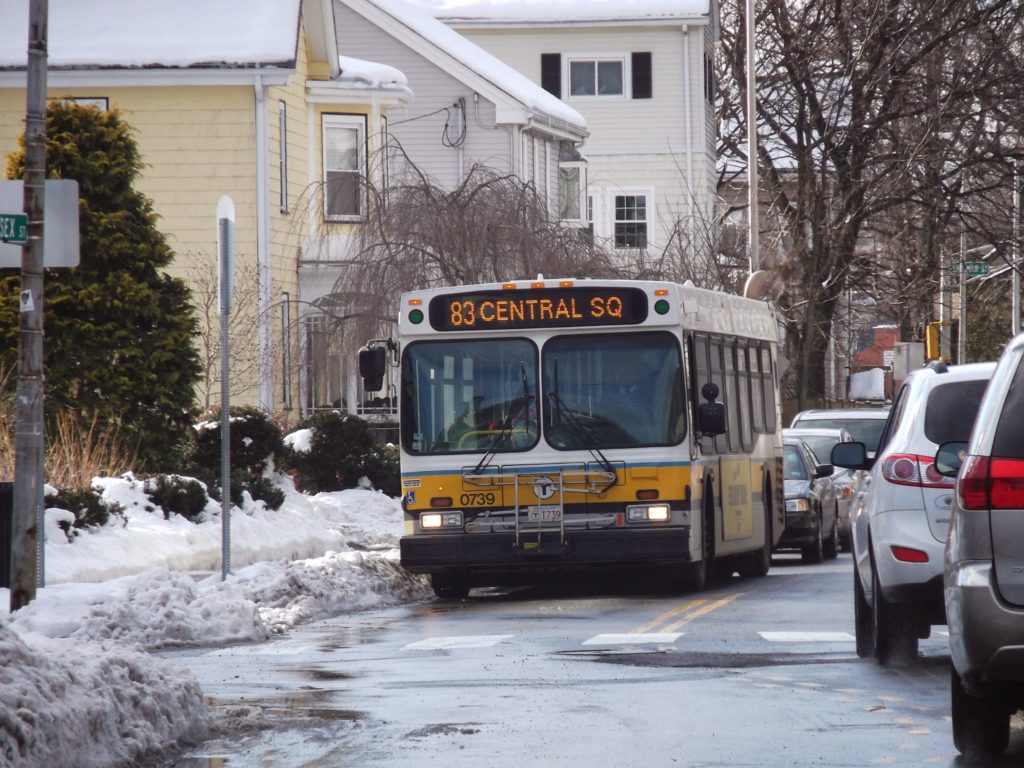 A picture of much better quality – the 83 on Rindge Ave.
Route: 83 (Rindge Ave – Central Square, Cambridge via Porter Square Station)
Ridership: Locals who aren't served by the other buses in Cambridge, particularly Rindge Ave. Some people pretty much use the 83 as a Rindge Ave shuttle bus. Plenty of Peabody School/RAUC students use the bus, too. Interestingly, some people took this bus from beginning to almost-end (and 4 people got off at the terminus, which surprised me somewhat). The bus had 36 fare-payers in total for my ride, which is a pretty good amount for the hour before rush hour.
Pros: It sews transit-starved neighborhoods together. The headways are good overall, running every 20 minutes during rush hours and every 30 minutes during off-peak times and Saturdays. Plus, those turns are fun if you're not expecting them.
Cons: First of all, the headways are every 50 minutes on Sundays. Second, the 83's crazy route makes a lot of left turns, meaning getting stuck at a lot of traffic lights. Third, Somerville Ave can get pretty hairy in terms of traffic, and trying to get onto Mass Ave from it is not fun. Fourth, the 83 side of Porter needs a bus shelter! I once had to wait for 15 minutes under pouring rain for a bus. Finally, service to Alewife would be nice, but it's a relatively hard route to plan.
Nearby and Noteworthy: The bus goes by a nice, large playground that kids would like. Also, a place I forgot to mention in my Porter review (but that the 83 goes by) is Newtowne Grille, a good pizza joint that's located near Davenport St.
Final Verdict: 6
I gave this bus a generous score because of its much-needed service. However, the left turns are awful (though this can't be fixed) and the headways aren't exactly optimum on Sundays. As for possible service to Alewife, I created a map that shows a possible route via Terminal Road and the Fresh Pond Mall. Unfortunately, the aforementioned traffic on Alewife Brook Parkway might not make this the best route.
Latest MBTA News: March 31 – April 1, shuttle buses will replace the Orange Line from Sullivan Square to Oak Grove starting at 9 PM. Regular service will resume the next morning. Also, the Silver Line SL1 and SL2 will be operating at street level from South Station to Silver Line Way due to work in the underground transitway. This will be happening today and tomorrow (March 27 – March 28) starting at 9 PM until the end of service, and on March 29 – March 30 from 9 PM on the 29th until 2 PM on the 30th. For connections, click here. Finally, on March 30 – March 31 and April 6 – April 7, shuttle buses will replace the Blue Line from Airport to Wonderland from start to end of service.