There was one time, a while ago, when I almost took the 94. It was a Sunday, and I was at Davis, all ready to go. Then I found out that the Red Line was running shuttle buses – crap. Then I found out there was a road race going on – double crap. Then I found out that all buses were boarding on Mass Ave, five minutes away – well, there goes the 94. Now it's time to actually ride it.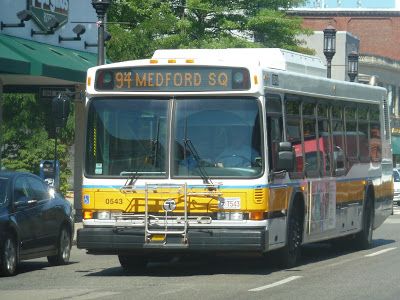 The bus in Medford Square.
Leaving Medford City Hall, where the 94 and 96 terminate, we made our way down High Street, going by the businesses of Medford Square. As the retail thinned out, we reached a rotary, where High Street curved south a bit. From there, it was mostly houses.
Eventually, we passed a school, then some more businesses near the West Medford Commuter Rail station. After crossing the tracks and going by a few more businesses, it became residential once more. We then turned onto Boston Ave, which almost went in the same direction we were coming from.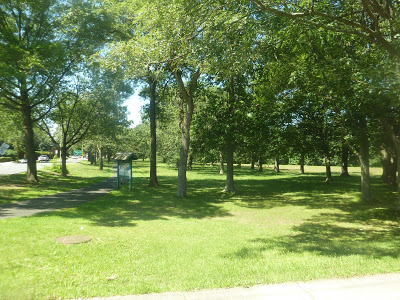 What a lovely day!
Crossing over the Mystic River, we passed a park, then went through a short industrial section. It was residential once more from there, until the intersection with Winthrop Street, where there was a business block. From there, the surroundings were mostly Tufts University buildings, which continued as we turned onto College Ave. After navigating through Powderhouse Square, College Ave eventually led to Davis Square, where the bus terminated at a street stop.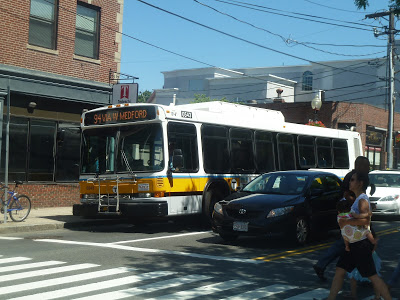 The bus at Davis.
Route: 94 (Medford Square – Davis Square Station via West Medford and Medford Hillside)
Ridership: I was surprised at how high it was! There were about 25 people on my trip from Medford to Davis. The 96 had less than 10! And it's odd, because the 94 does get lower ridership than the 96 overall – an average of 1,596 riders on weekdays, 728 on Saturdays, and 544 on Sundays.
Pros: Okay, I didn't realize this until now, but the 94 and 96 are actually coordinated. They have the exact same schedules (every 17 minutes rush hour, 35 minutes weekdays, 40 minutes nights, 50 minutes Saturdays, and 70 minutes Sundays), so technically all those headways are divided by two for Medford to Davis service. That means that coordinated, the routes have great schedules!
Cons: So you know how the MBTA sometimes puts two bus routes on the same schedule card? Can they please do that for the 94 and 96? I think that would make it a lot more clear that there are two options for getting from Davis to Medford Square. They do say "For additional service between Medford
Square and Davis Square Station please refer to
Route 94/96 schedule card" on their respective schedules, but that doesn't really say much about how the schedules are coordinated.
Nearby and Noteworthy: Medford Square and Davis Square are interesting, but there isn't much of note in between. Well, Tufts, I suppose.
Final Verdict: 8/10
Well, I done goofed. I criticized the 96 for having a pretty terrible schedule on its own. But now that I know it's coordinated with the 94, they actually have a good schedule together! I just wish it was more obvious that they were coordinated. If the two routes had a combined schedule card, it would be much easier to plan trips out.
Latest MBTA News: Service Updates
I was asked by Gus Rancatore to post a map of the stations of the Green Line extension, so I figured I'd put that here. Thanks for reading, Gus!