Boy, I can't wait to ride this summer-only bus route to this summer-only ferry service! Mm-mm, I am totally not late at all on this one…
The 91 serves as a free connector from Providence Station and downtown Providence to the ferry to Newport down at India Point. I boarded at the station (the route uses the R-Line stop), and we headed down Exchange Street. This took us over the Providence River, after which we turned onto Exchange Terrace and stopped at Kennedy Plaza Stop X.
Going over the river.
We merged onto Sabin Street after our stop, making another one at the huge Rhode Island Convention Center. After that we turned onto Empire Street, which had charming historical buildings on one side and ugly office buildings on the other. It eventually became Chestnut Street and we passed a mixture of undeveloped land and new constructions.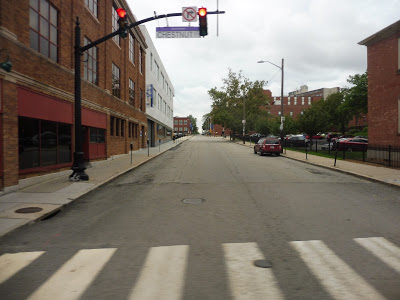 A quiet side street.
The narrow road took us into an industrial area that seems to be in a transition period: among the parking lots and old warehouses were new buildings and businesses. We turned onto Point Street at the end of Chestnut, which led us out of the neighborhood onto a bridge over the Providence River. Once we turned onto Water Street, it was clear this area was experiencing a similar renaissance too. We soon went under I-195 and turned onto India Street, and we arrivted at the terminal.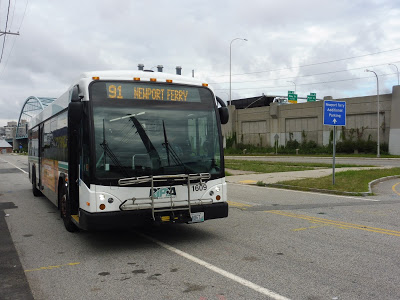 The strange desolate area of the ferry terminal.
RIPTA Route: 91 (Ferry Shuttle)
Ridership: Unfortunately, there were just two other people on my ride, and they both came from Kennedy Plaza. I mean, it's not like the bus actually timed with any trains at the station – it was an hour after the previous one and an hour before the next one!
Pros: This is an awesome little connector. It arrives at the ferry terminal 15 minutes before each boat departure, giving passengers plenty of time to buy tickets and get on board. It also returns to Providence 15 minutes after each boat arrival. The ferry terminal is in a very weird, isolated location, so having this fast, free bus to bring people to and from actual civilization is great.
Cons:
This route just needs more advertising. I'm sure most ferry riders have no idea it exists, although it does get pretty good billing on the
ferry website
. Perhaps the cause of the low ridership is the fact that car parking is free, meaning that for most people, there's not much reason to use this route.
Nearby and Noteworthy: We'll cover the ferry in the next post, but it's an awesome ride and this is a fantastic way to get to it!
Final Verdict: 8/10
It's gotta be the free parking, right? That's gotta be the reason why this thing gets such low ridership. Imagine if Seastreak charged for parking and used the funds to subsidize this free shuttle! Maybe then more people would take the energy-efficient route to the terminal! Until then, though, it'll probably just, uh, run back and forth with hardly anyone on it. Oh well…