I've talked about a couple of RIPTA routes before under the "Service Change" moniker, but this is the first time I'll be doing a proper review of one of their routes – and it's a good one. The R-Line is kind of like RIPTA's "main route", taking its two most popular lines and combining them into one "rapid bus". Note that it's called a rapid bus, and not BRT, and I'll explain why.
A straight-on view in Pawtucket.
For one thing, the buses get a special green R-Line livery, as you can see. However, this is not BRT, as there are no bus lanes or other BRT requirements. Instead, the R-Line gets small perks, such as limited stops and the ability to make green lights longer and red lights shorter (something not even the Silver Line does). It really does speed up the route, and makes it better than a regular bus.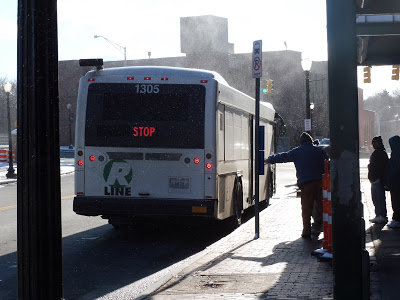 "STOP"!
The R-Line also has its own livery inside, with a green ceiling and strip maps of the route on the walls. Other than that, it feels like a typical RIPTA bus, with the same seat patterns and cords to request stops. However, the R-Line does have automatic announcements for every stop, and even though the voice is a bit annoying, it's a good feature.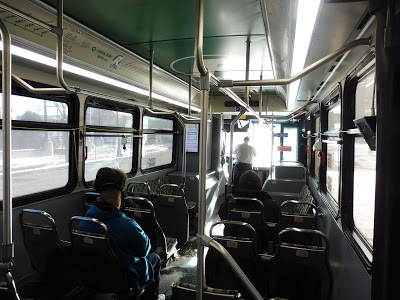 The inside.
We left the Pawtucket Transit Center heading down Roosevelt Ave, briefly travelled on Main Street, and then turned onto High Street. Brick buildings lined the road, but they weren't occupied by much. We turned onto Exchange Street, which soon gained a median. After it became Goff Ave, the median went away and the street narrowed.
Hoo, boy.
It got very industrial as we turned onto Pine Street, passing burnt out factories and undeveloped plots of land. We then turned onto Main Street, passing a cemetery, and then the street was lined with businesses and houses. We crossed over I-95, and the businesses/house combo continued on the other side.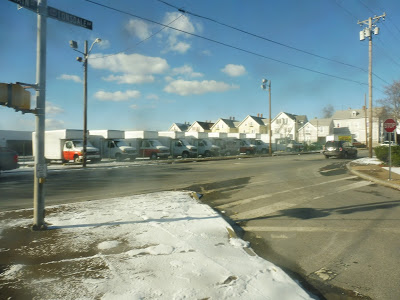 Some trucks lined up.
As Main Street made a slight curve, the surroundings became that strange mix of residential, commercial, and industrial that you can only find in northern Rhode Island. Eventually, we merged with Pawtucket Ave, and the road became North Main Street. It had a leafy median for a bit, but that soon got replaced by an asphalt strip.
Luckily, this was only for a little while, as the trees came back to the median eventually. Around this time, we passed a cemetery, which was so big there were two stops along it. There was an industrial section, and then there were apartments on one side and a shopping plaza on the other. The street started to slope down a hill and split into two one-way roads. We were on Canal Street, which paralleled the Moshassuck River.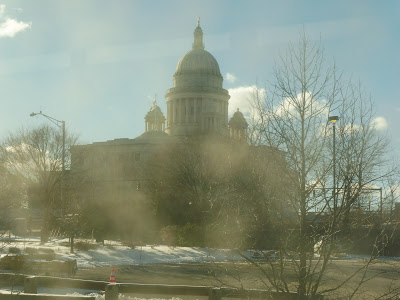 Gotta love that blurry state house!
We crossed over the tiny river on Park Row West, making a detour in order to serve Providence Station. We then turned onto Exchange Street, crossing another canal and turning onto Memorial Boulevard. Heading onto Kennedy Plaza, we were surrounded by the buildings of downtown Providence, arriving at the Kennedy Plaza bus station soon after. Here, almost the whole bus cleared out, but there were more passengers who got on.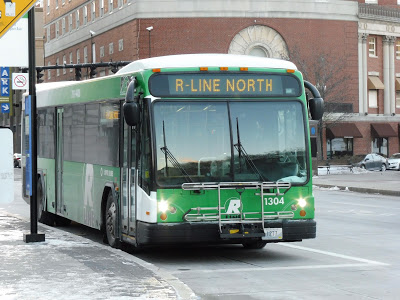 A different bus at Kennedy Plaza. This was taken later in the day.
We made our way to Washington Street, with 3-6 story buildings on either side. It was less dense by the time we turned onto Empire Street, and then Broad Street. After crossing over I-95, we passed apartments, old factories, and businesses. There was a retail block for a little bit, and when Broad Street curved southward, we passed another cemetery.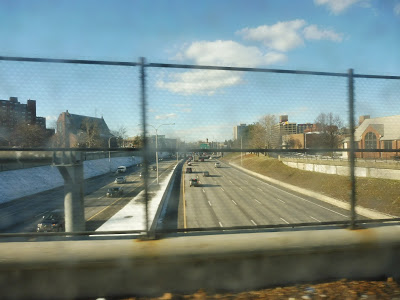 Going over I-95.
The surroundings were now a mix of houses and businesses, though we did go by a hospital, too. There was also the occasional church to break up the scenery once in a while. But…it was basically that for a long time. Things shifted more over to businesses as we went further south, but after we crossed I-95 again, Roger Williams Park went by on the right.
It went back to the house/business mix once more from there. At the intersection of Broad Street and Eddy Street, there was a small park, and this intersection marked the end of the route. Just barely entering Cranston, we pulled into a little terminal with not much point other than turning buses around.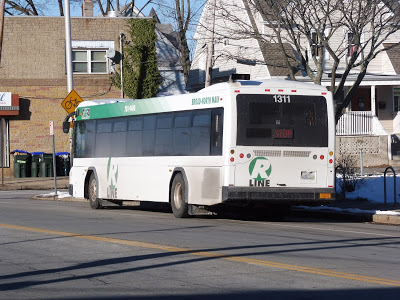 A different bus on its way back towards Providence and Pawtucket.
RIPTA Route: R-Line (Broad/North Main)
Ridership: BUSY. In total, my trip had about 50 passengers (on Martin Luther King Day, no less), many of whom got on or off in Providence. Unfortunately, the R-Line is too new for RIPTA to have published ridership statistics for it, but it's a combination of the former two busiest RIPTA lines. You can imagine that the combined ridership of the two routes coupled with more frequent service will equal a lot of ridership.
Pros: There's not enough praise I can give to this route. Firstly, it takes a direct path, cutting from Pawtucket right through Providence down to the Cranston border. And not only does it serve a lot, but it does so frequently. We're talking every 10 minutes weekdays, every 15 minutes weekends, and every 20 minutes at night. Keep in mind that the 11 and 99 (the routes that the R-Line replaced) ran up to every 40 minutes on weekends! And it's because of this increased frequency that so many people use this route, since they can rely on it! It helps that it makes limited stops and has those cool little rapid bus perks to make the trip even faster.
Cons: I guess the only real con I have is that this isn't full-on BRT, but the roads the route on which the route travels aren't wide enough for bus lanes. They would have to get rid of parking, and no one wants that. The current "rapid bus" setup works great, anyway.
Nearby and Noteworthy: Ummm…right, so the neighborhoods this route goes through aren't what you'd call touristy. They're places where a lot of people use the bus, but they're not touristy. That said, if you're willing to walk through a park for a bit, the R-Line will get you pretty close to the Roger Williams Zoo (and it runs a lot more frequently than the 6, which directly serves the zoo, but that's for another post). Of course, there are a bunch of attractions in Providence, too.
Final Verdict: 10/10
Oh yeah, I just did that. I mean, come on, what isn't there to like about the R-Line? And besides, it's arguably the best route on the RIPTA, so relative to the rest of the system, a 10/10 makes perfect sense. The route's schedule card brags about how you don't have to look at timetables because it runs so frequently, and that's very true. I'm sure the R-Line gets way more ridership than what its predecessors got, simply because more frequency on an already busy corridor = more passengers. Simple as that.
Latest MBTA News: Service Updates