You know it's a smaller city when a bus route considered to be a "key corridor" runs every 45 minutes on weekends. Still, Nathan, Sam, and I had to get to T.F. Green Airport somehow on our way to Quonset, and the 20 was timed perfectly for our needs. Is the route interesting aside from its timeliness on a certain Sunday to help three people get to an air show? No, not really, but we're looking at it anyway!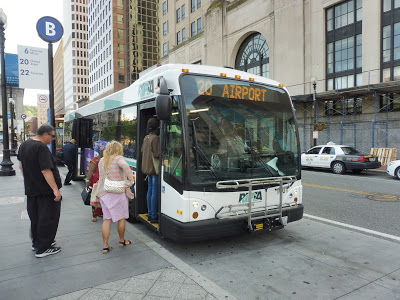 The bus at Kennedy Plaza.
Leaving Kennedy Plaza in downtown Providence, we headed down Washington Street, which was lined with cute three-story buildings. Outside of a theater, we turned onto the wider Empire Street. After passing some offices, we turned again onto Broad Street, going over I-95 and running along with the R-Line and the 22.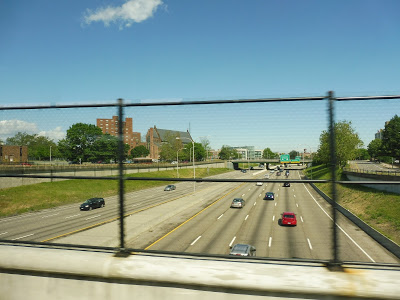 Going over I-95.
We went by a field and a high school, then there were a few businesses at Trinity Square. The street widened with a nice median for a bit as the R-Line continued down Broad Street; meanwhile, us and the 22 headed down Elmwood Ave. After a cemetery, the street became pretty industrial, but there were houses in view down the side streets.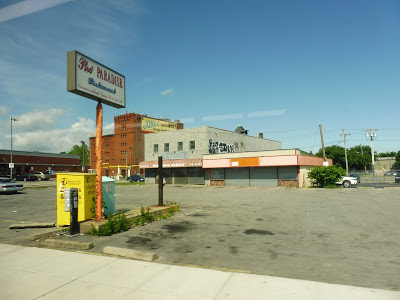 This doesn't seem to be the liveliest of areas.
From there, it became a mix of houses, businesses, and industry, plus churches and a library. We passed another cemetery, and at nearby Columbus Square (basically just a plaza in the middle of an intersection), the 22 broke off onto Reservoir Ave. We were now on the 20's independent section, running along the wide Elmwood Ave.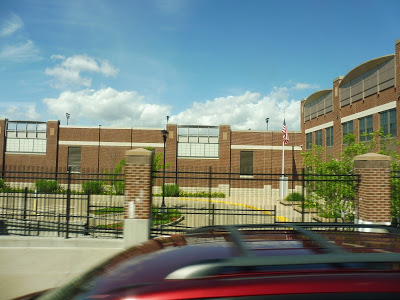 A bad picture of RIPTA's main office! Woah, I'm freaking out!!!
One of the more interesting aspects of this route is that it goes past RIPTA's main office and yard. Unfortunately, I was sitting on the "office" side, so I didn't get to see the buses stored on the other side of the street, but it was still pretty cool. It was industrial past there until we crossed I-95 again, going under the highway this time.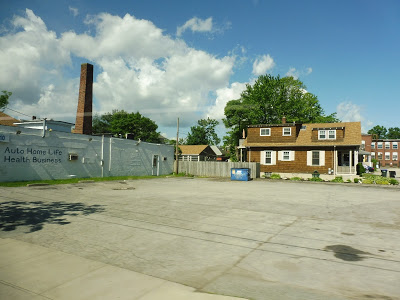 Beautiful scenery…
We got a nice little break after the highway crossing, passing through a nice park. After we went under another highway, though (Huntington Expressway), the scenery became a mix of dense houses and industry. Around this time, we entered Cranston, and reached the big parking lot of an Ocean State Job Lot. On weekdays, every other trip terminates here.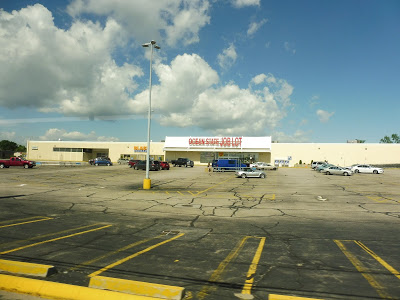 Not the most official of terminals…
It was quite industrial from there, including some pretty big factories. We crossed over the Pawtuxet River, and the scenery went from factories to just plain warehouses and offices. Eventually, Elmwood Ave reached its end point and we turned onto Post Road, which was…also industrial! Wooooo!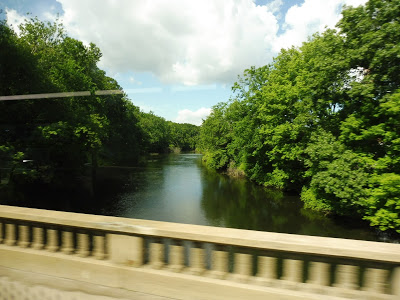 Going over the river.
Businesses with huge parking lots started to appear, which is an improvement, I guess. We went through another highway interchange, then passed a really deserted-looking mall. After another shopping plaza, airport-related businesses and hotels started popping up, and we merged onto T.F. Green Airport Connector Road. This took us up to the airport busway, where the bus went out of service.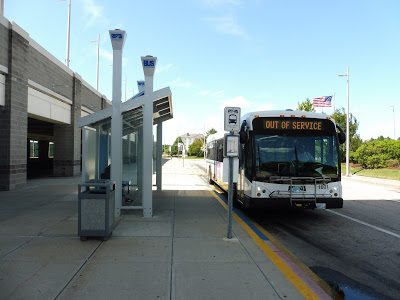 The bus at the airport.
RIPTA Route: 20 (Elmwood Ave)
Ridership: For a Sunday morning, my ride was surprisingly busy, with about 20 passengers in total. What's more, 40% of those passengers got on at stops other than Kennedy Plaza, which shows that there's good local ridership for the route as well. Overall, the 20 is RIPTA's 5th-highest ridership route, with 2,464 passengers per weekday, 1,213 per Saturday, and 796 per Sunday.
Pros: This is a direct route that serves a lot of neighborhoods. It's also very frequent on weekdays, running every 15 minutes with every other trip terminating at Ocean State Job Lot. And yes, I did ridicule the bus for its 45 minute weekend schedule, but 20 riders seems like the perfect amount for a Sunday morning, so the headways are fine as they are.
Cons: Nothing much, although some of the stops can be ridiculously close together. Also, and this is exclusive for my trip, the driver drove the bus at the same speed as the route number! It was torturously slow!
Nearby and Noteworthy: Unfortunately, the 20 doesn't serve any areas that would be of note to visitors. The RIPTA bus garage is interesting, I guess.
Final Verdict: 9/10
This is definitely one of the best routes on the RIPTA! The 20 serves a lot along its run, and its schedule is perfect for the amount of ridership it gets. I like how every other trip terminates at Ocean State Job Lot on weekdays, since the outer section is quieter anyway. Plus, since the trunk route is every 15 minutes, that's still every half hour service to T.F. Green!
Latest MBTA News: Service Updates