When I say T.F. Green Airport, I of course mean the Commuter Rail station that corresponds to the airport itself. However, since I took pictures of the amazing modern terminal, I will also talk about as much of the airport as we were able to explore! This is gonna be a big one, so let's do it!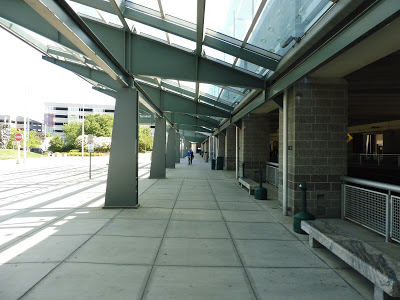 The airport "busway."
I honestly can't tell if the busway doubles as an "arrivals" area or if it's just for buses. Regardless, it's suited for bus connections, with beautiful shelters, lots of benches, and great signage to each of the services to the airport. Three RIPTA routes service the busway: the 1 to Pawtucket, the 20 to Providence, and the 14 to Providence or points south.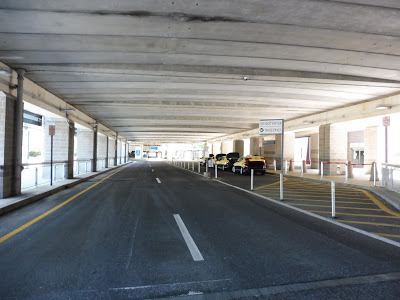 Now that's an arrival area! Or at least a taxi area.
I do know that the road next to the busway is most certainly for arrivals. It doesn't feel as nice as the busway, since its architecture is mostly concrete, but I guess it gets the job done. There are also taxi berths out here.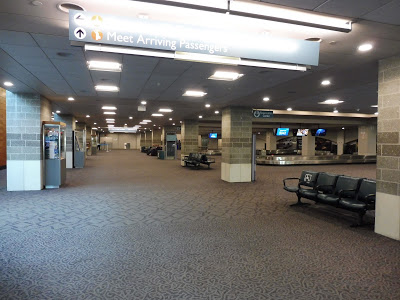 This is pretty generic.
The first thing you see when you step into the terminal is the baggage claim area, which is the lamest part of the airport. It has low ceilings and really dated architecture. Still, as a baggage claim area, it gets the job done fine, and there are lots of benches around, too. The wall-to-wall carpeting is abysmal, though.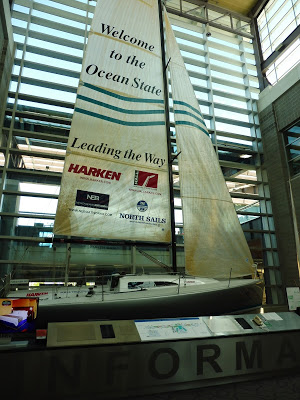 Now that's what I call an information booth!
Information booths at airports are usually pretty boring, but T.F. Green has an amazing one with a huge sailboat welcoming tourists to Rhode Island. I mean, I wonder how many tourists actually use this airport, but it's still pretty cool. The information given is just generic stuff for visitors like locations of hotels and attractions.
I do need a ride! Thank you for asking!
The information booth also has really well set-up "transportation corner." It features a rack of schedules for all the RIPTA routes that serve the airport, as well as an updated Commuter Rail schedule. Strangely, though, the latter still says "MBCR" at the top, despite the conversion to Keolis happening two years ago. There are also some pamphlets and cards for various other shuttles here.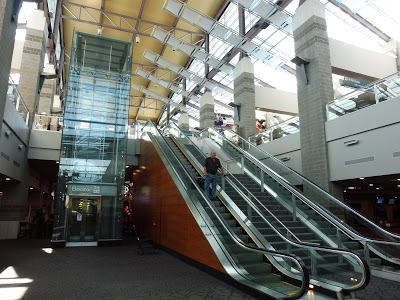 Aww, yeah!
Now we're talking! The main terminal at T.F. Green Airport is very modern, and so it requires a very modern way of getting up there. You've got a beautiful glass elevator, a staircase, and two escalators! They weren't skimping out when it came to ascending floors at this airport.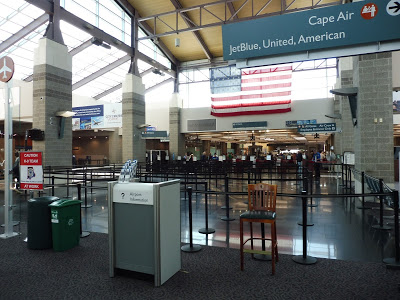 The main terminal.
We weren't able to get too far into the main terminal, but what we saw was amazing. It had huge high ceilings with lots of natural light coming in from the many windows. Everything was very modern and clean, and there was a lot of space set up for lines at security. It was still smaller than any Logan Airport terminal, but this is a much smaller airport.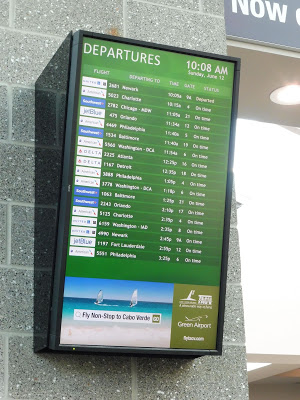 Such interesting destinations…
A quick glance at the departure board showed that only domestic flights were leaving on a Sunday. However, according to Wikipedia (and this timetable), international service has been announced for the airport, including a direct flight to Frankfurt! Will anyone use these flights? I guess time will tell.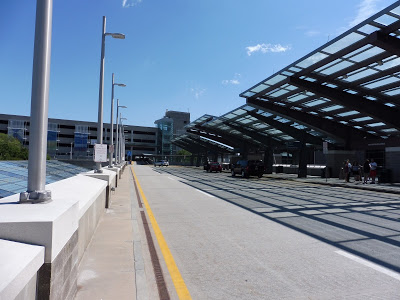 The departure level.
The departure level for drop-offs is pretty similar to the busway, with the same kind of modern glass shelter. Thus, it's great! The airport also offers a bunch of parking in five different lots. I can't give you an exact amount of spaces, but it's most definitely a large number.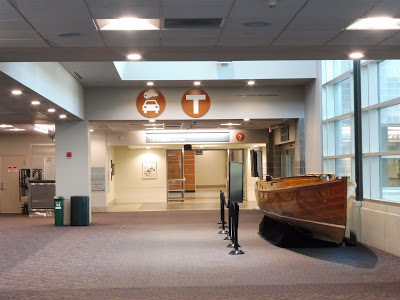 Oh yeah…the Commuter Rail comes here, too.
Heading back down to the lower level, it's time to finally visit the Commuter Rail station! In order to get there, though, you have to use…the skywalk. But in order to get to the skywalk from the first floor, you have to go through the baggage claim area again and toward a nice T sign. You also go by a canoe in the process, which…sure, that's cool!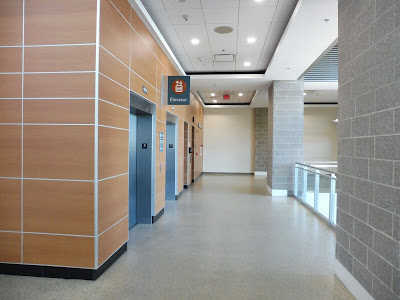 The elevators up to the skywalk.
Doesn't the name "skywalk" just send tingles down your spine? I was so excited to get to it that I didn't take any good pictures of its entrance area, which features an up escalator and a down escalator (no stairs). The room also has some interesting paintings on the walls.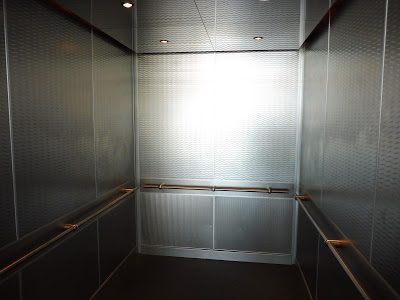 The elevator was fancier than it looks!
The elevators here are definitely worth a mention. Strangely, they had the exact same smell and feel as the newer Rotem Commuter Rail cars! Or, to put it in other terms, they were nice and modern and didn't smell like urine. That's what matters for a great elevator, right?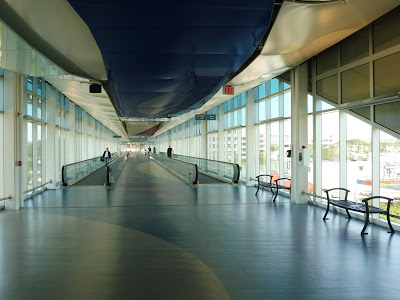 Welcome to…the skywalk.
The skywalk is pretty amazing. It has windows along its entire sides, and sweeping patterns along the floors and ceilings. There are a few benches sporadically placed in case people need a break, while moving sidewalks offer a faster way of getting through the long walkway.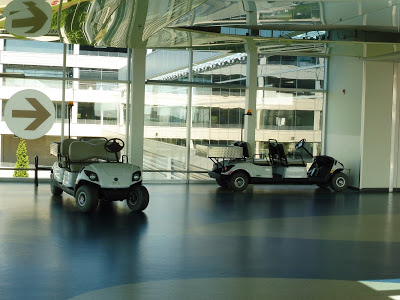 The entire cart fleet of the skywalk.
There is also a cart system that runs along the skywalk. I really wanted to ride one, but it was decided that it would be kind of embarrassing. Plus, the operator was quite busy, um, sitting there doing something on his phone. Sounds productive. The service is meant for people with baggage or disabilities, and can be called for whenever you want.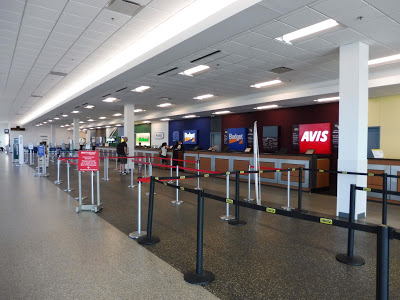 Rental cars, anyone?
Before the Commuter Rail station, you first reach the rental car area. It was pretty quiet when I was here, presumably because no planes had arrived yet, but the low-ceilinged, generic room seemed to be suited for a good amount of people. I'm not sure if it's considered a "good" amount or not, but lots of rental car companies serve the airport.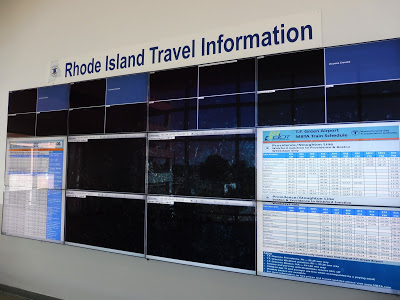 EW EW EW.
ALRIGHT, rant time! Heading along toward the Commuter Rail platform, we have this abysmal mess of a "travel information" area. Let's see, well, the majority of the screens are blank and malfunctioning, so I guess we'll skip past those! Alright, we've got times for all the RIPTA routes that serve TF Green…that would be nice, if they weren't all outdated and incorrect! And a Commuter Rail schedule? Great! That's also outdated! WOOOOOOHOOOOOWOWWOOOOOOO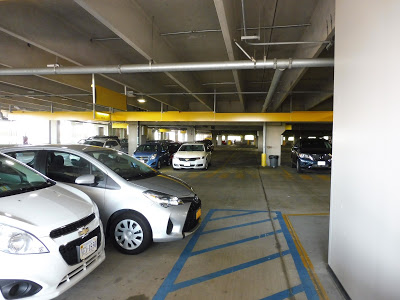 Ahh, look at all the rental cars!
Much of the big Interlink garage is dedicated to rental car parking, but there is also commuter parking here for MBTA passengers. In total, there are 650 spaces for commuters, but they come with a rather large fee of $6.50 per day (or $5.00 per day according to the T.F. Green website – not sure which one to trust). The garage does have an electric car charging station on the first floor, though, which is great!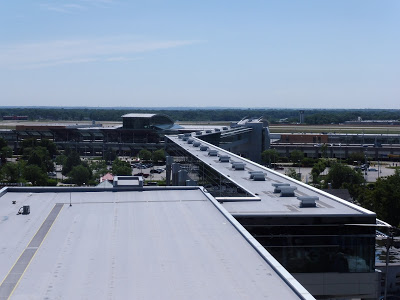 Looking back toward the airport.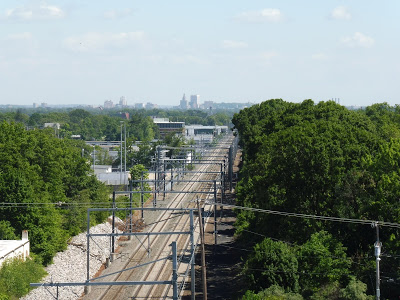 Nice view!
Gotta get those rooftop photos! The view from the roof of this parking lot is great, particularly looking along the tracks toward Providence. You can see the skyline from here, and it's a little skyline I've always been a big fan of.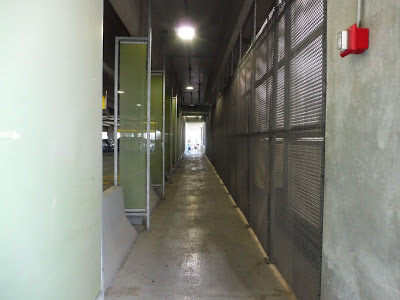 Hmm…a bit dank.
To get from the skywalk to the station, you have to pass through the parking lot. Luckily, a segregated pedestrian area is set up, but it's a bit…gross. I mean, it's quite dark and narrow. It's certainly better than having to go through the lot, but the aesthetics of the walkway could be much nicer. The parking lot also has an alternative exit onto Jefferson Boulevard.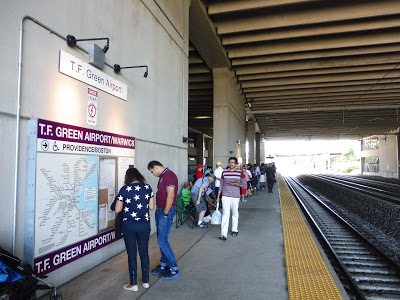 The crowded platform.
The station platform is…underwhelming. Sure, it's sheltered, but it's sheltered by a generic boring parking lot roof. This station is a fan of concrete, and it doesn't lend itself to the most modern look. There are plenty of benches at which to sit, at least. However, one major problem is the white sign visible in the above picture. Why is the station name in Helvetica? That's such a bad font choice for a sign! (For the record, I know this whole blog is written in Arial, but for some reason it shows up as Times New Roman in the post editor and I didn't realize the whole thing was Arial until it was too late.) UPDATE: Dunno what I was thinking then – every MBTA sign is in Helvetica. It's more that it's in lowercase, unbolded Helvetica! Also, the blog is no longer in Arial. Anyway…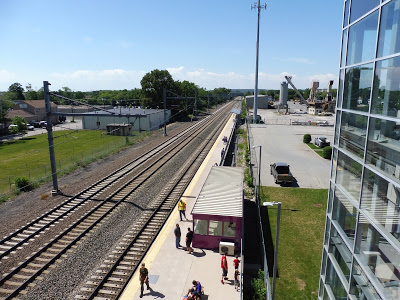 The platform…from above.
The outdoor section of the platform features a good amount of amenities. Closest to the part under the parking lot, there's a interesting purple shelter, the likes of which don't appear anywhere else on the Commuter Rail (to my knowledge). Meanwhile, if you go way far down, a generic modern Commuter Rail shelter awaits!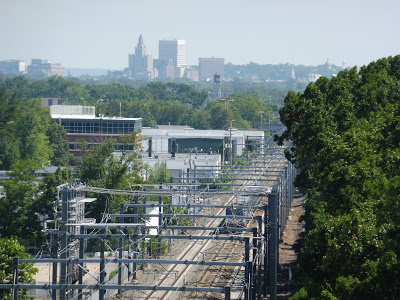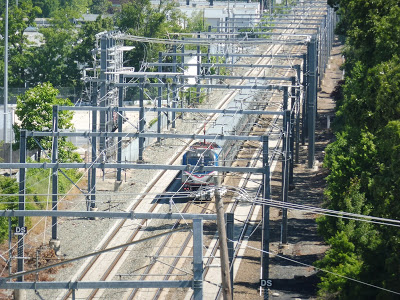 An Amtrak train rushing past the station…from above.
Station: T.F. Green Airport
Ridership: Although Providence is the busiest Commuter Rail station outside of Boston, T.F. Green Airport gets much much much lower ridership. On the average weekday, it only gets 227 riders, most of whom probably commute to Providence. That said, on the day I was here, there were huge crowds going to Quonset, but that was a special case.
Pros: For the record, I'm considering the "station" to be the skybridge and beyond. And if that's the case, the skybridge is the best part of T.F. Green Airport by far. Not only does it give a direct pedestrian connection to the airport, but it also looks amazing! Other than that, the station offers a lot of parking (more than its ridership), and most of the platform is sheltered. As an aside, that airport terminal is great, isn't it?
Cons: Once you get past the skybridge, everything is rather bland aesthetically. Additionally, if the MBTA website is to judge, the parking is pretty expensive for the Commuter Rail. Also, the fact that this station is only served by limited weekday trains means that hardly anyone takes the train to actually catch a flight at the airport. Finally, why is all the schedule information here so outdated? You guys have computer monitors, just update them!
Nearby and Noteworthy: Well…T.F. Green Airport, I guess. The rest of the surrounding area is industrial, so that's nothing interesting.
Final Verdict: 7/10 (9/10 for the terminal)
Man, without that awesome skybridge, this station would be quite meh. I mean, it's just a boring concrete Commuter Rail station. But hey, the skybridge makes it. Also, for the record, I really enjoyed reviewing an airport terminal! Maybe I could do the ones at Logan and call them "Silver Line stop reviews." Hmm…
Latest MBTA News: Service Updates