Considering RIPTA's typical express policy of three inbound trips in the morning and three outbound trips in the evening, it's interesting to see one that's primarily designed for reverse commuters. The 8X is especially unique, as it gets ridership in both directions! We'll be covering it when it gets peak ridership: the morning rush going outbound.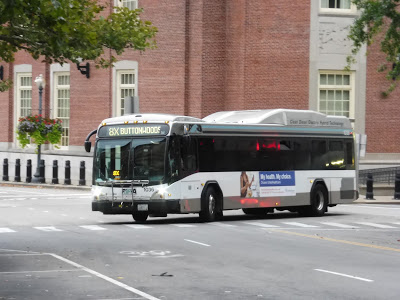 Comin' round the bend.
I got the bus at Kennedy Plaza, which is its last stop after doing the whole Downcity Loop around downtown Providence. Thus, we only had to make a few short turns before navigating a complex interchange onto I-95! We curved around the south side of Providence in a trench, but we went elevated near the Rhode Island Hospital.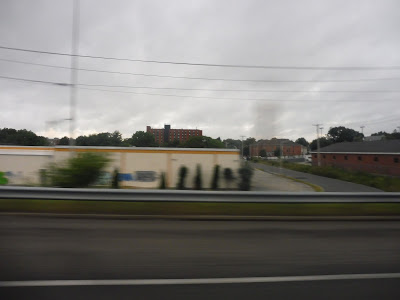 I have no idea where this is, but it was the only good picture I got along the express bit.
We reentered trench-land for a while, going alongside Roger Williams Park. After an interchange with the Huntington Expressway, there were roads on either side of our trench – one of them was residential, one of them was industrial. We went over the Pawtuxet River, then we took Exit 15 onto Jefferson Boulevard, starting the local portion of the route.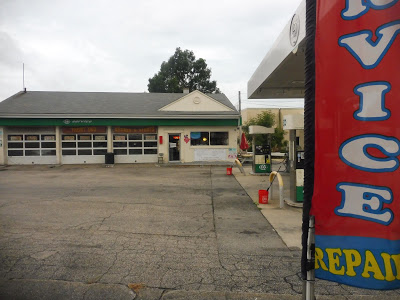 Some gas station.
So the entire portion of the 8X on Jefferson Boulevard was the same thing: a bunch of industrial buildings and offices lining the road. We just trundled down the street dropping one or two people off for work at each stop, and that was about it. There were a few businesses and a hotel near TF Green Airport Station (the 8 being the only route that directly serves it), but then it was the same thing again until Main Ave.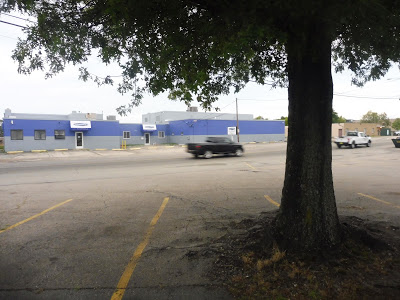 How the heck does a tree just grow in the middle of a parking lot? How does that work?
Some of the reverse commute oriented trips end here at Main Ave, turning around at the Greenwood Community Church. However, I was on a full-length run, so we turned onto Main Ave, briefly going through a residential neighborhood. That ended very quickly when we hit the border of TF Green Airport – there was just this huge expanse of open space and gigantic runways that continued as we turned onto Warwick Industrial Drive.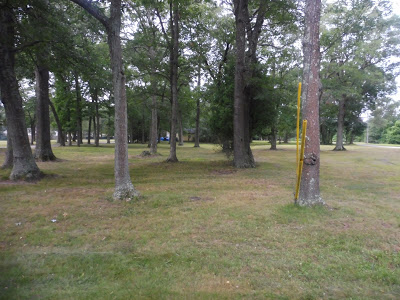 I was sitting on the wrong side, so here are some…trees.
We left the outskirts of the airport by turning onto Strawberry Field(s Forever) Road, and despite being mostly residential, there was still a huge industrial building with a ton of companies in it. We let someone off there before proceeding past lots of houses. Both the route map and the schedule seem to show a one-block deviation at the intersection with West Shore Road, but we didn't make it – we headed straight onto West Shore.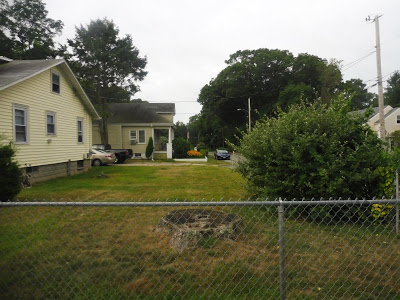 Some houses.
After the burst of suburban businesses at that intersection, we went through another brief residential area. We turned onto Buttonwoods Ave eventually, and that was yet another intersection with a burst of suburban businesses. And once again, it went back to being residential for a short time, this time until the "Buttonwoods Terrace Plaza," a truly awful-looking shopping center. As it turns out, that was the end of the route, too!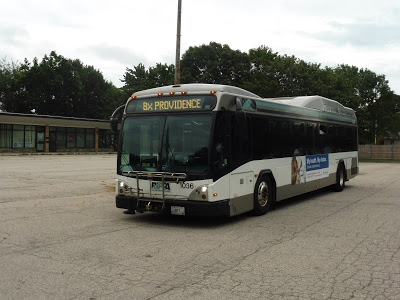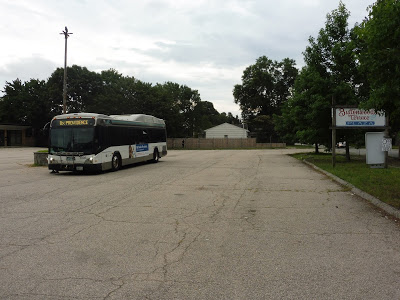 Ewwww…
RIPTA Route: 8x (Jefferson Boulevard)
Ridership: Unfortunately, RIPTA appears to have removed its route ridership sheets from 2012 that were such a helpful resource for this section. Thus, I'm forced to rely on my own trip, which got pretty good bidirectional ridership for an express route: there were 15 riders going out and 8 coming back into the city.
Pros: An express route with bidirectional ridership is a rare occasion indeed, and a wonderful thing when it does occur. The 8x serves both workers at the office parks along Jefferson Boulevard and downtown commuters coming from the residential neighborhoods further out along the route. The schedule caters more to the former, but there are options for everybody, with six inbound and seven outbound trips per weekday.
Cons: There isn't much wrong with the route itself, to be honest. The only thing I can think of is that weird deviation on the map that doesn't seem to exist, and if it did exist, would be completely pointless.
Nearby and Noteworthy: Let's be honest, the scenery along the entire route kinda sucks. It really doesn't take you anywhere you would want to go.
Final Verdict: 7/10
It's an express route so its score is not going to be astronomically high by principal, but I still like the 8x a lot. It's truly a great thing to have an express route that gets ridership in both directions, and it's so much more efficient to run when that's the case. Too bad I still have no idea what that deviation is…
Latest MBTA News: Service Updates