Whenever I pass through Providence Station on Amtrak, I always look out onto the platform and think "Man, this place looks horrible." And when I was walking toward the station and saw the exterior, I assumed the rest would be just as bad. Boy, was I wrong.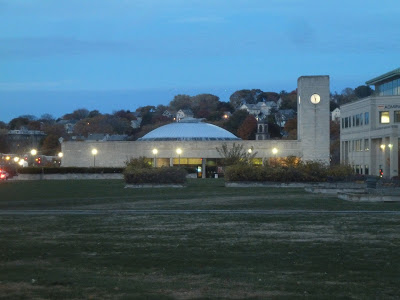 Well, let's start with the bad part…
Okay, I guess I can sort of see the appeal of Providence's brutalist building. The dome looks alright, and the fact that the clock tower isn't a perfect square is interesting. But, I mean, it's quite bland, isn't it? The clock tower is just a big concrete slab rising up from the building – which in itself is another concrete slab with a dome on top.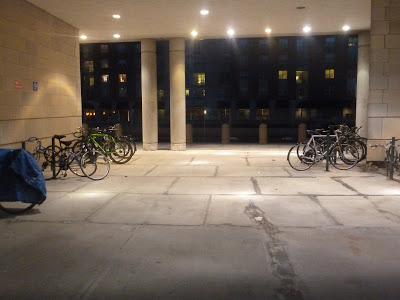 At least it's well-lit…
My friend and I approached the station from the southwest, which seemed to be the uninviting side, though it did have a few useful amenities. That side has an open concrete area with a few bike spaces, which is a good thing. There's also a café that was closed at the time, though I will say that it looks like it would be pretty good when open. But there were only two single doors into the station, and one of them was locked!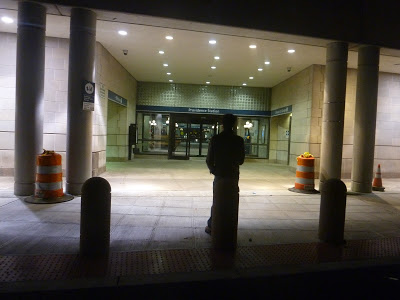 One of the station's main entrances. Also, my friend Michael makes a cameo.
Luckily, the station's main entrances are more inviting. There's one to the north on Gaspee Street and one to the south on Railroad Street. They're pretty similar, and they're both significantly more inviting than the entrance by the bike area. The Gaspee Street side has connections to four RIPTA routes, while the Railroad Street side functions as a drop-off/pick-up area. However, with the latter, you can walk a block to Park Row, where RIPTA's R-Line rapid bus stops.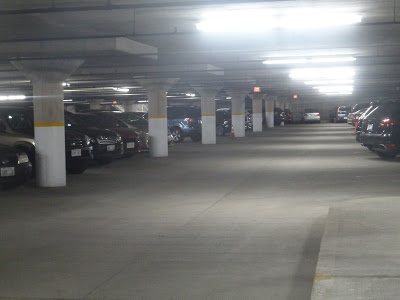 The underground parking garage.
The station has 330 parking spaces, all housed in a two-level underground garage. Considering that this is an urban station that's pretty close to the hub of most RIPTA routes, it seems like the existing parking is plenty. Although the elevator used to get down to the garage is a bit disgusting, the stairs are fine and the garage itself is…well, a generic parking garage, but that's not a bad thing.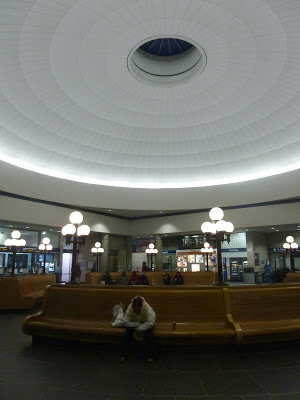 Oh, yeah! Here we go!
Okay, this station's waiting area is amazing. Its main attraction is the dome, of course, which is very high up and has a small window at the top. There are benches that circle it, and old-fashioned lamps everywhere to light the place up.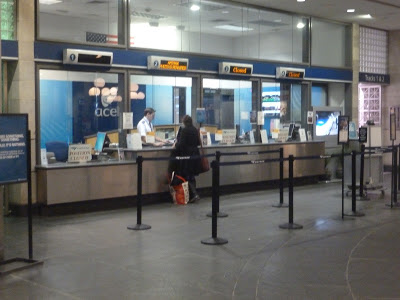 My camera's not the best at night pictures, so this was the best one I could get of the ticket office.
As this is an Amtrak station, Providence has a few ticket booths for last-minute purchases. There are four in total, but I think only Amtrak tickets can be bought there – with the Commuter Rail, you just buy them on the train. Also, unlike South Station, you can go down to the Amtrak platform without a ticket. There's no "line up to show me your ticket before you even go to the platform" madness like what happens at South Station.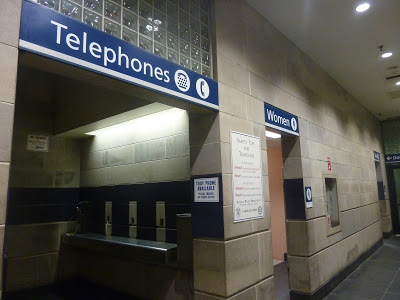 A few side rooms.
The station has a few more amenities, located in rooms leading out of the waiting area. For one thing, there's a telephone room, though most of the payphones are gone. I guess a room like that isn't going to be too useful nowadays, anyway. There are also bathrooms, and they're not as disgusting as you might think. Okay, they're train station bathrooms, so don't expect to be blown away, but they're not as bad as other ones I've been to.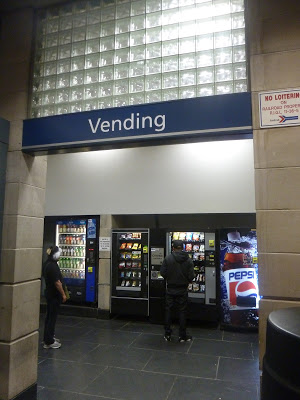 The vending machine room.
Providence even has a room called "Vending"! And that's literally what it is: a room full of vending machines. I mean, it has every machine you can imagine, from drinks and snacks to those fancy ones that give you coffee and ice cream. Truly, this room is a boon to humanity.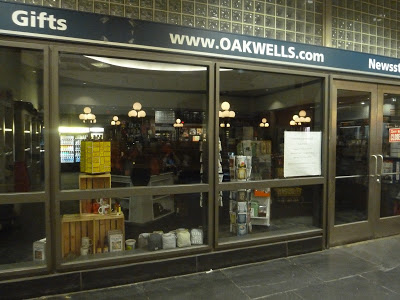 A closed shop.
There are also a few shops inside the station. The first one is that café I mentioned earlier, which is apparently French. Right outside of it is a flower kiosk – I feel like these show up in train stations a lot, for some reason. Finally, there's a general-purpose kind of store, with souvenirs, magazines, snacks, and more. Unfortunately, all of these were closed when I was here, but they probably get busy during rush hour.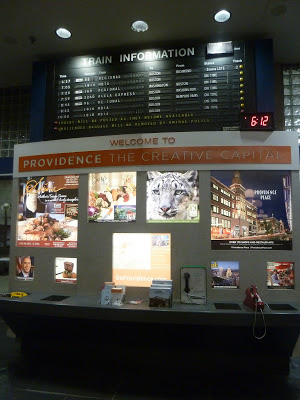 Man, Providence, you just gotta keep blowing me away, don't you?
I seriously was not expecting a departure board here, and yet…there it was. Yes, this station has a small departure board showing when trains leave the station. And right below it is this big gaudy display about Providence with information about the city. Okay, so I like the board more, but the Providence display is useful to tourists, I'll give it that.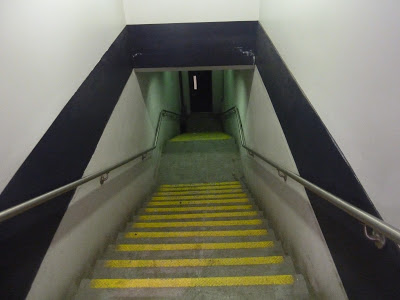 Descending down to the Amtrak platform.
The station itself is split into two platforms – one is for Amtrak trains, while the Commuter Rail stops at the other. We started with the Amtrak platform, and I gotta say, I was scared going down there. Based on the bland staircase, it felt like Providence would be another Back Bay…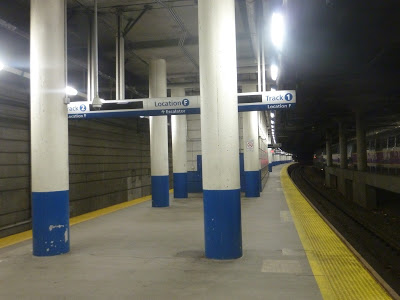 Hmmmmmm…
Well…okay, so the platform is certainly not as bad as Back Bay, but it could be better. A lot of the pillars have peeling paint, and there's graffiti on the station walls. That said, though, the platform is pretty bright, since it has strong lights and white pillars. It doesn't have any benches, but that's because passengers are expected to wait upstairs.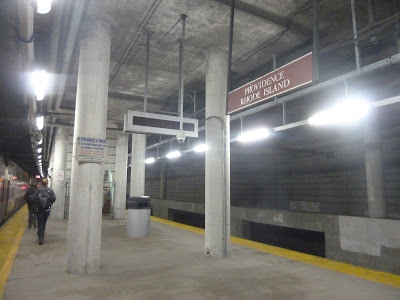 The Commuter Rail platform.
The Commuter Rail platform is pretty similar, albeit with different signage. However, it's also a bit blander, since the walls and pillars are just pure concrete here. That said, aside from a small open-air section on the north side, the platforms are entirely underground, which means they're entirely sheltered. I would say that overall, they're a mixed bag – and nowhere near as disgusting as Back Bay.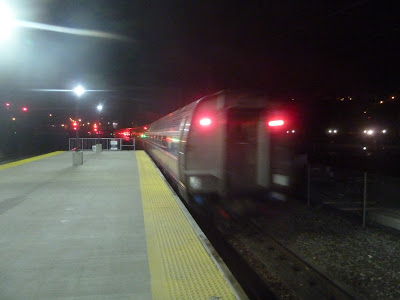 An Amtrak train leaving the station.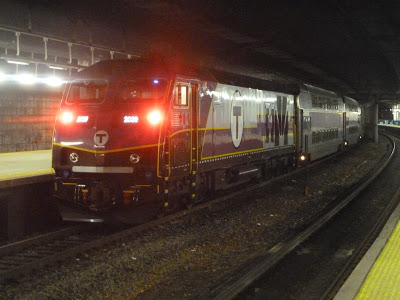 A Commuter Rail train laying over.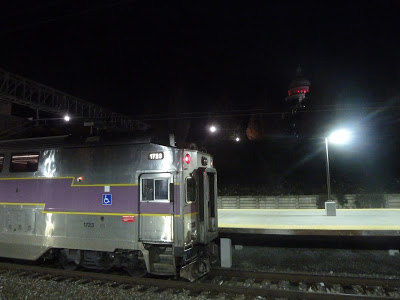 I'll admit, I only took this one as an excuse to feature the State House in the background.
Station: Providence
Ridership: Well, this is actually the busiest Commuter Rail station outside of the downtown Boston terminals, with 2,325 riders per weekday! Also, this is Amtrak's 14th busiest station in the country, with 660,267 riders annually (over 1800 per day). This place must get awfully crowded during rush hour…
Pros: Everything about the waiting area is absolutely fantastic. I mean, there are ticket offices, shops, amenities, a destination board, and of course, that distinctive dome. There's nothing about that area I don't like. The station also has a fair amount of parking and some decent bus connections (with Kennedy Plaza only a few minutes' walk away), plus the platforms aren't as bad as…certain other stations. *cough* Back Bay.
Cons: That said, the platforms here can be a bit bland and you do see a few Back Bay-esque elements at times (i.e. graffiti). But there's nothing too bad, especially considering you don't actually have to wait on the platforms. I also think the station building is somewhat stark, though I can see how people would like it. It does have a certain charm, and you can't go wrong with a clock tower.
Nearby and Noteworthy: You know, Providence is often overshadowed by Boston, but seriously, it's a great city. I wish I could give some specific businesses or attractions, but I just walked around when I was there. But considering that you can just grab the Commuter Rail from South Station and get here in an hour, I really recommend checking Providence out for the day.
Final Verdict: 9/10
It's weird, I had fully expected that I would hate this place. This was based on short glimpses of the platform and a view of the building, both of which could be better. But the waiting area – it's just amazing! And honestly, I don't even mind the building or the platforms too much, since they're really just a bit bland. Yeah, this station is great, and a fantastic gateway into a fantastic city. Thanks for everything, Providence.
Latest MBTA News: Service Updates