The RIPTA is a big system, but most of its routes come out of three focal points. There's the Pawtucket Transit Center, the Newport Gateway Center, and the biggest one of the bunch, Providence's Kennedy Plaza. Serving most of RIPTA's routes, the Kennedy Plaza can be a little difficult to navigate, but its amenities are top notch.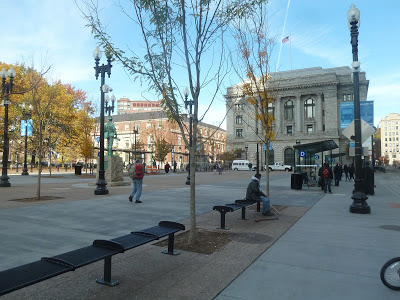 Part of the plaza.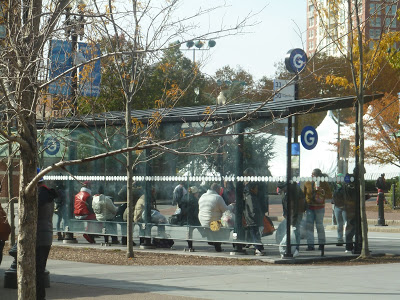 One of the shelters (Berth G, in this case).
Outside, there's quite a lot of seating space to wait for buses. Each berth has its own modern glass shelter with more benches under those. And speaking of berths, the hub has fifteen of them. Plus, some of them are on side streets, which can make them even harder to find.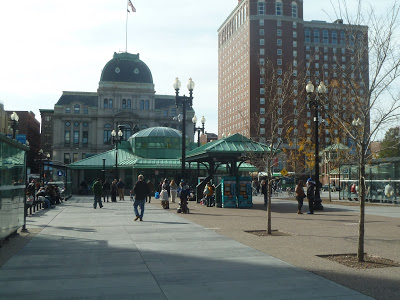 Looking toward the main building and Providence City Hall behind it.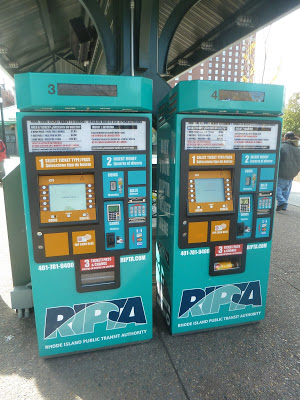 Two ticket machines.
On the way to the main building, there's another shelter in the middle of the plaza. Aside from offering a bit more seating, it also has some bright blue ticket machines! I think these are here so people can buy tickets in advance to speed up bus boarding, but I'm not sure how many riders actually do that.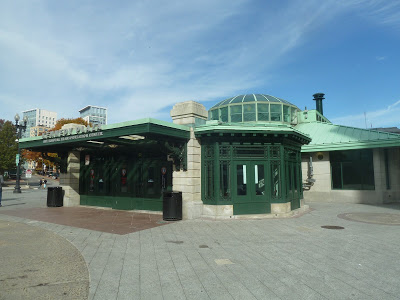 The main building from the City Hall side.
Kennedy Plaza also has a main building that serves a variety of purposes. On the outside, it's quite nice, with concrete pillars and some lovely green windows and a green roof. There are a few architectural garnishes on certain parts of the building, which are a nice touch.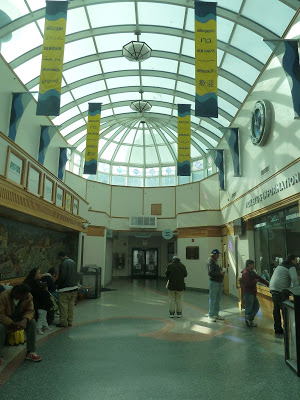 The interior of the building.
Inside, the building has quite a few amenities. Its main atrium has a big domed glass ceiling, sending lots of natural light into the room. In fact, it gets so bright that other lights aren't even necessary in the daytime! There's a ticket/information booth, as well as a bench with an excellent mosaic behind it.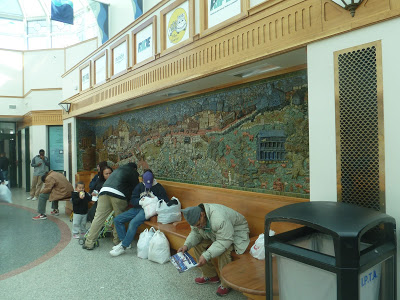 The bench with its mosaic.
The building has a few other features, as well. For one thing, it has paper schedules of every RIPTA route, all in a big rack. There are also screens with countdown clocks for every bus that stops at Kennedy Plaza! The building has bathrooms and water fountains, too, which are certainly good additions to an already fantastic system hub.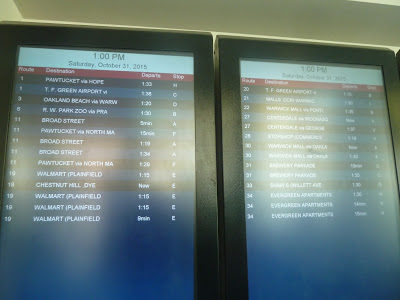 A couple of countdown screens.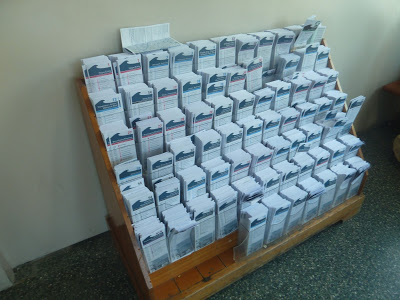 That's a lot of schedules…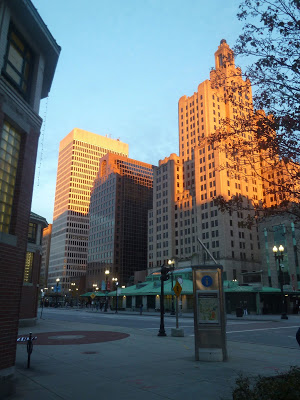 The sun is starting to set over the plaza…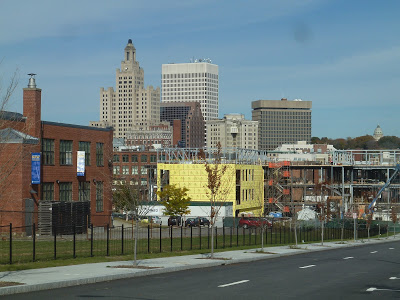 Here's another view of the Providence skyline.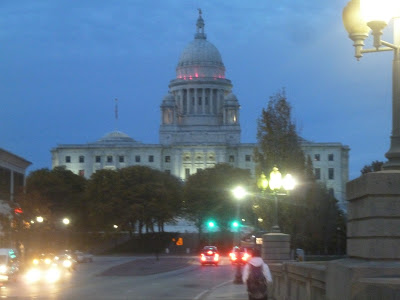 Can I just say that the Providence State House is amazing, even if this is a terrible, blurry picture?