There's a place called "Arctic" in Rhode Island? "That sounds like the most amazing place ever!" was my initial thought when I discovered the 12x while poking around the RIPTA website. Always looking for an excuse to visit Rhode Island, I rushed to the 3:30 Commuter Rail after school and jumped on the 12x at Kennedy Plaza. Turns out Arctic was not the most amazing place ever, although here's a review of the 12x, anyway.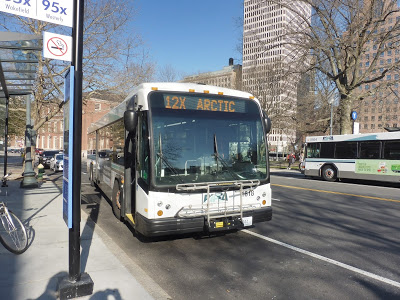 The bus with the Providence skyline in the background.
Considering the amount of people waiting at Kennedy Plaza's express stop, it was kinda sad to see only a few of them get on the 12x. At 5:05 on the nose, we headed down Exchange Terrace, paralleling a park on one side and Providence's old Union Station on the other. We then merged onto Sabin Street, passing the modern Rhode Island Convention Center.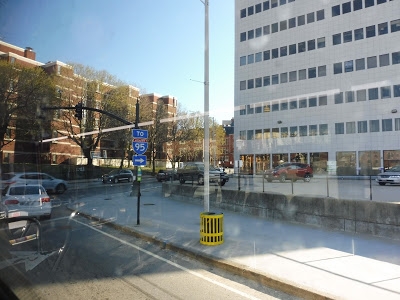 "I don't know what this is a picture of, but I'm going to take it" was my mindset here.
We turned onto Empire Street, which had an office-y feel to it, and then Weybosset Street, passing a big, fancy theater. After going by a park, the street got narrower and lined with multistory brick buildings. We went by some more office buildings as it curved around and became Exchange Street, running perpendicular to Kennedy Plaza.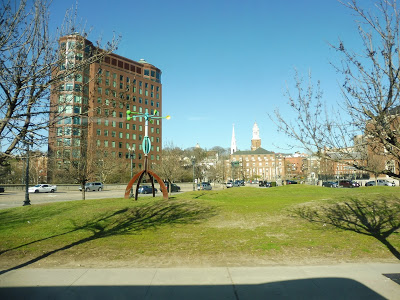 A park along Exchange Street.
We then turned onto Memorial Boulevard, which paralleled the Providence River. Alongside the Providence Place Mall, the street became a highway ramp, and we navigated a huge interchange to get onto I-95. The highway was slightly below ground level, but many apartments and buildings were in view on either side.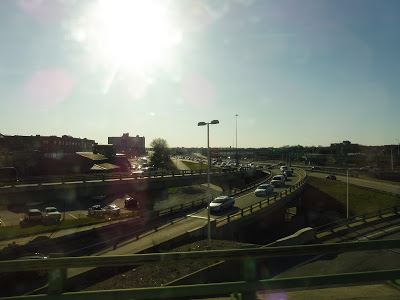 You gotta admire intricate interchanges like this.
The surroundings soon got more industrial, with big vats to the east. There was a view of the Rhode Island Hospital, then the highway curved southwest with dense houses in view. However, we also passed a big industrial yard at one point, so it wasn't fully residential. It eventually became a mix of both, with houses on one side and factories on the other.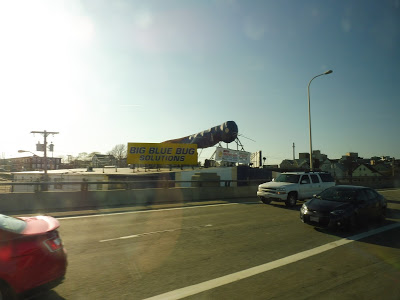 I'm obliged to include this bug, because it's fantastic.
There was a short woodsey section where we crossed over the Pawtuxet River, and then it was pure industry. The scenery was swapping between forest and industry for a while after that, right up until our exit – 10A. We navigated around the highway ramp onto Centerville Road, and at the Route 117 Park and Ride, many passengers got off to go to their cars.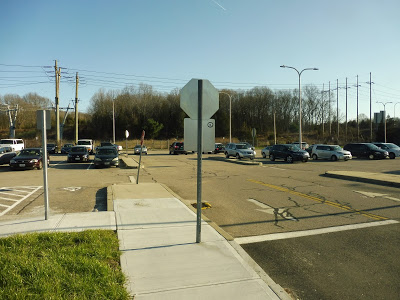 The parking lot.
We soon turned onto Toll Gate Road, which was a strange mix of houses and offices. We went under I-95, then passed the huge Kent County Hospital. There was a short forested section, but as we crossed the incredibly wide Bald Hill Road, auto shops populated the intersection. From there, the street became a mix of residential, commercial, and industrial, continuing as we merged onto Providence Street, going by an apartment building.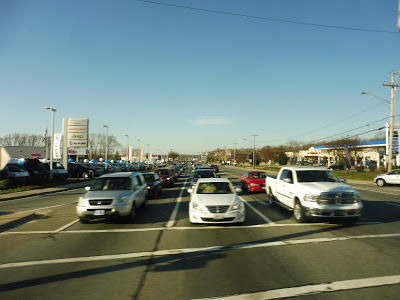 Crossing Bald Hill Road.
We went over the Pawtuxet River again, with an old mill converted to apartments spanning the water. There was a small rotary where we merged onto East Main Street, lined mostly with houses. We then turned onto Main Street, ascending a hill. Going by an apartment tower, the street was lined with residences but also a few industrial buildings. These became businesses as Main Street entered Arctic Center – the unassuming last stop was just a sign.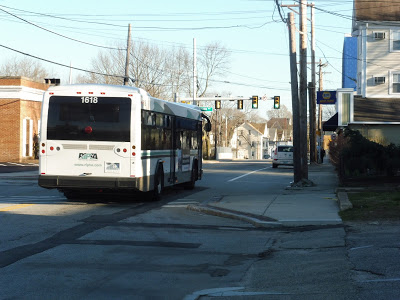 Goodbye, bus!
RIPTA Route: 12x (Arctic/Route 117 Express Park and Ride)
Ridership: The RIPTA's ridership data is a few years old, and for the 12x, it dates back to when the route was called the 90A. It didn't have very much ridership then, with only 62 passengers per weekday, and if my ride is to judge, the ridership still isn't high. My trip got a total of around 10 people, which is pretty darn shabby, even for an express bus. Around half of those people got off at the Route 117 Park and Ride lot, while the other half disembarked at Arctic Center.
Pros: This is a niche express route, giving West Warwick peak hour service up to Providence. Its schedule is the standard for RIPTA expresses, with three trips in the morning and three trips in the evening.
Cons: But it's really niche. I mean, the 12x serves a small park-and-ride lot and a small town center already covered by two local routes. I suppose there's a market for express service from West Warwick during rush hour, but it's certainly not a very big one. It's also worth noting that the local section of this route operates in a strange loop, with AM service running via Centerville Road and PM service running via Toll Gate Road. This is because the Route 117 Park and Ride is on one side of a divided highway, so it's effectively on a one-way. However, the loop formation means that anyone commuting along a one-way section only gets service in the morning or evening.
Nearby and Noteworthy: I gotta say, Arctic Center is a pretty boring place, despite its cool name. However, there is one restaurant there that is a fantastic experience: Boneheads Wing Bar. Right in the center of town, the food is pretty good, but the whole place is themed around rock music, which is awesome. For a music geek like myself, it was incredibly fun reading the menu items, most of which are named after bands or songs. I'm not sure if it's worth a trip all the way down to Arctic, but this place is pretty cool.
Final Verdict: 6/10
I guess the 12x does its job fine as an express, and provides peak service from West Warwick to Providence. Its ridership group is a small one, but it would be bad to cut them off and force them into cars. However, I wonder if that group could be made larger if there was a solution to that one-way service issue. What if the route ran the whole loop in both the morning and the evening, with the Park and Ride acting as the official start/end point instead of Arctic Center? In the morning, it could start at the lot, go around the loop via Arctic Center, serve the lot again, and then go up to Providence – vice versa in the evening. I'm not sure how much ridership that would draw from residents living along the loop, but it could be an interesting experiment.
Latest MBTA News: Service Updates
I'm going to Bermuda over April Break, so I won't be posting until after I get back on Saturday. Goodbye until then!