The area around the Warwick Mall is not a suitable place for pedestrians – especially not at night. Cars speeding along big wide roads with intermittent sidewalks, huge parking lots everywhere, and an absence of crosswalks all contribute to a nerve racking experience. It didn't help that I had no idea where the Warwick Mall stop actually was – turns out it's way on the other side of the complex! It's also really sketchy at night…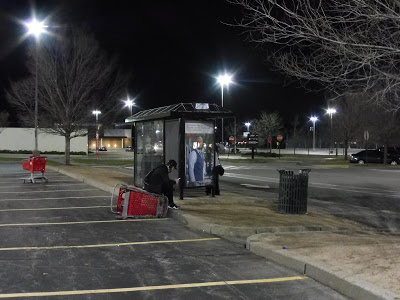 This is a hub?
Seeing as the Warwick Mall is considered a "transit hub" served by five routes, you'd think it would have some proper facilities. Admittedly, a shelter is better than what malls usually get, but first of all, this place needs some signage! There's none from outside the mall building, and maps inside don't give any information either. Secondly…gosh, I mean, you can see from the picture, the stop is a bit of a mess. This isn't necessarily RIPTA's fault, but geez, it's a pretty uncomfortable place to wait at night.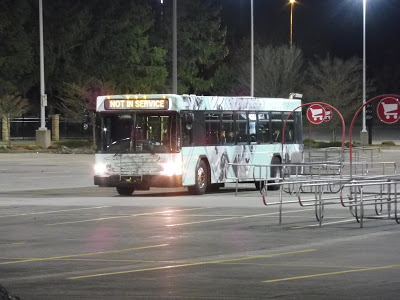 It took so many tries to get a decent picture of the bus laying over in the parking lot.
Okay, so the 22! This is one of three RIPTA routes from the Warwick Mall to Providence, and it's the only one without an express portion. The whole route runs local, and the areas it serves are mostly pretty dense. Unfortunately, since it was nighttime, I didn't get to see much, so I'm gonna be relying a lot on good ol' Google Maps for this one. Figured I'd give the full disclosure there…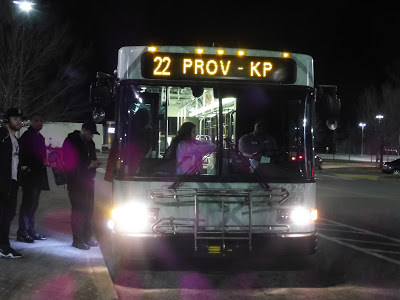 The bus boarding.
We navigated out of the mall, which took a while since it's so huge. Once out of the parking lot, we made our way onto Oaklawn Street, which had even more lots in front of businesses and offices. Luckily, we soon turned onto the narrower Mayfield Ave, which was residential, mostly in the form of developments.
The road became East Street for a bit as we passed a prison, and then it turned into the route's namesake, Pontiac Ave. The surroundings got industrial from there, with big warehouses set off from the road, including a Pepsi bottling plant! We went under the Lincoln Ave Freeway, and then, once more, there were lots of businesses with parking lots out front. Gosh, maybe it's a good thing it was dark…
Eventually, it became a mix of houses and businesses. We went by an apartment complex and a school, then the street was mostly lined with sizeable houses. However, we eventually reached Rolfe Square, where there was retail on both sides of the street. It would've felt like a nice downtown, except that a lot of the buildings were unoccupied.
We came close to Cranston city hall and Cranston High School East, but they were on a side street. Pontiac Ave, meanwhile, became all houses again, with a brief break as the road went over the Huntington Expressway. Soon after that, we entered Providence and merged onto Reservoir Ave, which was lined with businesses and parking lots for just a little bit. It soon became dense houses, though.
There was a short industrial section near the Commuter Rail tracks, then we merged onto Elmwood Ave, joining the 20. After a cemetery, the street became lined with a mix of businesses and houses. We went by a second cemetery, then it became Broad Street, with the surroundings becoming entirely retail. Going by the Providence Central High School, we crossed over I-95 and entered downtown Providence.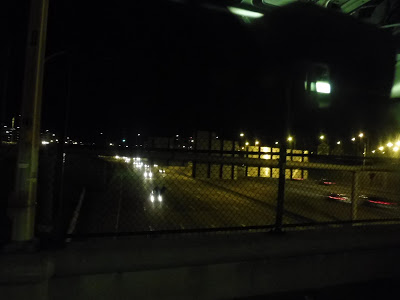 This is the ONE time I tried to take a picture out of the bus. As you can see, it didn't go so well.
The buildings were much taller now, ranging from apartments to offices. The street became Weybosset Street, lined with businesses with apartments on top. We also passed a theater, which was very nicely lit-up in the dark. The street eventually curved around, and we were now surrounded by office buildings. We soon turned onto Kennedy Plaza, and the bus got ready to make its final trip back to Warwick.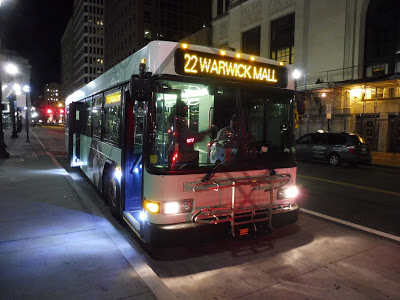 Okay, this one isn't bad, actually.
RIPTA Route: 22 (Pontiac Ave)
Ridership: Back when RIPTA did its reports in 2012, this bus had great ridership, with 1,923 passengers per weekday, 944 per Saturday, and 923 per Sunday. It was the 11th highest weekday route, while weekend service was strong (Saturday and Sunday ridership was about the same, interestingly). Since the report was conducted, I'd imagine ridership is still strong, since the route's headways are about the same as they were then (with more frequent service on Saturdays now).
Pros: Of the three main Cranston routes (the 21 and the 30 being the others), this one is the furthest east, and it serves quite a lot of the city (not to mention Providence). It also runs…kind of frequently? Well, it does on weekdays, at least, with consistent half-hour service.
Cons: Okay, every 45 minutes at night makes sense, since my night ride only had about 15 people on it. However, the 22 has those exact same headways on weekends, which could definitely be improved – I think every half hour service on both Saturdays and Sundays would be great. This is further proven by a little tidbit at the end of RIPTA's detailed analysis of the route: "This route had a 20 minute frequency and was a top five route, we think it could be again." Ignoring the comma splice, I completely agree with that statement! I assume it's talking about weekdays, but increasing weekend service is also very important.
Nearby and Noteworthy: Well, certainly not the Warwick Mall! Actually, there didn't seem to be many noteworthy places along the 22, but I guess Rolfe Square in Cranston is the closest you'll get to one.
Final Verdict: 6/10
I mean, it has to be said that this route has pretty standard headways for the RIPTA. Plus, the route itself is great, making a direct path through Cranston and Providence. However, I really think that it has the ridership to run more frequently. The note in RIPTA's analysis about every 20 minute service on weekdays is a start, but based on the urban nature of this corridor, every half hour on weekends would be great! As it is currently, it's just an average route that gets the job done fine.
Latest MBTA News: Service Updates