My original plan was to ride
the 91
to the ferry terminal but just stay in Providence and ride more RIPTA. Once I got there, though, the call of the ocean was too strong to resist. Let's take a
boat ride
!
Not yet, though.
First we have to take a look at the Providence terminal for this thing, because it's pretty darn bad. There's a good amount of free parking, which is nice, but that about ends the good parts. The terminal has a lame little "bike rack" that someone probably drove here in a pickup truck, as well as a random wastebasket (just one in the whole facility!) and two vending machines that were most likely transported in the same way.
Better than nothing, I guess.
I was worried when I saw a big outhouse, but it turns out that's only one of two bathroom options. Passengers can alternatively use the trailer right next to it, which has an important notice outside: "NO FACILITIES ON TRAINS." Okay, first of all…what? Second of all, the boat actually does have a bathroom, which we'll look at later. Anyway, these trailer bathrooms weren't even that bad, boasting relative cleanliness, even though they were a little cramped.
The "ticket office."
A makeshift tent was set up to shelter passengers waiting in line for tickets. It's not much, and the ticket booths are just in a trailer, but it works fine. The ticket prices for this ferry are $10, and you can buy them online in advance or right here at the terminal. A nice wooden ramp leads down to the dock.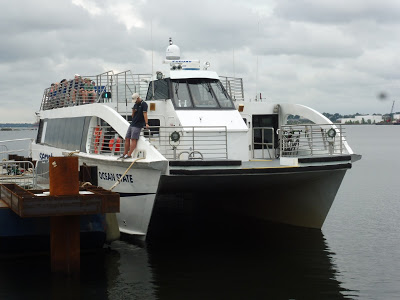 It's busy already!
This boat is awesome. The lower deck is super fancy, with carpeted floors, wooden ceilings, and comfy-looking seats. There's also a snack bar (a "galley") with a wide variety of refreshments and bags of chips and pretzels. The bathroom isn't bad either! Meanwhile, the upper deck is simpler, with less comfortable benches for seating, but come on – that's the place to be!
Wow!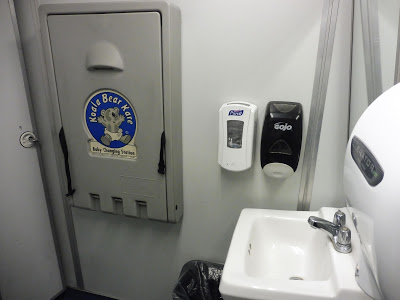 A selection between soap and Purell. Fancy.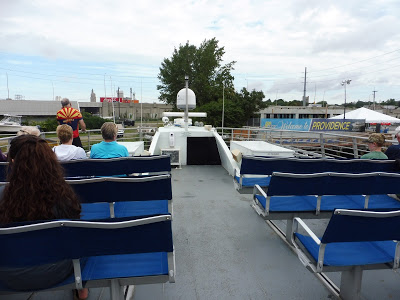 The upper deck.
As with any boat review, there isn't much to talk about with the route itself. It was pretty slow as we trundled down the Providence River, but once we entered the wide Narragansett Bay, it was full speed ahead. Once we arrived at Newport, there was a lot of dodging around really fancy boats, and we arrived a little late, but not by much. Okay, endless picture time!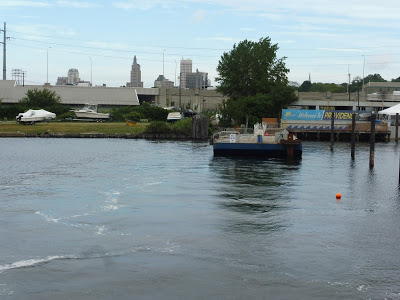 Leaving the dock.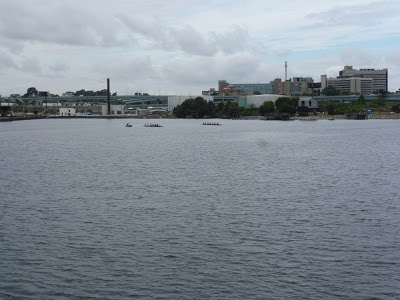 The Rhode Island Hospital.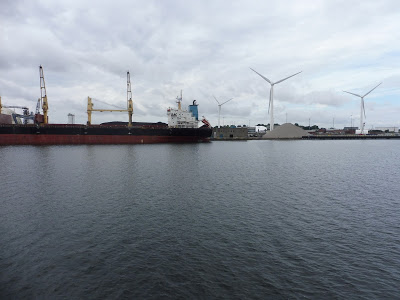 A big cargo ship and some windmills.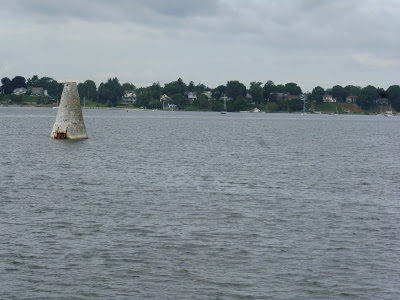 What is that stone thing?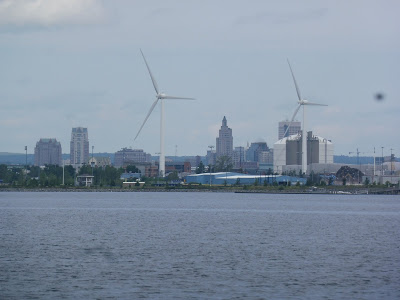 That is such a nice skyline!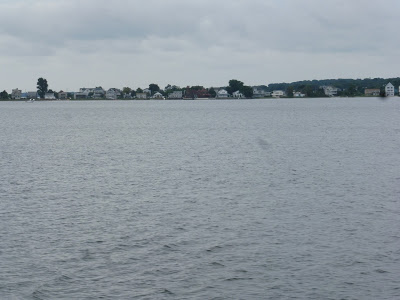 Houses.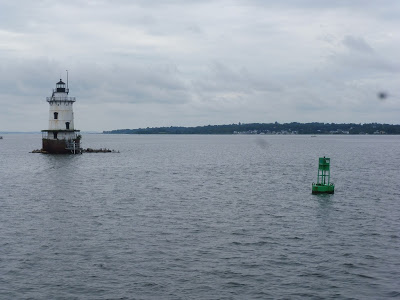 A really isolated lighthouse.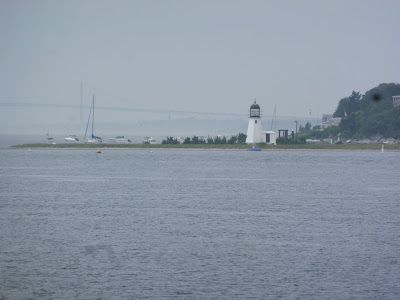 Another less isolated lighthouse with the beautiful Pell Bridge in the background.
Houses going up a hill.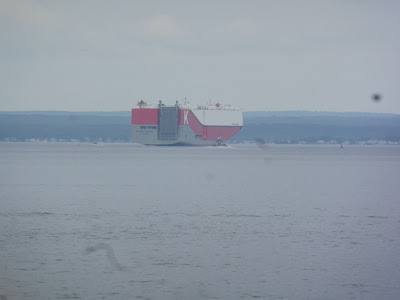 Another huge ship!
Getting closer to the Pell Bridge.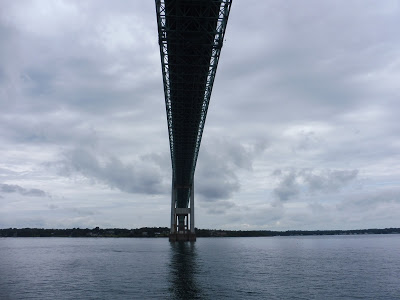 Straight under…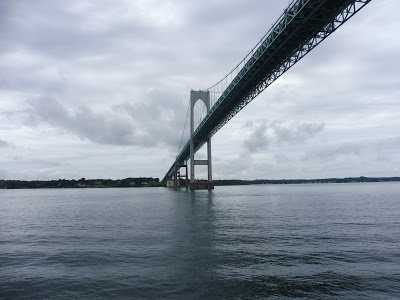 …and onto the other side!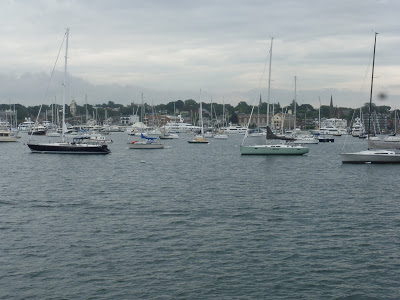 Coming into Newport Harbor.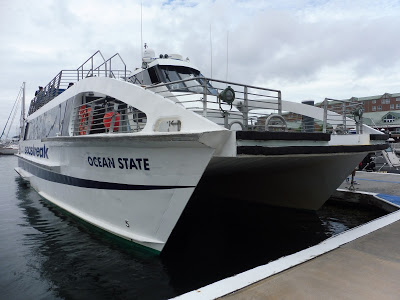 The boat all parked up!
The Newport terminal is
much
better than the Providence one. Unlike in Providence, this one has an actual building, probably because it has year-round service – the Block Island Ferry uses this dock. The inside of the building is simple, with a ticket booth, some benches, some wastebaskets, some vending machines, and fine bathrooms.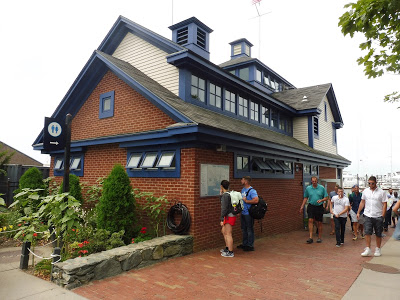 The building.
Route: Providence to Newport Ferry
Ridership: Over the course of summer 2016, the ferry got 33,000 passengers, with many trips actually sold out. Luckily mine wasn't, but it still had a healthy 50 or so riders on board. People seem to like this thing!
Pros: For 20 bucks round trip, the ferry may be a lot more expensive than just hoofing it on RIPTA, but you certainly get VIP treatment for the price. The boat is luxurious, the ride is fast, and there's nothing more fun than sailing out across Narragansett Bay. It offers service every 3 hours in the summer, which I think is a fine frequency for a long-distance tourist-oriented route like this.
Cons: That Providence terminal isn't great, is it? Granted, it's only active for a quarter of the year, so I guess the temporary feel of it is a necessary evil.
Nearby and Noteworthy: If the idea of taking a long local bus service to Newport is daunting, then the boat might be more your speed. Newport is a fabulous beach town to spend the day (or the week) at, at least in the summer.
Final Verdict: 9/10
I seem to always give ferries high marks on this blog. But come on, this is such a great service – once you get past the Providence terminal, there's nothing really wrong with it! I was thinking that it would be awesome if the boat ran year-round and offered some sort of commuter pass for workers going to Providence, but I don't know how big that market is between the two cities. Just a thought.
Latest MBTA News: Service Updates