Ahhh, Newport…a very popular place to go for some fantastic beaches. But why drive there for an hour and a half when you can just take public transportation there from Boston for…almost 3 hours? Yeah, okay, 99% of people won't choose that option, but if you did, here's the bus you would use! That's right, today we're taking a ride on the insanely long 60.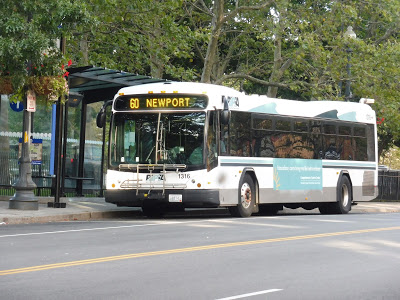 The bus in Providence…on an earlier 60 trip. We did not end up with a vehicle nearly as fancy and new…
Leaving Kennedy Plaza, we made our way onto Memorial Boulevard, curving around downtown Providence. Next, we turned onto South Water Street, which crossed the Providence River and then ran alongside it. The other side of the street was adorned with mostly brick buildings, while there was a park running between us and the river.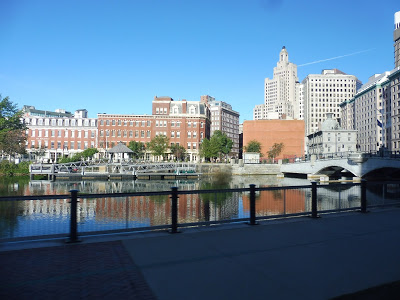 Looking across towards downtown.
The neighborhood started to get more undeveloped, with a strange half-park thing between two streets. After passing a few industrial buildings (and some repurposed ones – perhaps it was a developing neighborhood), we came onto I-195, starting an express portion! The highway took us past houses and buildings, then over the Seekonk River, entering East Providence on the other side.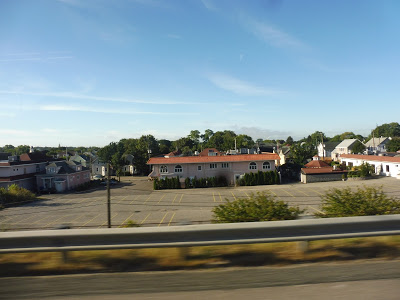 I couldn't get any good river pictures, so here's…this.
Coming off the bridge, we descended into a gully with houses lined up above us. However, we were back above ground level soon enough, blazing over Broadway and then some more houses. We merged onto the next exit, which was to the Wampanoag Trail. It ran through woods for a bit before someone hit the stop request button. What?! Yes, we actually made a stop right on the highway, called "Wampanoag Trail Opp Gates of Heaven". I have no idea how anyone is supposed to cross the highway to get to the cemetery the stop is referencing, but someone did indeed get off here…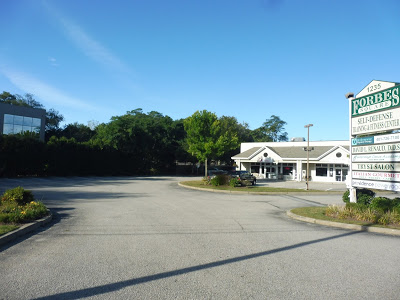 A small (and boring) shopping plaza.
There were a few other random attractions along the highway that also got stops, such as a gas station, a field, and the entrance to an oil facility. Eventually Wampanoag Trail became less of a highway, with various businesses, houses, and other buildings on either side. It came up next to the Hundred Acre Cove for a bit, then we entered Barrington and the street became County Road.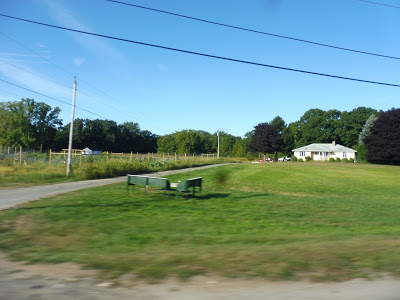 A farm!
County Road came back alongside the cove again, where there were some waterside houses and a church. We also passed Barrington High School, which prompted this interesting exchange from two people on the bus (in thick Boston accents):
"Yo, dude, Barrington got SMOKED in the football game last night!"
"Yeah, man, they SUCK!"
Anyway, the street gained a brick median as we entered…Barrington Center, I guess? The businesses weren't anything special (lots of chain stores with parking lots), but the town hall had a really great park surrounding it.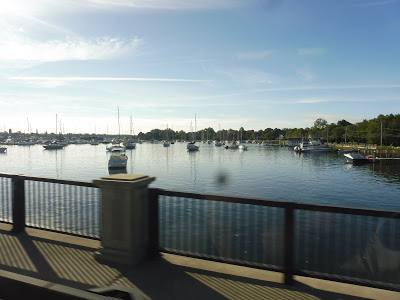 Noooo, that camera spot ruined the picture! Luckily it's gone now, but I rode this bus a little while ago.
We passed a shopping plaza, then the street curved east. After some houses, we crossed over the Barrington River. There were some denser residences on the other side, but then we went over the river again and entered Warren! Both bridge views were lovely, although the surroundings were quite industrial immediately after the second crossing.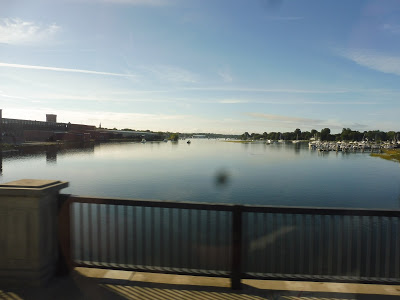 The second crossing!
Pretty soon after, though, there was a mix of houses, businesses, and churches along what was now called Main Street. We entered Warren Center (or downtown Warren, or Warren Square, or something…I never know what to call these places), which was a really cool downtown with old-looking businesses lining the street. After passing the charming town hall, it became mostly residential again.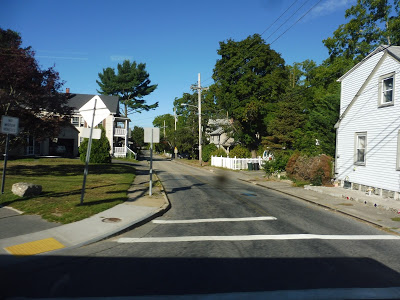 Some houses down a side street.
The street was almost entirely lined with houses, but we did go by the occasional business, too. Once we entered Bristol (with the road becoming Hope Street), we started passing a bunch of private housing developments. I mean, on the right side of the bus, it was just one after the other! Oyster Point, Bagy Wrinkle Cove, Jacobs Point, Hanley Farm…it was a bit insane.
The entrance to what eventually leads to a waterside park.
A few other points of interest along here were an elementary school, a few shopping plazas, and a cemetery. It was still almost entirely residential, though, right up until when we came along Bristol Harbor briefly. Hope Street curved inland pretty quickly, and took us into downtown Bristol. Or Bristol Center. Or Bristol Square. Or something like that.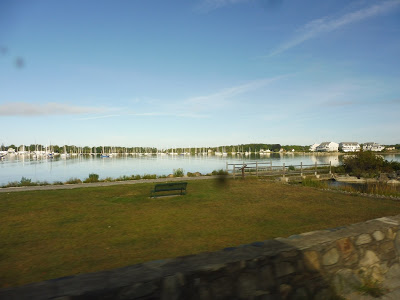 Looking out across the harbor.
This was probably the most charming town center we had seen so far, with lovely old buildings lining the street. There were so many different kinds of businesses and restaurants and museums, and there were water views down each street. The main drag even had an "American" divider in the middle, with red, white, and blue instead of the usual yellow!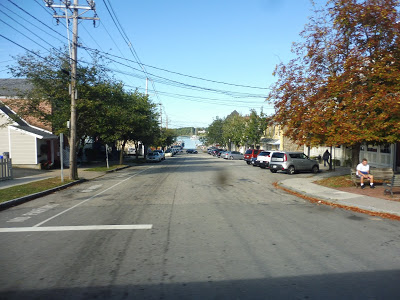 A side street downtown.
A lot of people got off here in Bristol, and we got another fabulous exchange from those two people from earlier, once again with their Boston accents:
"See ya, Frank."
[Frank gets up and starts to walk to the front]
"Frank. FRANK! FRANK, YOU FORGOT YOUR BAG, FRANK!"
[Frank keeps walking without listening. Other people try to get his attention.]
"FRANK! FRANK, YOU FORGOT YOUR BAG!"
[Frank leaves the bus. The other person gets on the phone.]
"Frank, I put your bag in my knapsack. Okay, Frank. See ya, Frank."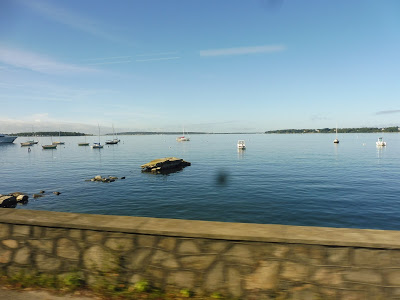 Another harbor view!
South of downtown, the businesses continued for a bit more with tiny local shops and dense houses. Hope Street came up to the harbor again, and the houses got a lot bigger. Next, we merged onto Ferry Road, which was much more woodsey – large residences were hiding behind the trees, though. Eventually, the road got a grassy and tree-lined median as we passed Roger Williams University.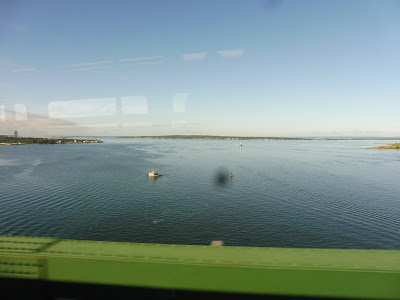 WOAH.
And then, out of nowhere, the street went up on a gigantic tall bridge! Sam, who was riding with me, can attest to the fact that I could not stop saying "Oh my God" repeatedly because the view was so amazing. It was just…water as far as the eye could see, with various patches of land spread around! On the other side of the bridge, the 60 splits into "East Main" and "West Main" variations – we were an East Main trip, so we turned onto Boyds Lane.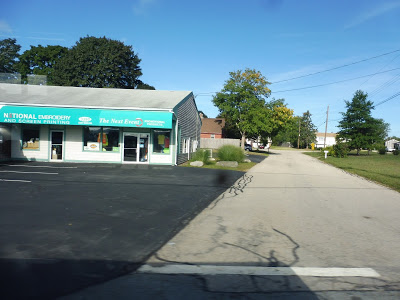 A small business and a side street.
Now in Portsmouth, we passed some houses and a farm, then went under the Fall River Expressway. Next, we merged onto East Main Road, the branch's namesake. The street itself had various small businesses with parking lots along it, but houses were visible on the side roads. We went by a little shopping plaza, a few blocks away from the Portsmouth High School.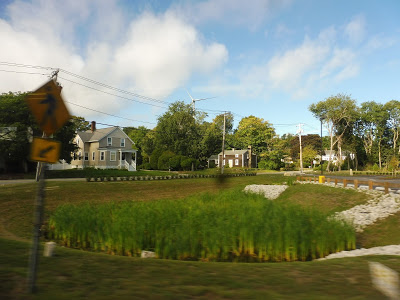 Some houses and a…mini-marsh, I guess?
From there, it was basically just a mix of houses with various businesses, churches, and parking lots. We also went by a library near the intersection with Turnpike Road, and a combined police and fire station later on. We went through a short industrial stretch, and even passed some farmland after that! And of course, the houses and businesses kept on coming.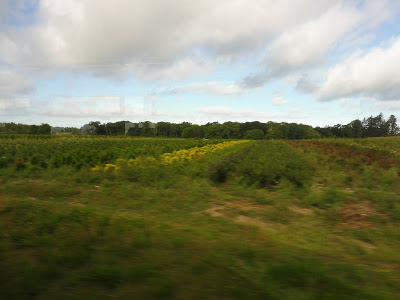 Gotta love farmland on a bus.
The houses, businesses, and farms all continued for a while as we entered Middletown, including a vineyard! Soon after that, though, it shifted a lot more to the business with parking lot side of things. We went by a few shopping plazas, then turned onto West Main Road, rejoining the other branch of the 60. The street continued to be that same residential-retail mix, albeit with denser houses.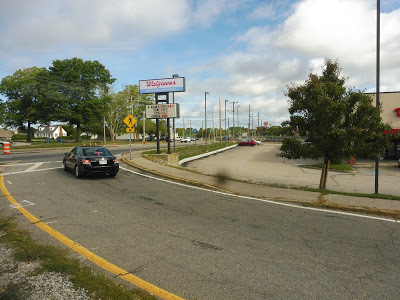 The intersection with West Main Road.
As we entered Newport, the street became Broadway. Now it was lined with dense houses, albeit somewhat big ones. The surroundings were like that for a while, although shortly after we passed the Newport Hospital, businesses became the main scenery – some nice, and some not-so-nice. Finally, we turned onto Marlborough Street and arrived at the Newport Gateway Center a few blocks later.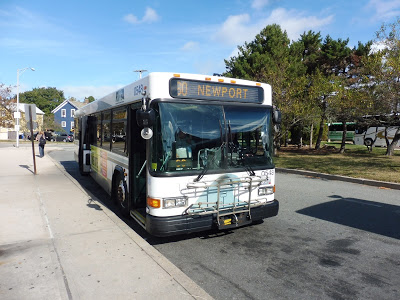 The bus at the Gateway Center.
RIPTA Route: 60 (Providence/Newport)
Ridership: Oh yeah, the 60 gets a lot of people. Our Saturday trip had something like 40 riders in total, and most of them got off at the various downtowns along the route – Warren, Bristol, and Newport. RIPTA's 2012 statistics for the 60 say that it's the third-busiest route on the RIPTA, with 2,290 riders per weekday, 2,175 per Saturday, and 1,442 per Sunday. Also, keep in mind that this was before the top two routes were consolidated into the R-Line, so the 60 could very well be the second-busiest route now!
Pros: The 60 is a crucial link between Providence and Newport, and it serves a bunch more towns along the way. It carries a lot of people, and that's also representative in the schedule – every 15 minutes during rush hour (it's a long route, so imagine how many buses that requires), every half hour during the day and on Saturdays, every hour at night, and every 45 minutes on Sundays! There are even a few late-night trips on Thursdays and Fridays meant for college students.
Cons: Man, you know it's a good route when I can't really think of any cons! I guess the 60's long length is its downfall, since it drives up the operating costs. That said, the whole point of the route is that it's long, so that's a rather dead-end con right there.
Nearby and Noteworthy: You've got Warren! You've got Bristol! You've got Newport! Lots of beautiful downtowns, small and big! Plus, beaches in Newport!
Final Verdict: 9/10
The 60 is an important route, and one that gets a lot of people. The schedule is absolutely perfect so that most of the trips get (optimally) a full-seated load, and it's a nice ride, to boot! Indeed, it's arguably one of the most scenic routes on the RIPTA, but they do have better things in store with that regard…stay tuned!
Latest MBTA News: Service Updates