Look, I appreciate the PVTA's efforts to have crosstown routes that allow riders to get from one side of Springfield to the other more directly…but come on, this is awful. The X92 is circuitous and pointless, and it's time to see why!
The bus at Springfield.
Despite being a crosstown route, the X92 still starts at Union Station. Alright, that's a little weird…but yeah, we left the station and came down onto Main Street. There were tall buildings and businesses everywhere, but due to a construction detour, we had to make a deviation via State Street, Maple Street, and Union Street.
A steep hill from Maple Street.
By the time we came back to Main Street, the buildings were only 1-2 stories tall, but they still had retail in them. It started to get less dense, too – by the time we reached the intersection of Main Street and Locust Street (which had a nice square in the middle of it), there were now parking lots accompanying each building.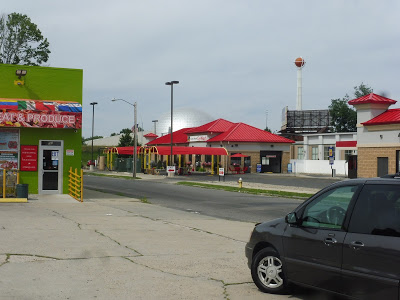 The Basketball Hall of Fame poking out behind a car wash!
We turned onto Mill Street around here, running for a brief independent section along the residential road before the G5 joined us. The street got a median for a little bit with some businesses, but we merged onto Orange Street, which was lined with dense houses. There was still retail at certain intersections, though.
Not the nicest-looking side street.
The G5 left us, then we turned onto Allen Street, which was briefly industrial. Next, we turned onto Island Pond Road, and outside of a little shopping plaza…oh no, PVTA Syndrome strikes again. We weren't that early to the stop, but we were early enough that the driver left the bus to spend some time on her phone. I was also the only person on board by this point, so that was kinda awkward…
Alrighty then…
There were a few more shopping plazas, then it became entirely suburban houses. The street became Roosevelt Ave when we crossed over the South Branch Mill River, and soon one side became occupied by woods. We crossed the B17 at Wilbraham Road, then we had to do a weird little jog to get onto State Street, joining the B7. Oh, but before that, we stopped at some random stop because, guess what, we were early again! Hooray…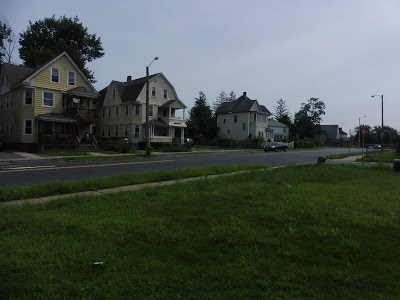 Wow, this picture came out dark!
We headed down State Street for a bit, then we turned onto Blunt Park Road, passing a hospital and a school. After a deviation to serve Independence House, an apartment building, we turned back onto Roosevelt Ave. This took us past a fire station, some houses, and eventually the massive campus of Springfield Central High School.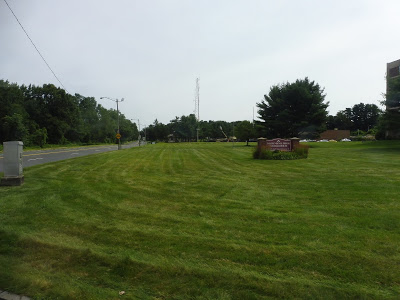 Coming out of Independence House.
We crossed over the B6 on Bay Street, then we went over a train track. We were now in a really industrial area, with lots of factories and warehouses, including a Big Y distribution center! It wouldn't be a PVTA route without a Big Y in some form. We turned onto Cottage Street, then Industry Ave, taking us past more industrial buildings and finally, our terminus at the Memorial Industrial Park.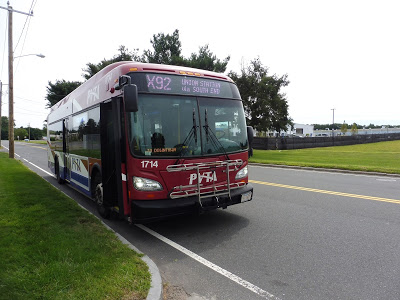 What a weird place to end a bus route!
PVTA Route: X92 (Mid City Crosstown)
Ridership: My Saturday morning trip got a measly four people, but maybe that was because it was a Saturday morning. Maybe other trips get more people? Nope – this thing averages 7 passengers per trip. That's awful, especially considering that A) the threshold for a good route is 20, and B) much of the route is shared with the G1 and G2, and I'll bet a lot of people just use this for the shared section.
Pros: I'm gonna say that the sentiment of this route is good. It's nice to see the PVTA experimenting with crosstown routes to better connect their system. However…
Cons: This route is stupid. It's pointless. A waste of resources. It requires two buses in order to operate 45-minute headways, Mondays-Saturdays, but what's the point? It parallels the G1 and G2, both very busy and frequent routes, from Union Station to Mill Street. After a tiny independent section, the route runs with the G5 for a bit, and by that point it's already empty! Theoretically this would be useful for connecting southern Springfield with northeastern Springfield, but no one actually uses the route for that purpose. So why run it?
Nearby and Noteworthy: There are a few shopping plazas on the unique section, but they're really boring. Yeah, there's nothing much to see here.
Final Verdict: 2/10
If this route really wanted to be a circumferential crosstown route, it would go from Memorial Industrial Park to maybe The X…but then no one would use it! I feel like most of the riders on the X92 just take it on the G1/G2 shared section, making the route redundant. They honestly could cut this without affecting too many people – almost all of the connections this route makes could still be done with one transfer.
Latest MBTA News: Service Updates