Sometimes the madness of the B7 can be a bit much. I just wish there was an alternative way of getting from the Eastfield Mall to Springfield that's a little bit quieter. Wait…the B17 is quieter and faster? Wow, okay, cool! Just let me adjust to these 45-minute headways and I think we'll be good!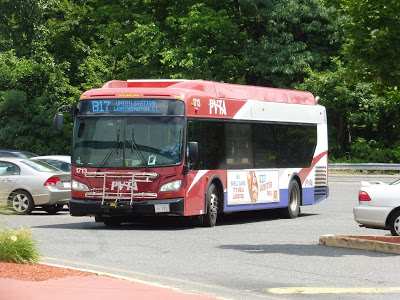 The bus at the mall.
Unfortunately, we left about 5-7 minutes late, and I was worried about making my connection in Springfield. Oh well – nothing to do but just ride it out. We left the Eastfield Mall and made our way to Boston Road through the gigantic parking lot. We rode along here with the B7 for a little bit, but soon we turned onto Parker Street, starting our independent section.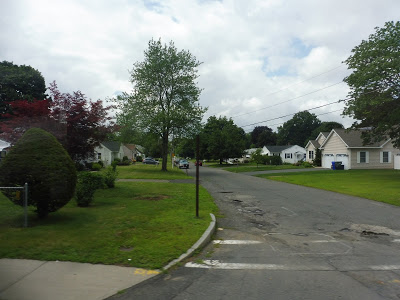 Some houses on a side street.
We left the suburban businesses of the wide Boston Road behind; we were now on a narrow street going right through a quiet residential neighborhood. The road went over the tiny North Branch Mill River, then later on we passed a cemetery. Other than that, it was just houses, houses, houses.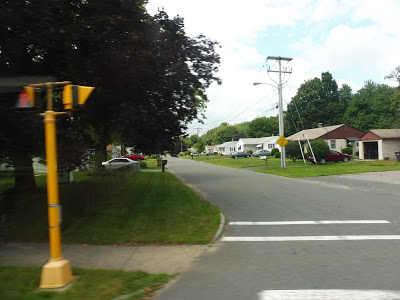 Like these ones!
We went by a residential development and a church, but the single houses still reigned supreme. Eventually, we reached Sixteen Acres Center, an intersection with lots of suburban businesses with parking lots…and somehow, we were early! Geez, PVTA, I'm glad you pad your routes, but do you really have to do it in the middle of them?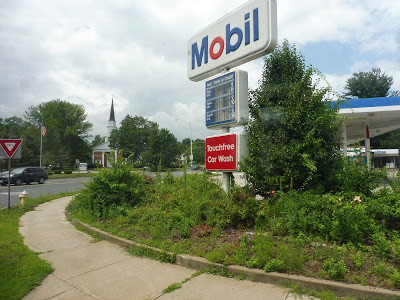 A gas station.
We made a nice right merge onto Wilbraham Road, which was…oh…more houses? Huh, alright. Eventually, though, the scenery did change – we went by a church, a gardening center, and Western New England University.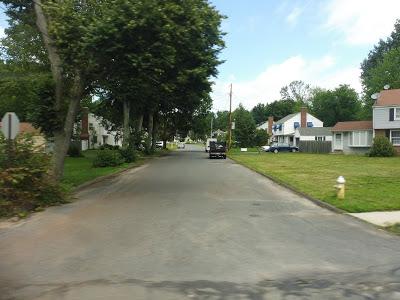 All that stuff was on the other side of the bus, though, so…enjoy these houses!
Next, we went by a housing development and a few shopping plazas at the intersection with Breckwood Boulevard. There was also a school, a church, and a small, dense cemetery. Soon after that, the road went on an isthmus through Lake Lookout, but it was short and trees blocked the view of the lake.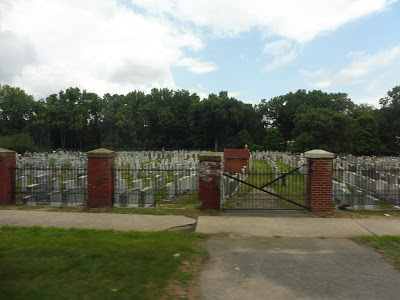 The little graveyard.
After Lake Lookout, the houses became a lot denser. We passed by the back of a gigantic MassMutual complex, then after a connection with the X92 at Roosevelt Ave, it became a mix of dense houses and the occasional business. We went by an elementary school and American International College, then we joined up with the B7 on State Street at "Mason Square," which wasn't much of a square at all.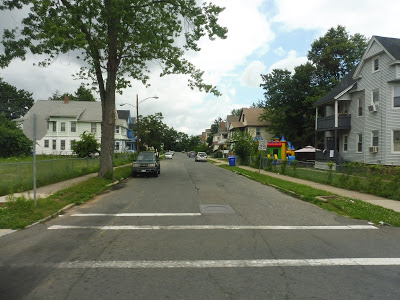 A bounce house!!!!!
The wide State Street was an all-around mix of apartments, businesses, industrial buildings, and municipal buildings. We weren't on it for a particularly long time, though – soon we turned onto Saint James Ave, then made another quick turn onto Magazine Street. There was a park and dense houses along here, then they became apartments as we turned onto Worthington Street.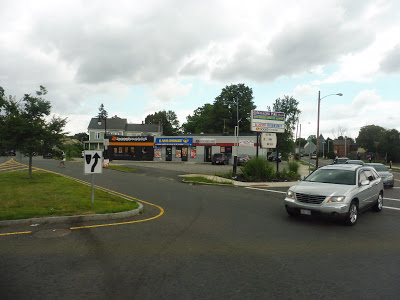 Making a turn.
We rounded a curve and headed down a hill. We gained a lot of riders at a stop outside of a homeless shelter, then there were lots of industrial buildings and abandoned property lots. And then…then it was time for "A Million Crazy Curves Frenzy!" Get ready for this…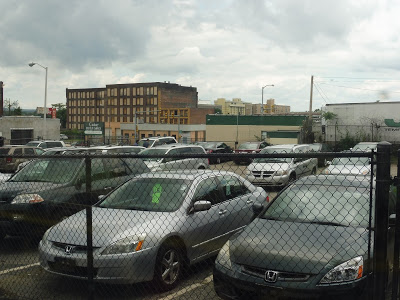 A parking lot with some rather decrepit-looking buildings behind it.
Alright, we got this party started by turning onto Chestnut Street for a block, then Taylor Street for a block. Next, it was time for Dwight Street, which took us past brick buildings and parking lots – basically what we had been seeing this whole Frenzy. Eventually we reached Harrison Ave and turned onto that, then we finally made it onto Main Street. We took this through downtown Springfield, under the railroad tracks, and into Union Station.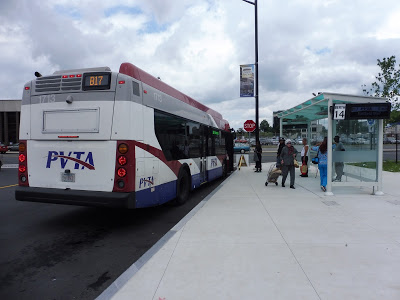 The bus picking up for another trip.
PVTA Route: PVTA: B17 (Eastfield Mall via Worthington/Wilbraham Road)
Ridership: It's weird, I've ridden the B17 twice and seen it many times, and it's never had that many people on it. However, according to the PVTA, its ridership is pretty good: 815 daily riders in 2012 and 26 passengers per revenue hour in 2014, which is above the 20 PPRH threshold for a well-performing service. I guess I've just been unlucky on my trips?
Pros: The B17 serves a lot of suburban areas out in East Springfield, plus it offers a faster trip to the Eastfield Mall than the busy and slow B7. This is also the only route to serve that homeless shelter in Springfield, and that stop always has at least three to four people waiting for the bus in either direction from what I've seen. The route runs every 45 minutes weekdays and Saturdays only, which is a bit of a wonky headway, but I guess it equates to some good ridership numbers, if the counts are to be believed.
Cons: Again, this is only based on my experiences, but it seems like this route gets way more ridership in the dense inner section than the suburban outer section. I'm wondering if it would be worth it to short-turn some trips to improve frequency on that inner part. Also, this route suffers from the classic PVTA earliness problem – we left late, yet we still had to wait along the way. But honestly, the part of the B17 that really grinded my gears was that crazy turn frenzy in Springfield. At first, I thought it was just necessary because of one-way streets. That's not true. Then I thought maybe it was to serve downtown Springfield. But why would the outbound route bypass most of it? No, this just seems stupid to me…
Nearby and Noteworthy: The route is pretty darn gritty in downtown Springfield, while the outer portion is just houses. This is a slightly faster and less busy route to the Eastfield Mall, though, so if you have the option between the B17 and the B7, take this one.
Final Verdict: 6/10
This is a generally good route that can perform its functions, and it seems to get more ridership than I give it credit for, but I'm just not feeling greater than a 6 for this thing. The real culprit is, of course, the insane amount of turns within Springfield. I mean, the routing takes 6 minutes when it could be lowered to as little as 2 minutes:
This is hard to view properly within the blog, so I recommend hitting that full-screen button to open the map in a new tab. I have two alternative routes here: there's one that takes a direct routing via Chestnut Street (2 minutes), while another one uses Taylor Street to still serve downtown a bit (3 minutes). Remember, the current route is 6 minutes, so the time could be at least 50% faster. I rest my case.
Latest MBTA News: Service Updates