Woah, hey, it's, like, an actual bus route! Yes, despite the fact that much of the PVTA does feel like a typical RTA, they also have a fair amount of routes that feel like legitimate city buses. The B7 is one such example, running northeast from Springfield up to the Eastfield Mall.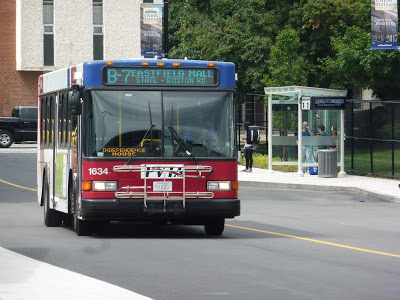 The bus at Springfield Union Station.
We already had a pretty crowded vehicle as we left Union Station, making our way down to Main Street. After going under the Amtrak tracks, we were in the heart of downtown Springfield, with fairly tall buildings housing businesses everywhere. Eventually, we came up alongside a little park that featured a fancy bus shelter.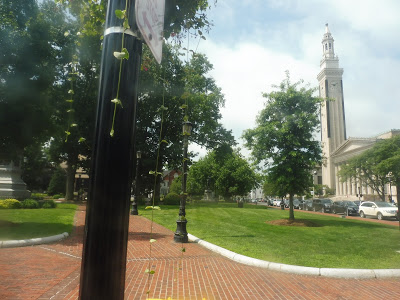 Alongside the park.
Outside of the huge MassMutual Center, we turned onto State Street and passed a very tall apartment building and the Springfield Museums. The wide road went by a courthouse, then one side was occupied by the Springfield Armory while the other side had a high school and some businesses. The street gained a median, and we passed some office buildings and more retail.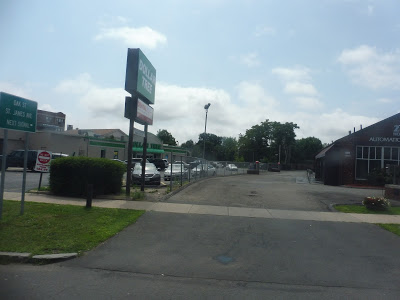 Some businesses before an intersection.
From there, it was a dynamic mix of basically everything: there were apartments, businesses, parking lots, community buildings, religious buildings, and abandoned property lots. The bus kept filling up, too. After Mason Square (which wasn't much of a square, just a skinny park between two streets), State Street lost its median.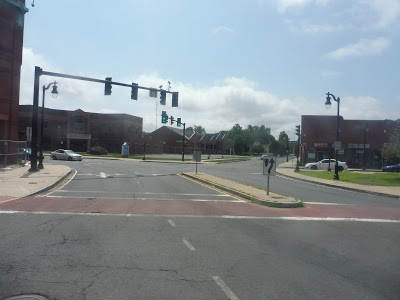 Davis Square? Harvard Square? Nahhh, Mason Square is where it's at!
We went by American International College on one side of the street (while parking lots occupied the other side), then we got some industrial buildings and businesses. After going over Roosevelt Ave on a bridge, we passed a huge MassMutual office building and turned onto Blunt Park Road. This was a deviation that took us past a school and a hospital; its real purpose, though, was to serve Independence House, an apartment building.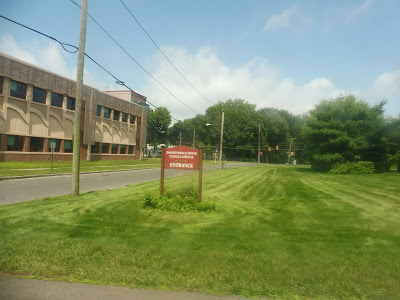 Well, I do believe this is the entrance to Independence House!
We came back to State Street, where it was once again a mix of businesses and industrial buildings. Soon, we merged onto Boston Road, taking us past a cemetery and…well, basically the exact same scenery as before. Other points of interest included a big abandoned lot and a small church.
Going by a park.
We passed through a short "forest," then we went by a shopping center where buses that don't serve Independence House deviate. It was more businesses and parking lots after that, including some more shopping plazas. Finally, we came to one deemed worth deviating for; it had a Walmart in it.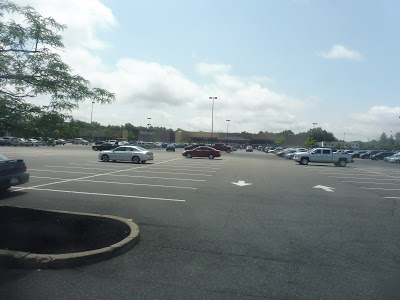 Woo!
After that deviation, it was…more businesses with parking lots. The road got really wide for the intersection with Parker Street, and after a few more shopping plazas, we pulled into the biggest one around: the Eastfield Mall. We made our way through the gigantic parking lot to the main bus stop at the back of the mall, where the remaining passengers got out and the bus headed off to lay over.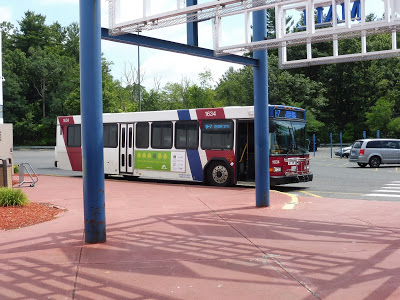 Here it is after its layover getting ready to go back to Springfield.
PVTA Route: B7 (Eastfield Mall via State/Boston Road)
Ridership: This is the busiest route on the PVTA, with 5,475 riders per day. Believe it or not, that's almost as much as the MBTA's 71, which gets 5,548 riders! Clearly, we are dealing with a legitimately busy route there, and my ride was no exception, with a total of around 45 riders and points where people had to stand. Not only were there trips from Union out, but people also used the route for local rides between smaller stops.
Pros: The B7 serves a very important and busy corridor to the northeast of Springfield, and it's clear from the ridership that many people rely on this. Thankfully, it also has the frequency to support the ridership: the route runs every 15 minutes on weekdays, every 20 minutes on Saturdays (with additional express trips every hour to the Eastfield Mall), and every half hour at night and on Sundays.
Cons: The only real problem I have with this route is that it can be slow, particularly with red lights. If signal priority was given to buses, travel time could be decreased, and they could also get rid of those strange redundant Saturday express trips that never seem to get many people.
Nearby and Noteworthy: The Eastfield Mall is probably the biggest attraction on the route. Having explored it a bit, I can say that I found about 4-5 unique smaller businesses, which is kind of a lot for your typical mall, I guess.
Final Verdict: 9/10
The B7 is a very important route, and the busiest on the whole PVTA. It's frequent, with good ridership turnover, and its only real problem is the speed. All it really needs is a bit of signal priority, and…huh? The PVTA is planning on conducting a BRT study for this corridor? Huh! Alright, well, if that gets implemented, we could have a 10/10 on our hands!
Latest MBTA News: Service Updates