How can any bus route be scheduled this incompetently? How can any bus route be scheduled this incompetently? Unless the PVTA has figured out how to slow down and speed up time, the G5 defies any sort of logic.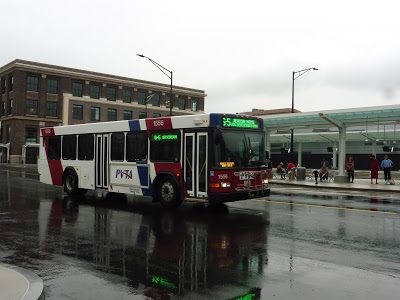 The bus at Union Station.
From Union Station, we headed onto Main Street, taking us right through the heart of downtown Springfield, as the name suggests. There were multi-storied buildings everywhere, housing businesses on their lower floors. We even went by a few proper "skyscrapers," but we left the main drag when we turned onto Harrison Ave.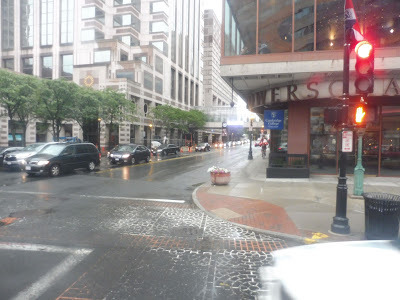 The rain made for some pretty bad pictures…
Next, we turned onto Dwight Street, passing parking garages and buildings that looked like they came from the '60s or '70s. The street became Maple Street and we rode it up a hill around a few curves, taking us up to a residential neighborhood. Now the scenery consisted mostly of apartment blocks.
That's a steep hill!
After a convenience store located in an apartment building, we merged onto Central Street, taking us past some pretty dense houses. Next, we turned onto Pine Street, which consisted of houses and abandoned property lots. We got back onto Maple Street at a church and travelled down a hill onto Mill Street.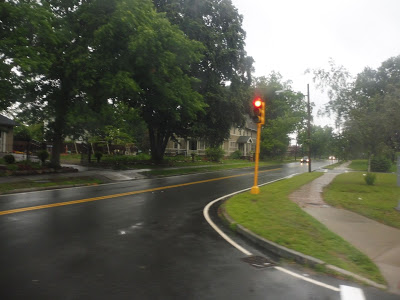 Making a turn.
We passed over a little river (or it could have been a canal), and there were a few businesses as the road gained a median for a bit. From there, we headed down Dickinson Street, which was entirely lined with dense houses. There were a few concentrated businesses at one point, then a bunch more at "The X," a six-way intersection.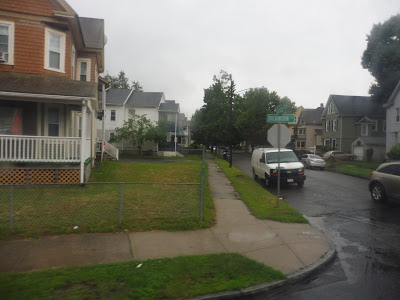 A side street.
Wow, this was bad – we were ten minutes late to The X! Could we make it to the terminus in time to get our connection? Oh well, no way to find out except to stay on. It went back to dense houses after The X, with some concentrated businesses around Olmstead Drive. Eventually, though, we entered the woods.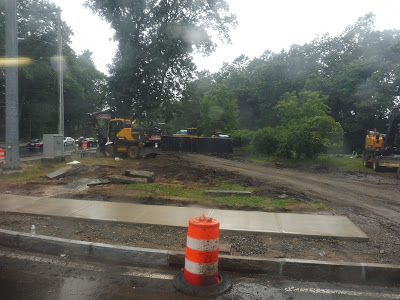 Some construction.
It was forest for a little while, broken only by a few temples. We passed the Georgetown Apartments, but I'm inclined to believe based on the map that only the inbound G5 actually deviates to serve them. We still turned onto Converse Street to serve Jewish Home, a lifecare center. And we were…five minutes early? Now how did that happen? Now we would have to wait for five minutes here.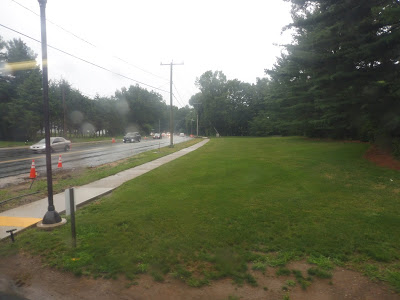 Coming out of the Jewish Home.
Now in Longmeadow, we made our way back down Converse Street, which was lined with suburban houses with huge front yards. We turned onto Longmeadow Street next, which passed more houses and a few scattered businesses. We went by Bay Path University, then we went through what appeared to be downtown Longmeadow. It wasn't much more than a common and some municipal buildings.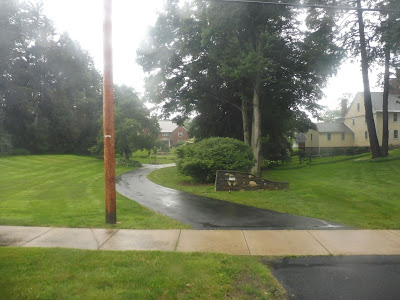 Some houses.
There wasn't much diversity south of that – it was either residential, woods, or both. The scenery finally changed dramatically when we entered Enfield, Connecticut. The street became Enfield Street (an apt name), and it was lined with suburban businesses with parking lots. Next, just before I-91, we turned onto Bright Meadow Boulevard, taking us past a Holiday Inn to our terminus, the gigantic MassMutual office.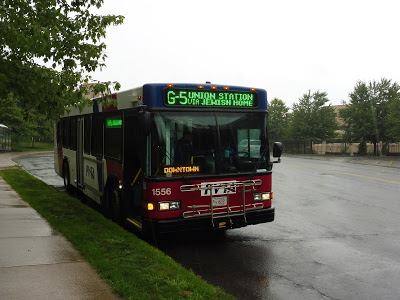 We're not in Kansas anymore!
PVTA Route: G5 (Springfield/Dickinson/Jewish Home/Longmeadow)
Ridership: The G5's daily ridership is about in the middle of the PVTA, with 556 passengers per day. From what I saw, though, the vast majority of those riders are concentrated in the inner section from Springfield to the Jewish Home. On our trip, the bus was empty past The X, and there was only one person who got on at MassMutual, even though it was the evening peak and cars were streaming out of there.
Pros: The inner Springfield section serves some residential areas that no other routes cover, while Jewish Home and the Georgetown Apartments seem like they could be big ridership draws.
Cons: Erghhhhhhhh…let me get the easy stuff out of the way first: the frequency is inconsistent on weekdays, ranging from 25 minutes to an hour, while on Saturdays the headways are huge – every hour and a half. It also seems ridiculous to me that midday and Saturday trips serve MassMutual. Surely there aren't too many people working there then?
Okay, but now it's time for the crazy thing: the schedule for this route is legitimately the worst I've ever seen. The bus is given 10 minutes to go from Union Station to The X – a distance which Google Maps says will take 14 minutes driving in the dead of night. Yeah, I checked it for times like 2 in the morning, and it still takes 14 minutes. During the day, it can take as long as 20!
Right, so we've established that the route is always guaranteed to be late to The X. But then why were we so early to Jewish Home? Well, the outbound route is given 20 minutes to get there. Wanna know how long it takes driving? In the heart of rush hour, it never takes longer than six minutes. This schedule legitimately baffles me – the bus will be insanely late to one timepoint and insanely early to the next! How is anyone supposed to plan around this thing??
Nearby and Noteworthy: Ehhh, not really – most of the route is residential. There are some businesses at The X, but that doesn't strike me as the nicest of areas.
Final Verdict: 4/10
God, this would be a perfectly fine route if its schedule wasn't horrible! I mean, come on, this is such an easy fix! I have never in my life seen any schedule this atrocious, and I doubt I will ever again! The PVTA said in their outline of service cuts that they want to cut this down to four rush hour trips per day – does that mean MassMutual trips (cutting most back at Jewish Home), or literally just four trips? This thing doesn't deserve to be cut down to the latter option, because it really does serve some important areas, but by God, please please PLEASE fix the schedule.
UPDATE: Okay, turns out they meant MassMutual trips. Phew! There are now four of them per day, on weekdays only. All other trips end at Jewish Home.
Latest MBTA News: Service Updates