Wow, this route is scenic! The name of it doesn't sound all that impressive, but the R41 offers some awesome views from mountain peaks as it winds its way from Northampton to Easthampton to western Holyoke. Let's see how my awful pictures ruined those views…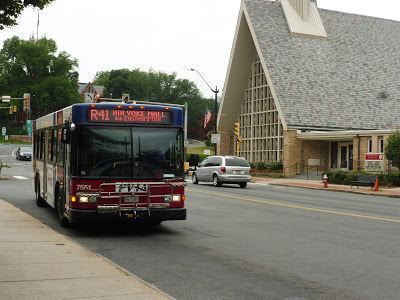 The bus coming into Northampton.
Oh, but before any of that could happen, we had to serve Salvo House, like practically every other Northampton route. We went down Main Street, which was the main drag of Northampton and there were businesses everywhere…you've heard this before. Next, we turned onto Pleasant Street, where there was more retail, as well as the Northampton Amtrak station.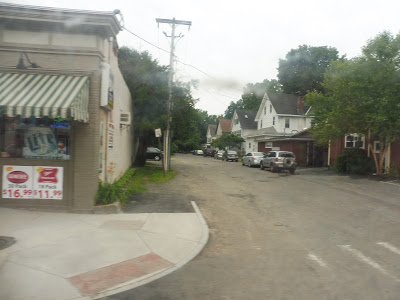 Some houses.
It started to get less dense the further we went, and the businesses started to get parking lots in front of them. Some houses even started to show up as we made our way around onto Conz Street via Wright Ave. This took us to Salvo House, that apartment building that so many routes serve, then later on we turned onto Old South Street.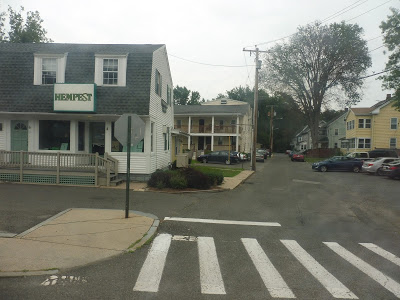 Yup, we're definitely in Northampton!
We turned onto (regular) South Street next, which was residential, and it finally took us out of that Salvo House loop. The street was basically lined with suburban houses until we went over the Mill River, where there were a few other buildings. The street was called Easthampton Road after the river crossing, and it was now industrial buildings mixed in with patches of woods.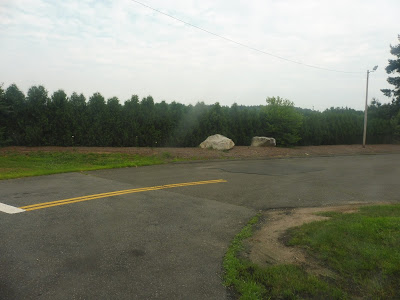 Just after entering Easthampton.
There were a few businesses as we entered Easthampton, then we turned onto Oneil Street, which was industrial again. Eventually it took us over the Manhan River, where it became Lovefield Street. This took us onto Pleasant Street, where there were both old factories and old factory houses.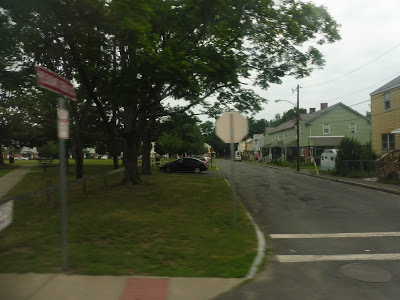 An example of the latter.
There were some dense houses after that, then we curved around Main Street Park onto, well, Main Street. We rolled through downtown Easthampton along the wide road, which featured four lanes as well as parking spaces perpendicular to the sidewalk. There wasn't all that much in the way of businesses, either, and what was there was pretty boring.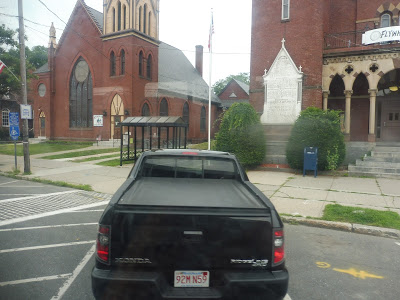 Some churches downtown.
There were more businesses when we turned onto Union Street, and these were a lot more interesting than the ones on Main Street. Plus, the street was much narrower, so it had more character. We left downtown soon enough, though, and the businesses got parking lots out front. Coming alongside a lovely pond on Cottage Street, there was a repurposed old factory on the other side, then there were some more charming and interesting businesses!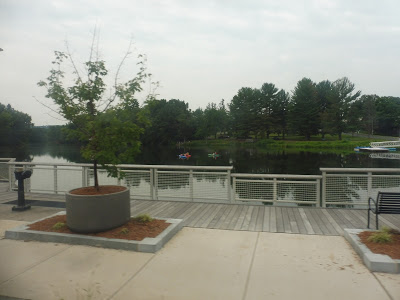 Some kayakers enjoying the pond.
We merged onto Holyoke Street next, which was lined with houses. They got smaller and more spread-out the further we got, and their front yards got way bigger. We went by a big field, then the road started to curve its way up the side of the looming Mount Tom. It was time for the scenic part!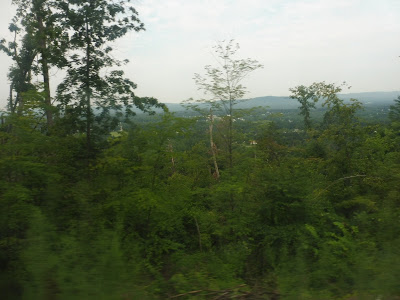 Darn trees in the way!
The road climbed up along the mountain, with a sheer cliff going up on the left and a sheer cliff going down on the right. That right-hand side offered a simply fantastic view of the surrounding areas, and other than that, it was just pure woods. Actually, at one point there was a tavern, an event venue, and a coffee shop all in a row, but that was about it.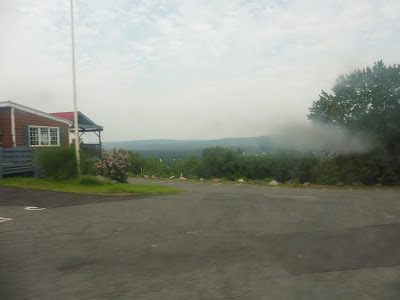 Gotta admit, it's a good place for a restaurant. What a view!
The street became Easthampton Road as we entered Holyoke, but aside from an animal hospital, of all things, it was still just mountainous woods. We were starting to head down, though, and soon enough we were in a mostly flat residential neighborhood. Aw, man!
BORING.
We turned onto Jarvis Ave, where it was basically all houses. There was also a residential development called University Park, presumably for students of Holyoke Community College, and a few similar developments further down the way. Next, we turned onto George Frost Drive, which went through the woods for a bit.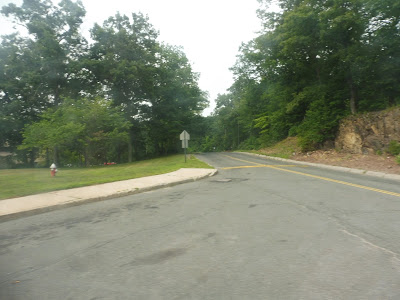 Coming into the college.
We went through a gate into Holyoke Community College, then we turned onto Campus Road. This took us to the college's main building, where we made our way around a little loop in front to serve the bus stop. After that, we headed onto Doyle Drive, which went through the forest until we reached Westfield Road, onto which we turned – this was residential.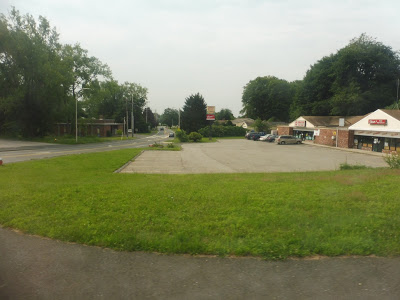 The intersection with Homestead Ave.
There were some businesses when we turned onto Homestead Ave, but it went back to houses as soon as we proceeded down the road a bit. All of a sudden, we came to a factory, where we turned onto Lower Westfield Road and went under I-91. There were lots of suburban businesses and shopping centers on the other side, where we turned onto Holyoke Street. This took us to the mother of shopping centers: the Holyoke Mall, the R41's final stop.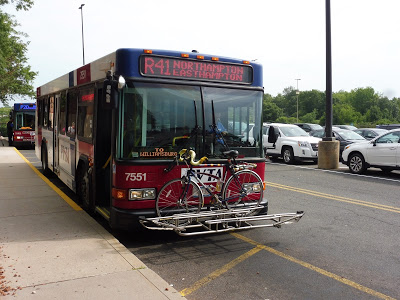 The bus at the mall. When it gets back to Northampton, it'll do an R42.
PVTA Route: R41 (Northampton/Easthampton/Holyoke Community College/Holyoke Mall)
Ridership: My Saturday trip had pretty low ridership, but that being said, it was a summer Saturday. I would guess that more people use this thing on school-year weekdays as a commuter route from Northampton to Holyoke Community College. I mean, it gets about 18 passengers per revenue hour, which isn't awful.
Pros: The R41 provides an important connection from Northampton to Holyoke Community College without the need of any transfers. It has a decent schedule, too, with every hour service on weekdays and Saturdays. Plus, the thing is so scenic!
Cons: Weirdly, it's not quite every hour – for some reason, there's a 75-minute gap from 12:45 to 2:00 from the Holyoke Mall. It's not too big of a deal, but it doesn't seem to make much sense. There's also a shift from leaving on the :00 to the :05 at 4 PM from Northampton, which also doesn't make much sense.
Nearby and Noteworthy: As I was going down this route on Google Maps, this place in Easthampton caught my eye. It's basically a game where you and a few other people get locked into a room and you have to solve puzzles to escape. That's a cool concept!
Final Verdict: 7/10
The R41 is an important route, even though it may not have all that much ridership. It still provides a useful connection from Northampton to the Community College, and actually, it's the only direct route from Northampton to the Holyoke Mall too. Sure, it's not very busy and it has a few minor schedule quirks, but this is still a decent, useful route.
Latest MBTA News: Service Updates