The trip I took on this route would now be impossible! Yes, I took the B23 on a Saturday, and the PVTA has now eliminated Saturday service for it. I feel so accomplished!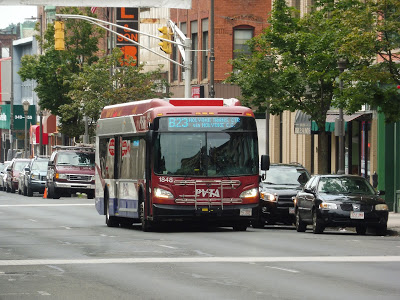 The bus just kinda sat in the middle of the street like this for a while…
We went down Maple Street from the Holyoke Transportation Center, running past brick buildings and parking lots. We passed the Holyoke Public Library, then we turned onto Hampshire Street, passing brownstones strangely reminiscent of the Back Bay. Next we turned onto Beach Street, which went by the huge Holyoke High School building, as well as lots of houses.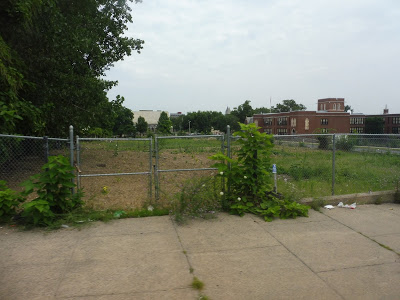 Oh no!
We came up alongside the Holyoke Medical Center, and I think the bus is supposed to deviate to it, but we…uh…didn't. We stayed right on Beech Street, which became Cherry Street and got a heck of a lot wider. After going under I-91, it was time for a deviation that we did perform: we turned onto Fairview Street, taking us up a huge hill to Soldiers Home. There was also a great view from up there!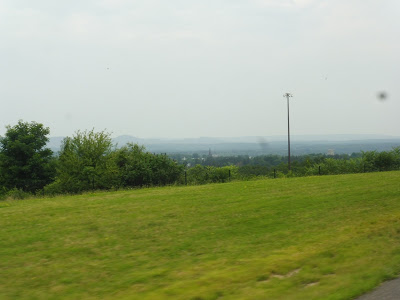 Too bad my picture didn't really capture it…
We returned to Cherry Street, which had lots of houses, but also some apartment developments for nearby Holyoke Community College. Speaking of which, that's where we went next, as we made our way down George Frost Drive through the woods for a bit before entering a gate to the college. We turned onto Campus Road, although strangely enough, the driver decided to skip serving the little loop in front of the main building.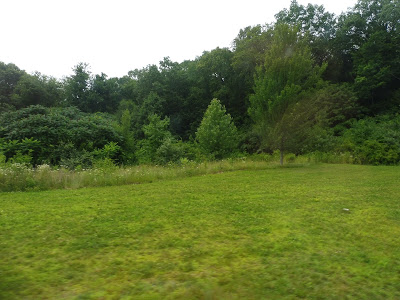 Onward to more trees!
We continued down Campus Road, then made our way onto Doyle Drive, which passed something called the Kids Place, and…hey, we were supposed to deviate there, too, and we didn't! Okay, well, we just stayed on Doyle Drive, then turned onto Westfield Road when that street ended. This was just pure, hilly woods, and it was awesome. Not quite R41 awesome, but still awesome.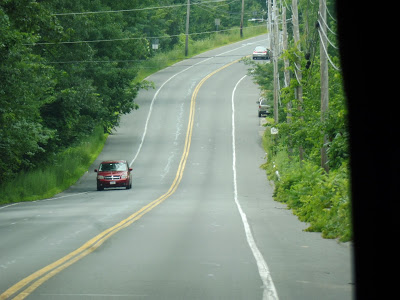 Yeah, basically just this for a while.
So after lots of forest, we finally got some houses when we entered Westfield and the street became North Road. There was also a sorry excuse for a shopping plaza and a pond where a family got off to go to its beach. We went through some marshland next, then we went by a series of churches, businesses, and houses.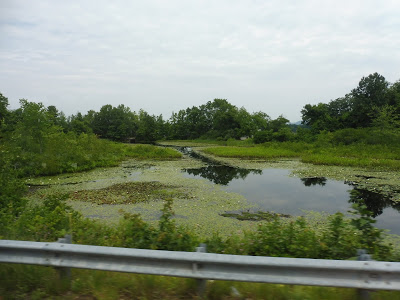 Marshland!
There were a few businesses where we turned onto Southampton Road, which got very industrial with warehouses, auto shops, and one random pizza joint. Next, we went by Barnes Airport, a general aviation facility, as well as some unfortunately-located houses. There were also lots more industrial buildings, as well as two cemeteries, a school, and a bit of retail.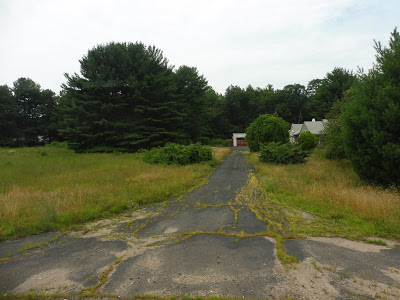 Of all the places for someone to get on…
For some reason this is written on the map for the B23: we crossed over I-90 at Exit 3. This is pretty significant, though, since the distance between Exit 3 and Exit 2 on I-90 is 30 miles – the 7th longest gap between highway interchanges in the country. We went over a single train track, then there was all manner of residential, retail, and industrial buildings.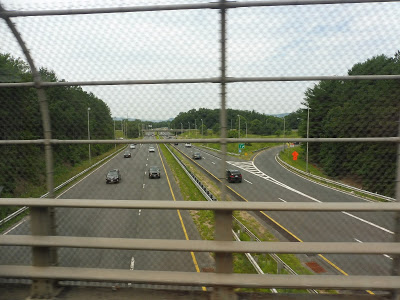 No more exits until Lee…
Eventually, Elm Street split into two one-way sections with the following in between: first a nice park, then random industrial buildings, then a parking lot, then another nice park. We crossed over the Westfield River on one of two one-way bridges, then there was some pretty nice retail on both sides of the street. There were even more businesses after we went under a train track, then we arrived at the Westfield Center bus station…20 minutes early. Geez, PVTA, this is crazy even for YOU!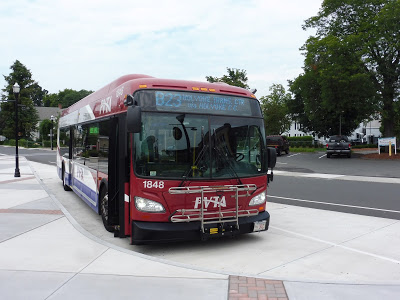 You early rascal!
PVTA Route: B23 (Holyoke/Westfield via Holyoke Community College)
Ridership: I can definitely see why they got rid of Saturday service on this route, because my ride had barely anyone on it. However, weekday service actually gets lots of people, with about 20 passengers per revenue hour. I'm sure it gets especially busy when school is in session, both for Holyoke Community College and Westfield State University.
Pros: The route serves as an interesting connector between Holyoke, its Community College, and Westfield…and honestly, not all that much in between. It's actually pretty neat that this thing gets good ridership, since on a map it looks like it wouldn't do well at all. The B23 also has a fitting schedule, for what it's worth – it runs every hour on weekdays only. There used to be a marginal number of trips on Saturdays, every two hours, but I can totally see why they got rid of those.
Cons: You wanna give this thing a legitimate time from Holyoke Community College to Westfield? I dunno, I think being 20 minutes early might mean the schedule is a bit too padded. You know, maybe. It's even worse going the other way, when the route would be about as early coming into Holyoke Community College. This time it's in the middle of the route, and you know what that means: CLASSIC PVTA WAITING!!!! On a side note, why the heck did we skip three of the route's four deviations? This may have just been a driver thing or a Saturday thing or something, but it was definitely weird.
Nearby and Noteworthy: There actually isn't much that the B23 can call its own. All of the noteworthy places along it (i.e. Holyoke, the Community College, and Westfield) are shared by other buses.
Final Verdict: 7/10
The B23 is most definitely a "doing its thing" route. It just does its run through practically the middle of nowhere between some pretty sizeable ridership hubs. It runs on weekdays only because that's the only time it's really needed, and it does its job well within those times. Not much else to say.
Latest MBTA News: Service Updates