Wow, this route taught me about the existence of so many new neighborhoods and towns! Williamsburg! Haydenville! Leeds! All that and more on the R42!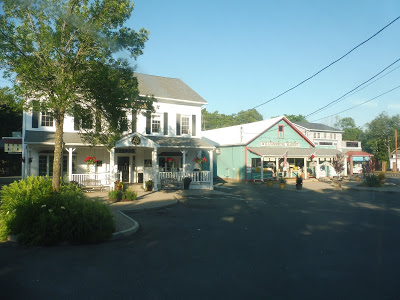 This is about it for Williamsburg Center…
Sam and I just took the route out and back in, but I'll be covering the inbound direction because the bus makes an extra deviation going towards Northampton (although going out, it serves Salvo House, which a lot of other routes do). Out in Williamsburg, we used some residential side streets to turn around, then arrived back at the main stop at Williamsburg Center. It wasn't much: a library, a post office, and a few businesses. The town only has 2,500 people, after all!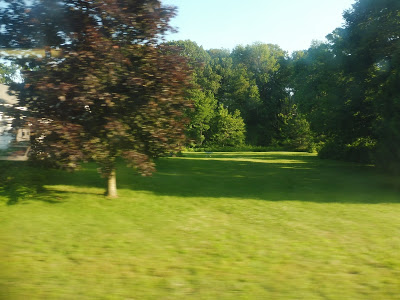 An open area.
On the way out of town, there were some industrial buildings and a few straggling business. We crossed over the Mill River and the road was paralleling it closely, offering a quaint forest view. It was incredibly scenic and relaxing, but eventually a redeveloped mill broke the peace. We were in Haydenville.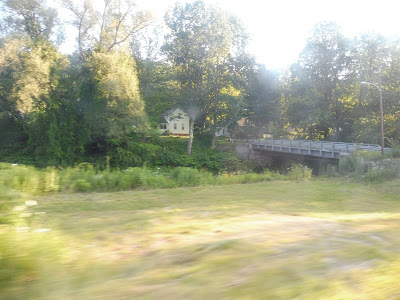 A bridge over the river.
Like Williamsburg Center, there wasn't much in Haydenville, either. It consisted of houses, a few businesses, a post office, a library, a church, and a really really fancy hotel. Beyond Haydenville, it was mostly residential, aside from a huge beautiful golf course.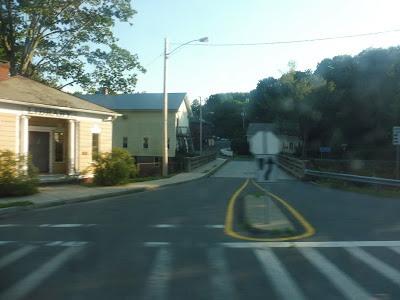 Another bridge in Haydenville.
It became pretty rural after that, with a few spread-out houses and industrial buildings. As we entered Northampton, we passed a cemetery, then an extended care facility on the other side. The street was now called Haydenville Road, but we turned off of it onto Leonard Street. This was a quiet residential neighborhood, continuing as the road made a 90-degree turn, becoming Front Street.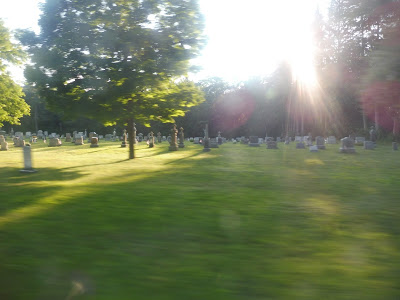 A cemetery.
We came around a bend and the street became Florence Street. Up on a hill, we got a decent view of Leeds Center, although this was the least exciting of any of the previous town centers – it was basically just a few old buildings. The bus only deviates to Leeds Center going inbound, unless someone requests to serve it on the outbound trip.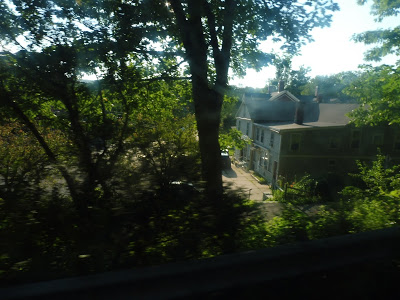 Trying to get a view of Leeds Center…
Next, we passed the Leeds Elementary School and some more houses, then we merged into North Main Street, where there were a few businesses. There was a brief section of woods and a field, after which we turned into the VA Hospital. This deviation took us up a curvy hilly road up to the hospital, where we looped around and came back.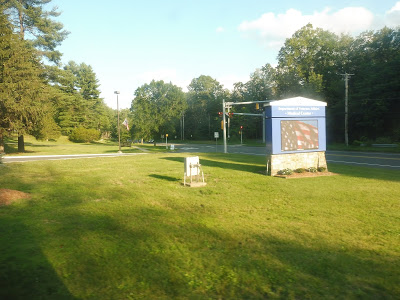 Entering the hospital.
After a roundabout next to Look Memorial Park, North Main Street became entirely residential until Florence Center, where we did a strange little "deviation" of sorts around a common. We entered the center proper next; retail abounded. The street became Locust Street beyond the center, then we passed a field, a recycling center, and another hospital.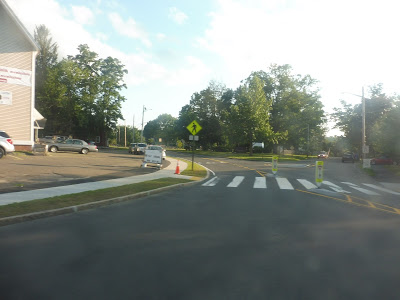 Coming into Florence Center.
We merged onto Elm Street, which had one side occupied by houses and another side occupied by a park. After Northampton High School, the scenery became a somewhat dense residential area. Eventually, we started going by Smith College buildings, a sign that we were almost into downtown Northampton – then voila, we made it!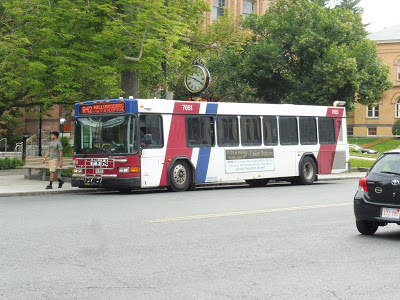 The bus at Northampton.
PVTA Route: R42 (Northampton/Williamsburg)

Ridership: This is a pretty bad route for ridership – only 238 passengers per day. Riders per trip is similarly poor, with only 11 people on average. The main ridership hubs for the route are generally the major stops – Florence Center, VA Hospital, Haydenville, and Williamsburg.

Pros: This is an important route, and people definitely rely on it. It's not like it's an urban city route – in fact, it's one of the most rural buses on the PVTA – but the people who ride this have no other option, and there are more of them than, say, a typical GATRA route. Also, the schedule is decent – every hour on weekdays and Saturdays. There's no Sunday service, but the R44serves the VA Hospital on Sundays, still sending a bus to probably the R42's busiest stop. Oh, and finally, the R42 is a really scenic ride.

Cons: The ridership is still low, there's no denying that. It's also kinda strange that the route leaves on the :50 from Northampton, missing the pseudo-"pulse" of key routes by 10 minutes. Finally, it's kind of annoying that this route serves Salvo House on the outbound. I know it's an important residential building, but so many routes serve it. Plus, it takes seven minutes just to loop around back to downtown Northampton on the R42's outbound journey. Really?

Nearby and Noteworthy: This is the only PVTA route that serves Look Memorial Park, a big scenic park in the northwest area of Northampton. There seems to be a lot of fun stuff to do there.

Final Verdict: 6/10
Okay, I'm not gonna say that this route is efficient or anything, because it's certainly not – 238 riders per day is still miserable, and I'm not gonna deny it. Sometime I might propose an idea I had to serve Salvo House without having all the other routes deviate to serve it, but for now, all I'll say is that it's really annoying. The R42 is an important route, though, and it serves as a lifeline to residents of Williamsburg and northwestern Northampton. Plus, you can't beat the scenery on this ride; it's lovely.

Latest MBTA News: Service Updates