You know it's a bad route when it reminds you of the GATRA. We're not talking about the "empty, deviatory minibus" side of GATRA today, though…no, the R44 harkens most to the "somewhat less empty, deviatory full-sized bus" side of GATRA. It reminded me a lot of something like the 8. However, the 8 was a standout route only because the rest of the GATRA is so subpar – the PVTA is a legitimate bus system. Let's see how the R44 stacks up.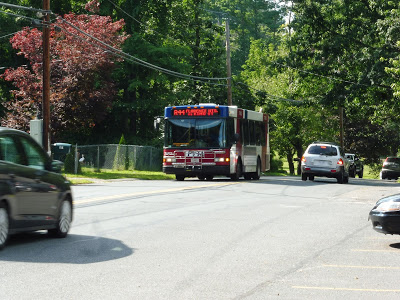 The bus on its way to Florence Heights.
The route starts out with – of course – a deviation. It's to serve the Florence Heights housing development, and Sam and I got there by walking from Florence Center. Once on the bus, we headed up the woodsy Florence Road, where houses hid behind the trees. They started to get denser as we continued further north, then we turned onto Pine Street and crossed over Mill River.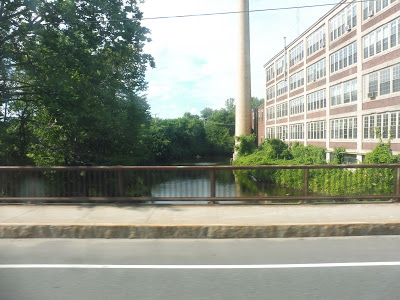 The river.
Pine Street passed by some industrial buildings, then we turned onto Park Street, going through a lovely residential neighborhood. After passing a cemetery, we curved onto Main Street, the main drag of Florence Center, which reminded me of a typical suburb of Portland, OR, for some reason. It was a reasonably nice downtown.
Florence Center.
The street became Locust Street, but we didn't stay on it for much longer, turning onto Straw Ave outside of an apartment building. After crossing the Northampton Bikeway, we turned into Meadowbrook Apartments, a slowwwwww deviation with lots of speed bumps. Still, it was also well-used, with a few people getting on at each stop.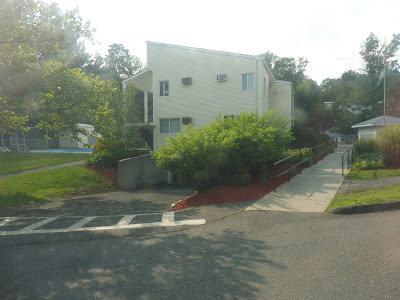 Trundling through Meadowbrook Apartments.
It took a while to get through here, but we finally turned onto Bridge Road, leaving the complex. The road took us past a field and a cemetery, then a bunch of houses and more housing developments. Next, we turned onto Cooke Ave, then Hatfield Street; both took us behind various buildings of Hampshire Plaza. As you would expect, we eventually made our way into the parking lot for the mall.
Inside the mall.
After serving the mall and its Big Y, we headed out onto King Street, which became lined with lots of suburban businesses with parking lots. We didn't make it too far down the road before yet another deviation, this time into Kingsgate Plaza to serve Stop & Shop. We left that mall, and it started to get a little more industrial, with auto shops and gas stations coming up in between some of the businesses.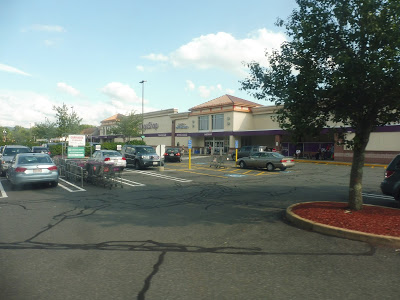 Anddddd…another mall.
There were a few houses lined up, then it all of a sudden got urban. We turned onto Main Street, and we were right smack in the middle of downtown Northampton. We didn't get too far, though, before yet another deviation – this time, we turned onto Crafts Ave, taking us down a hill and past a few more businesses.
A side street in Northampton.
Now we were on Conz Street, which went through a mostly residential area. At Walter Salvo House, we pulled into the front drive of the apartment building, then made our way around it on Fruit Street. This narrow residential road took us to Old S Street, which we took up a hill back into downtown Northampton.
Pulling into Salvo House.
We turned back onto Main Street, once again passing by tall-ish businesses. We went by the Academy of Music stop, but we were on the other side of the road so we didn't use the actual shelter. After that, we turned onto West Street, taking us past a mixture of houses and Smith College buildings.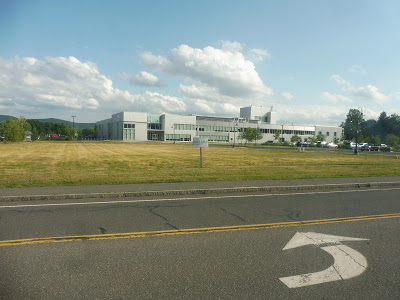 An office building.
We went over Mill River, then the road became Chapel Street and we passed a big office building. Beyond there, it was a mixture of houses and fields, until we made an unexpected turn onto a narrow hilly road. This led us up to the last stop: Hampshire County House of Corrections. That's right – the route ends at a real, proper prison. Needless to say, Sam and I stayed on the bus…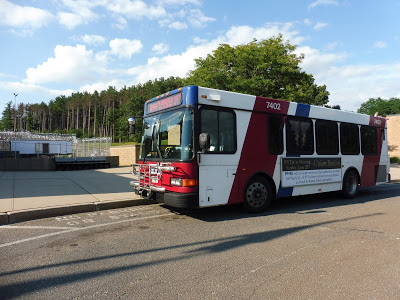 This is just so weird…

PVTA Route: R44 (Florence Heights via King Street and Bridge Road)
Ridership: In terms of average daily ridership, the 44 is below average for the PVTA, with 415 riders per day. It gets worse when you use other counting methods, though – it's far below average for passengers per trip, carrying only 16, and dead-last for passengers per hour, with only 13.
Pros: There's no denying that the R44 definitely serves a lot. It acts as kind of a Northampton circulator, serving housing developments and malls that no other buses serve. The schedule is also reasonable, with hourly service seven days per week.
Cons: Riding this thing from beginning to end is just miserable. It's such a deviatory route, and it doesn't help that for some reason, the worst buses in Northampton Garage always end up on this thing. Honestly, it would work far better as a loop, allowing for more efficient trips from the Florence area to Northampton.
Nearby and Noteworthy: Hampshire County House of Corrections all the way, baby! Or maybe, like, Stop & Shop or something…
Final Verdict: 5/10
This route serves a lot, for sure, and even though the ridership is low and the costs are high, it's still important for the city of Northampton. Honestly, though, it would make a lot more sense as a bidirectional loop. The distance from Hampshire County House Corrections to Florence Heights is so small that you could have the same frequency with the same amount of buses. Take a look:
The loop takes about 41 minutes driving, so with padding, you could easily keep the hourly service with two buses, just like it is now.
Latest MBTA News: Service Updates