Time to finish off this 210/211/212 cluster in Quincy with its highest-numbered route, the, uh, 212. Like the other two routes, this one baffles me in its own unique way. Why? Keep reading!
The bus coming into Quincy Center.
We left Quincy Center and headed up Hancock Street, taking us past some businesses and tall apartment buildings. After going over Furnace Brook, we went by the MBTA Quincy Garage, then a middle school and a park. We passed a church and some businesses, then we turned onto Elm Ave, breaking away from the 210 and starting the route's independent section.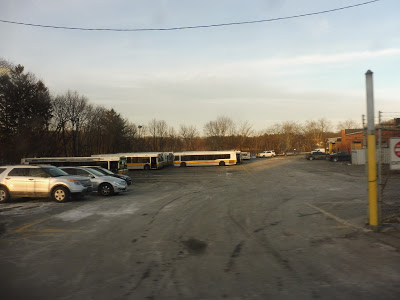 Quincy Garage!
Elm Ave had a nice leafy median, and it was lined with big suburban houses. At one point we had to make a weird twist briefly onto Staunton Street in order to continue on Elm Ave…or rather, West Elm Ave at this point. The houses were a little denser now, although it still felt pretty suburban.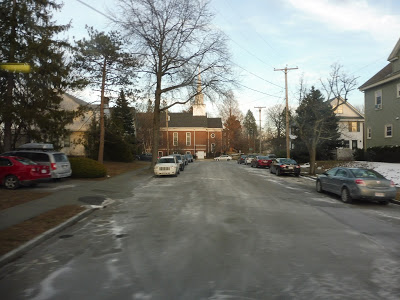 A side street leading to a church.
We almost made it to the water, but a block before the beach, we turned onto Billings Road. This street continued to be entirely residential, but after it curved in a southwesterly direction, we did go by a small elementary school. Eventually the street became lined with businesses as we turned onto Hancock Street. This took us to North Quincy, where the ridiculously short ride was over.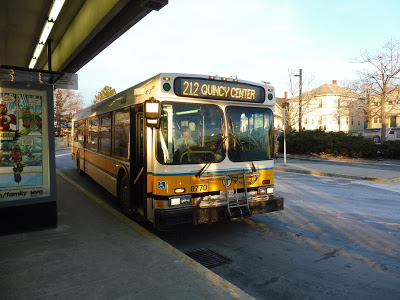 The bus at North Quincy.
Route: 212 (Quincy Center Station – North Quincy Station via Billings Road)
Ridership: The 212's ridership is really, really, really low. I mean, it's the 15th least-used route on weekdays with 293 riders per day, and…wow, okay…the fourth least-used route on Saturdays, with only 151 riders. I had no idea how awful this ridership was until I looked it up just now, and…wow, this is really gonna impact the route's score.
Pros: You know, I will say that the 212 does actually serve a neighborhood far from other transit modes, unlike the 210. It's also nice (?) that despite the route only running six days per week, it gets seven-day service, courtesy of the 211 running along the 212 on Sundays.
Cons: Usually I can at least say that "the schedule is sensible," but no, it's not! On weekdays, the route runs rush hours only…but then it runs all day on weekends! What?! Not to mention it runs twice as often in the morning than the evening (every half hour vs. every hour). That weekday schedule has the right idea, though – clearly weekend service is not necessary on the 212! Fourth-worst ridership on Saturdays? Just despicable!
Nearby and Noteworthy: The 212's independent section is almost entirely houses, so, uh, no.
Final Verdict: 2/10
The 212 isn't quite 1/10 territory, but it's definitely close. Still, I think it does get a reasonable amount of rush hour ridership in the peak direction, so that's why I'm not going all the way down. All other times, though, this route could (and should) easily be eliminated. Come on, it gets practically nobody on Saturdays! You could use the extra service on a Quincy route that actually needs it, like the 240! Yeah, this is most definitely my least-favorite route of the three North Quincy buses.
Latest MBTA News: Service Updates