Long-time readers may remember wayyyyyyyy back in 2014 when I rode the 211 for the first time. The reason I didn't review it then was because it was a Sunday, when the route cuts out a huge swath of its path from North Quincy to Quincy Center, following the 212 instead. Well now I finally had the chance to ride it on a Saturday, so we can finally review the proper route. I present to you: the 211!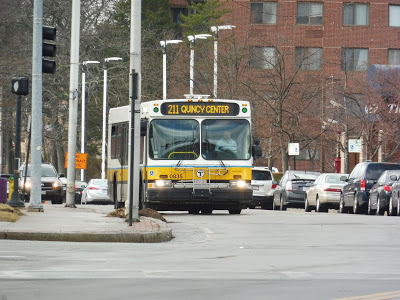 An earlier trip on the route near Quincy Center.
We left the Quincy Center busway and headed up Hancock Street, bypassing Quincy Center itself. Instead, we merged onto Adams Street, going by businesses (with parking lots) and apartment buildings. After the road went over the Red Line tracks, we turned onto Newport Ave, which paralleled the tracks. It was lined with houses on the other side.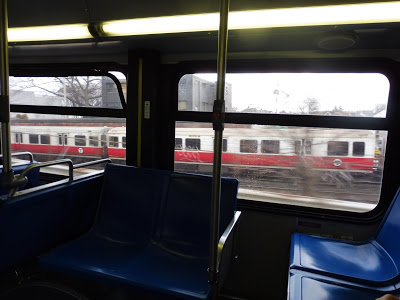 The race is on!
As we rushed down the street, we managed to get a lead on a Red Line train going right along next to us. Right outside of Wollaston Station (but apparently not close enough to justify an announcement), we turned onto Beale Street, entering a mostly residential neighborhood. There were also a few businesses and a school to break it up.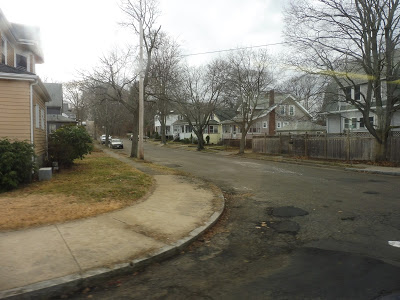 Some random side street.
Outside of a little retail block, we entered a long, twisty section with very similar scenery. Okay, so just imagine relatively dense, leafy houses around as we made a right on North Central Ave, right on Brook Street, left on Highland Ave, left on Wilson Ave, right on Harvard Street, and finally, right onto West Squantum Street. Geez, Louise…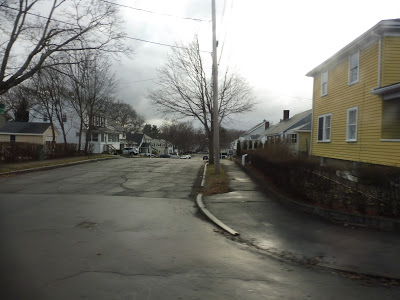 Another random side street!
West Squantum Street had a few businesses among the houses, and eventually we passed a few big apartment towers. After some marshland, we crossed the Red Line tracks and entered the North Quincy busway. We made a quick stop, then headed onto East Squantum Street, going by North Quincy High School and a bunch more houses.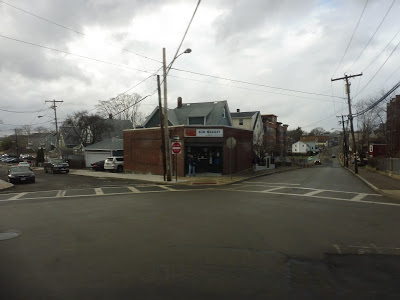 A corner on East Squantum Street.
The street made a few twists and turns as it went by dense houses. After we crossed Quincy Shore Drive, we were all of a sudden surrounded by marshland – we were on the Squantum peninsula! As the left side of the road opened up to just water, we got an awesome view of Boston, while the other side was occupied by more houses.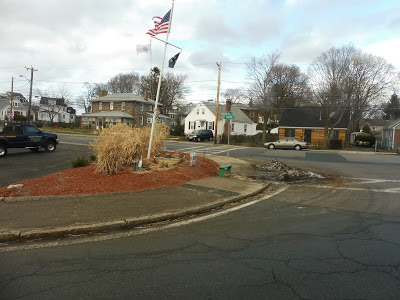 An intersection in Squantum.
Upon arriving in Squantum proper, we turned onto Newland Street and laid over for a few minutes at a generic bus stop. After that, we left the stop, turning onto Huckins Ave and running past mostly dense houses. We went up a slight hill, then turned onto Bellevue Ave, which took us steeply down; there were views of the water down every side street. It ended at Dorchester Street, which took us back along the sea to the starting point of the loop, where the bus began heading back to Quincy Center.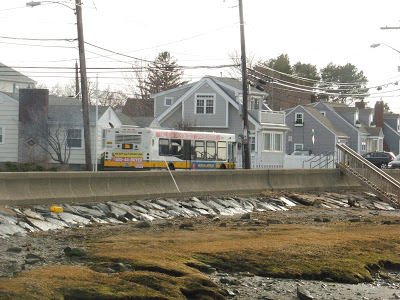 The bus heading back towards the mainland.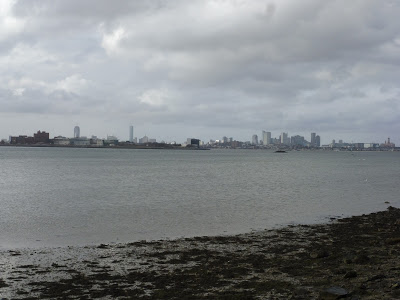 Don't think I forgot about the view! This is from when Sam and I walked back to North Quincy after our ride.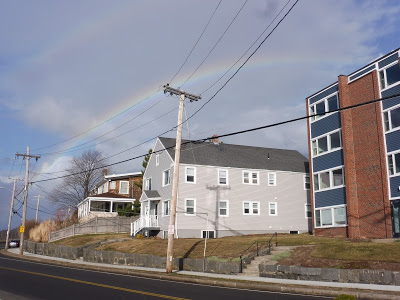 Wowwwww…
Route: 211 (Quincy Center Station – Squantum via Montclair and North Quincy Station)
Ridership: Not good, not good at all. The route gets 936 riders per weekday, 216 per Saturday, and a measly 119 per Sunday – that makes it the third least-used Sunday route, after the 171 (which only has two departures, in the early morning) and the Silver Line Waterfront shuttle (which hardly ever even runs on Sundays). My trip continued that low-ridership trend, with only about five other people over the course of the ride.
Pros: The view! The view! The view! The view! The view! Okay, what else? Well, I guess the route does serve parts of Quincy that other buses don't serve. The schedule is also sensible for the most part, with service about every half hour during the rush, and every hour all other periods it runs.
Cons: Where shall I start? Well, first of all, the route really needs to be straightened out in that residential section of Quincy (Montclair, I think), because the current route is just insane. Plus, you could use the time gained from a straighter route elsewhere: serving Marina Bay. It's a super dense mixed-use development near Squantum, and I honestly think the 211 could gain a lot of ridership if it deviated to serve it (yes, I'm actually suggesting a deviation). Otherwise, the route really doesn't need to run on weekends – it gets hardly anyone! Oh, also, it's really weird that the route towards Squantum is considered "inbound," but it makes sense geographically.
Nearby and Noteworthy: The route itself doesn't serve much of note, but that view makes it worth the ride!
Final Verdict: 4/10
To be perfectly honest, the 211 would totally be a 3…if it wasn't for the view. But aside from that extra "view point," I am not a fan of this route. It's twisty where it doesn't need to be, yet it runs straight past what could be a really big ridership draw. Either fix the route, or nix its weekend service, because at the moment, it doesn't seem worth keeping around during those times.
Latest MBTA News: Service Updates