Don't you hate it when you have a connection to make, but the bus you're taking to that connection is late, so you miss the connection? Thanks, 210! (Okay, the Fields Corner traffic is really what's to blame, but I just needed a way to start this post.)
Well, this has to be the strangest bus photo I've ever taken.
We left the Fields Corner busway travelling right behind a 202, turning onto Geneva Ave along with that bus. Outside of a big shopping plaza, we merged into the short Park Ave busway, which took us around onto Dorchester Ave. We were on here for about two seconds before turning onto the narrow residential Gibson Street.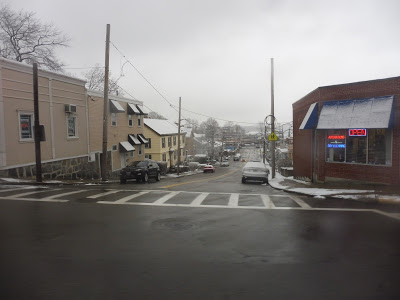 Looking down a slight hill.
Finally, we left that 202, merging onto Neponset Ave, which was lined with dense houses and apartments. There would be the occasional retail block but for the most part, it remained residential. After a big field and a sizeable clump of retail, we went under I-93 and crossed over the Neponset River.
Nice view!
Beyond the bridge, we were now in Quincy. We turned onto Newport Ave Extension, a wide road which curved around past some huge office parks and marshland. Taking an exit off that road, we then made our way onto Squantum Street, leading us into the North Quincy busway.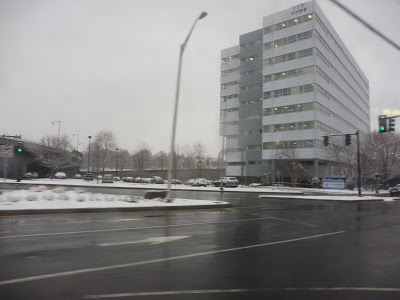 What a beautiful office park…
After the busway, we made our way onto Hancock Street, the route's main road for the rest of the trip down to Quincy. The intersection with Billings Road had a bunch of businesses, but beyond there the primary scenery was dense houses again. We still passed some retail and an assisted living facility, though.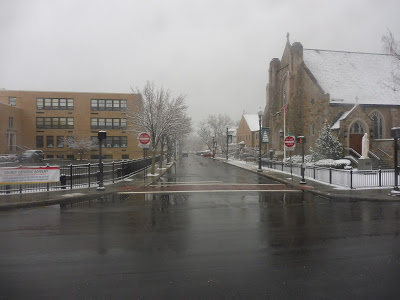 A Catholic school and a church.
There was another bunch of businesses at the intersection with Beale Street. Many of these were Asian, such is the nature of the area around Wollaston (whose Red Line station was only a few blocks away). There was a pretty wide variety of scenery from there, including houses, businesses, and a church.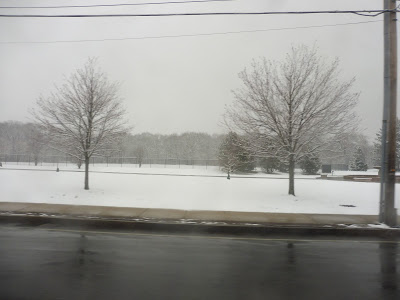 Walkin' in a winter wonderland…
We went by a large middle school and an even larger park, then the MBTA Quincy bus garage. We crossed over Furnace Brook after that, and then the surroundings consisted of more businesses and some tall apartment buildings. Hancock Street would have continued right into the main drag of Quincy Center, but before that happened, we turned into the station's busway, ending the route.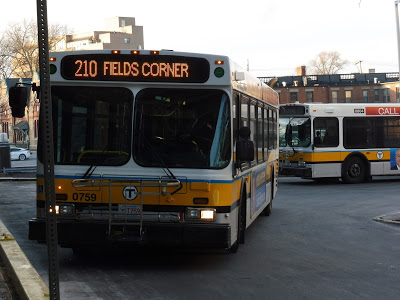 A different bus on a different day, with a slightly more normal picture.
Route: 210 (Quincy Center Station – North Quincy or Fields Corner Station via Hancock Street and Neponset Ave)
Ridership: Nope, ridership isn't high at all. On the average weekday, the route gets 736 riders, while on Saturdays, it gets only 204 people. My trip was pretty light, with only about ten people, but one could argue that it was just before the evening rush – it was in the peak direction, though.
Pros: You know, all I can really say here is the schedule, which is sensible for the route's ridership. The 210 runs about every half hour during the rush periods and every hour middays and on Saturdays. There's no night service, but the route does have one very late trip that times with the last Ashmont train and serves the Braintree branch stations.
Cons: Basically everything else. For one thing, the 210 really isn't serving much. Let's go down the route: the section from Fields Corner to Neponset is shared with the much more frequent 201/202; the section from there to North Quincy is just office parks for the most part; and from there to Quincy Center, the route is never more than a 10 minute walk from a Red Line station or another bus route! Also, the 210's Saturday service is just terrible – it only serves the section from North Quincy to Quincy Center, and the trip takes ten minutes. Yeah, okay, sounds like a great ridership generator.
Nearby and Noteworthy: Those two businesses squares along Hancock Street were pretty interesting, although both are within easy walking distance from the Red Line.
Final Verdict: 3/10
The 210 definitely serves its purpose during rush hour, since taking the bus beats walking, no matter how short the walk is. However, you could easily eliminate it all other times. I mean, I just don't think it serves much of a purpose, and the "bus beats walking" demand is a lot smaller outside of rush hour. Sorry, 210, but I'm just not a fan.
Latest MBTA News: Service Updates