Holy moly, this station is incredible! Not since Route 128 have I seen a Commuter Rail station with this much stuff! Could Anderson/Woburn be as good as that station, which received a perfect 10? Let's find out!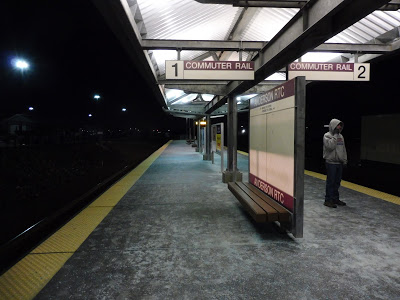 Looking down the platform.
This is a modern station, having been built in 2001, so the entire platform is high-level. Also, about half of it is sheltered, which is really good for Commuter Rail standards. Sure, it's nothing special to look at, with a typical modern shelter and views of either a gigantic parking lot or random industrial buildings, but the place has lots of benches and wastebaskets – ultimately, that's what matters most!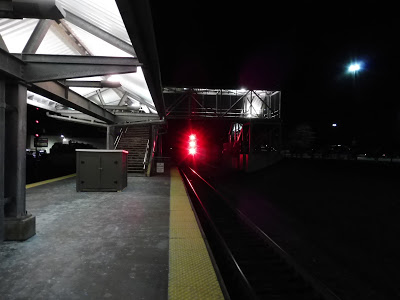 The station's smaller exit.
On the other end of the platform, there's actually another shelter. Over here you've got a small, simple exit – it's a staircase that leads onto a footbridge over the tracks and into the parking lot. This is very useful for automobile commuters, since this lot is huge! It contains 2000 spaces contained over a massive area, including a long-term lot for extended trips.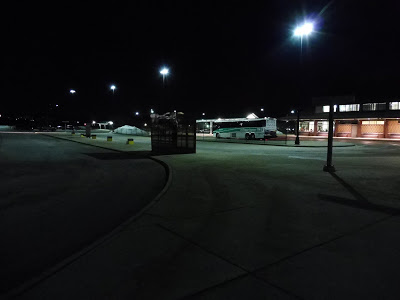 Coming toward the building.
The vast parking lot has a sidewalk along it, which is good – I would hate to try to walk through that whole thing! Alongside the lot, there's what I believe is a drop-off area, and it features a forlorn black shelter in which to wait. It has sliding doors, and the inside contains a few benches. I don't know why anyone would want to be picked up here when there's a much better drop-off area on the other side of the building, but hey, it's an option.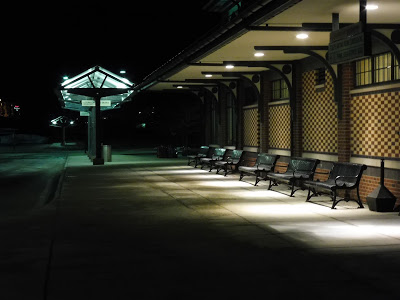 The busway!
An alternative name for this station is the "Anderson Regional Transportation Center", and the reason for that is that it's served by a bus, the Logan Express! That's right, coach buses run from here to the airport every half hour on weekdays and Sundays and every hour on Saturdays, and they get a proper busway! It's basically just a bunch of sheltered benches along the building, offering plenty of seating for waiting passengers.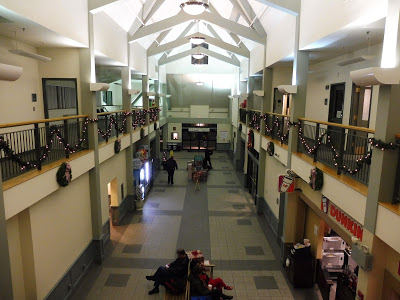 OH MY GOD!
And now it's time to cover the true masterpiece of this station: the building! There's a lot to talk about in here, but first, can I just say how pretty it is? I came here a few days before Christmas (yeah, yeah, I know the review is painfully outdated), so the place was decorated with wreaths and lights! Plus, it's just really modern and clean, and I like the sleek architecture.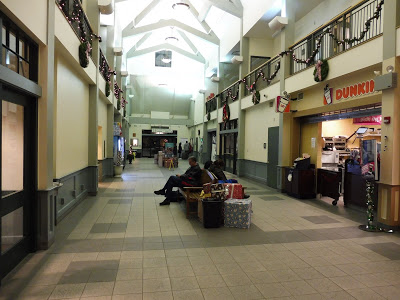 Down on the first floor.
At ground level there were even more decorations scattered about, including a Christmas tree and a bunch of presents everywhere! This station has a few spots for businesses, but right now the only one occupied is a Dunkin' Donuts. Admittedly, that's still a great place to go for commuters in the morning…or the evening. It's open all the time!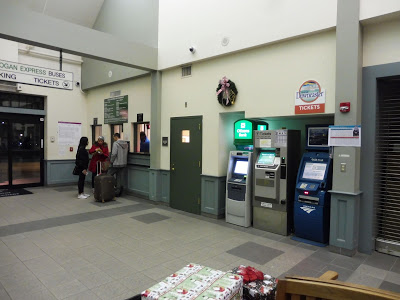 The robust ticket area.
Continuing to the other side of the building, the station has a fully-featured ticket area. You've got a Logan Express ticket office, an ATM for withdrawing money, a CharlieCard machine (very interesting to see out here), and a Quik-Trak machine for Amtrak Downeaster trains, which stop here on their way to Maine. Wow, that's a lot of options!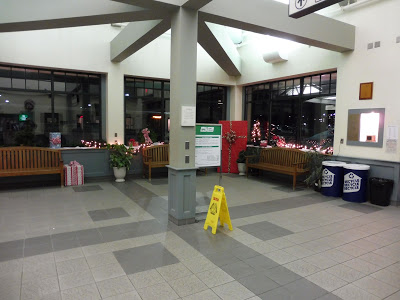 A waiting area opposite the ticket area.
This is also a very pleasant station to wait at. There are benches everywhere, plus wastebaskets and recycling bins. A few vending machines in the hallway sell snacks for cheap prices, there's a water fountain, and the bathrooms here are actually clean! Not to mention you're inside, so the wait is warm!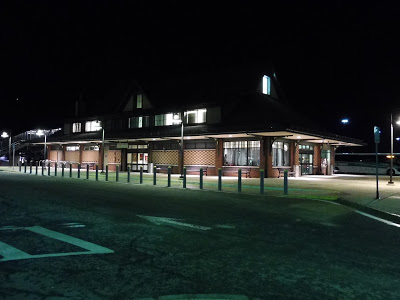 Looking out at the other side of the building.
Meanwhile, the other side of the building leads to the long-term parking, as well as a drop-off area. There are lots of benches out here for people getting picked up, and wastebaskets, too. This area even has some bike spaces, which were occupied! I gotta say, I wasn't expecting that – this station is practically in the middle of nowhere!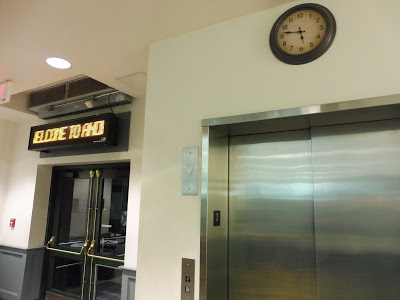 The entrance to the Commuter Rail platform.
Coming back into the building, it's time to head back out to the platform. A set of stairs and an elevator lead up to the second floor, where a few benches allow for more waiting space. It's a little annoying how there's just a scrolling screen above the door instead of a proper departure board, though.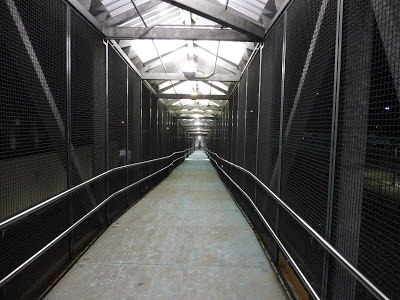 The longgggg ramp down to the platform.
The footbridge is pretty typical for a modern Commuter Rail station, with a metal roof and grated walls. It has a staircase down to the parking lot on the way to the platform, which one can get down to by means of another staircase or a very long ramp. A newer station would probably feature an elevator instead, but hey, at least the ramp looks really fun to run down!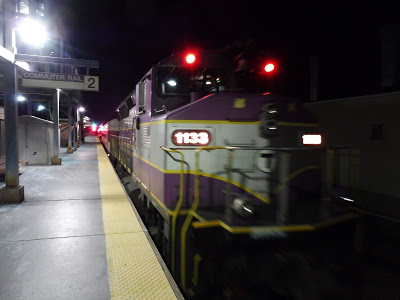 A train leaving the station.
Station: Anderson/Woburn
Ridership: It's ridiculously high for the Commuter Rail – 1,502 inbound riders per weekday! That makes it the seventh-busiest station on the system, and the second-busiest on the Lowell Line. As for Amtrak ridership…well, it's a heck of a lot lower. In 2015, the Amtrak Downeaster got 16,901 passengers, or 46 people per day. Finally, the most recent Logan Express ridership I can find is from 2002, when it was getting 234,422 riders per year (642 per day), and I'm sure it's only gone up from there.
Pros: This is one of the best waiting experiences on the entire Commuter Rail. Just look at the building! It's so clean and modern and it has basically all the amenities one could ever want! I've gone through all of them in detail already, but it's what makes this station great. Also, Anderson offers a bunch of parking, a high-level platform, and a decent busway for Logan Express buses.
Cons:
It's kinda weird to call a place a "Regional Transportation Center" when it only has one bus route, although admittedly, there aren't too many places one could send a bus from here. No, my main problem with Anderson is the fact that there's
no exit to the west side of it
. There are houses over there!
The 134
, even! Instead of as little as a 10 minute walk, residents have to drive
three miles
to get to the station! It's like
Quincy Adams
all over again…
Nearby and Noteworthy: Absolutely not! There are a few suburban big-box stores in the vicinity, but for all intents and purposes, this station is in the middle of nowhere.
Final Verdict: 9/10
You have no idea how close this is – if there was at least a footbridge to the west, this station would have a perfect 10. If you had an exit over there, people could walk or bike in from their houses and save a lot of time. Maybe you could even route the 134 over here and give it a proper terminus! But yes, aside from that problem, Anderson/Woburn is absolutely perfect. That building is just amazing, and it offers an infinitely better waiting experience than the station it effectively replaced, Mishawum. If only all Commuter Rail stations were this nice!