I was not expecting much from Route 128. Every time I went past it, it always just seemed like a middle-of-nowhere park-and-ride station. Well…okay, it kinda still is, but it has a lot more to offer than just parking.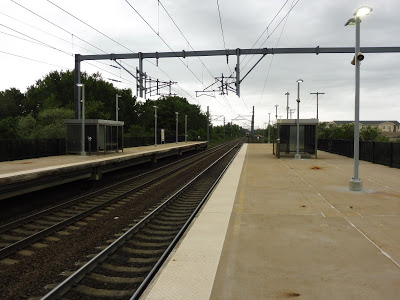 This happened to be the first thing I saw when I got off here.
Okay, the end of the platform isn't the best, but it's not like anyone waits out here anyway. It's basically just open concrete, with a few admittedly unique shelters that are apparently popular with railfans. Still, nothing much to see out here, so let's go back to the main part of the platform.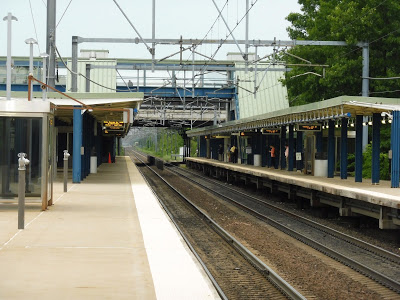 Ah! Now we're talking!
The main part of the platform is all sheltered and chock full of amenities. Aside from the typical wastebaskets and some typical Orange Line-esque bench shelters, the station also features help buttons to call for assistance, as well as old Commuter Rail maps that really should be updated. Best of all, though, are the screens at the platforms that tell you the time, as well as the status of the next train. They're unique to this station (they also show Amtrak trains), and they're great.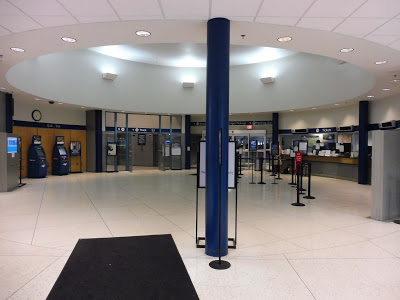 The ticket concourse.
From the outbound platform, there's an entrance directly into the station building. It leads into a really nice circular concourse with both ticket offices and ticket machines. There's also a small destination board in here for Amtrak arrivals.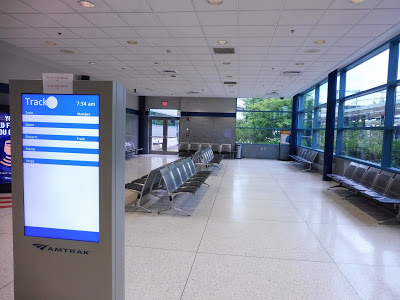 Wow!
Route 128 offers a lot in terms of waiting space. From the concourse, the room seen above is actually the smaller of the two waiting rooms. Even then, this one still offers lots of seating and feels like an airport. There's also a hand sanitizer dispenser close by, which is a really nice touch, and the whole station has Wi-Fi.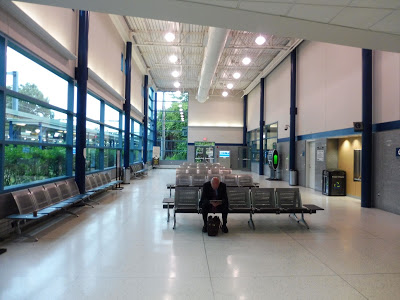 GOOD THING THIS PICTURE IS OUT OF FOCUS TO TRULY SHOWCASE THE BEAUTIFUL WAITING ROOM.
The other waiting room is even bigger, with a high ceiling and lots of natural light coming from huge windows. Again, it has lots of seating, but this one features a huge destination board! Okay, it's only a screen and it only shows Amtrak arrivals and it's really ugly, but it's a destination board regardless.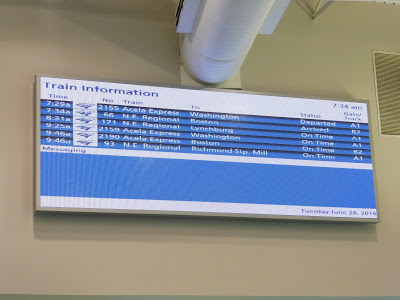 Gross…
There are a bunch more amenities in this waiting room, including wastebaskets and recycling bins! There's also a payphone (for what it's worth), and a smaller destination board further into the room. Finally, it has what appears to be a phone charger, although I can't entirely tell if that's what it is.
The first of two cafés.
Yes, Route 128 has two cafés! And the first one, the On Track Café, is open seven days a week! Now, barring the fact that its logo is in comic sans, the On Track Café has so much stuff that it might as well be considered a convenience store. They even sell magazines! The room in which the café is housed also features some tables, wastebaskets, vending machines, and more generic seating.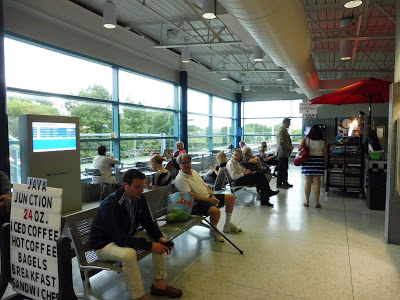 The other café.
The other café, Java Junction, is only open during the morning rush, but whaddayaknow – I was here during the morning rush! This place seemed to be a lot more crowded than the On Track Café downstairs, but maybe it's because Java Junction serves hotter and fresher stuff. Also, it just happens to be closer to the platform, so perhaps people were just waiting here for their trains.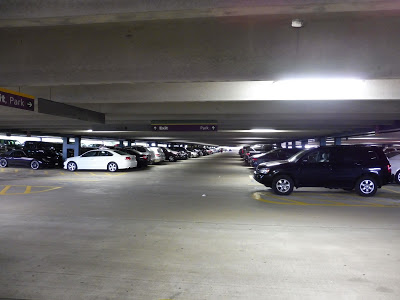 Ah, the main attraction.
Okay, time for the parking garage. The huge, huge parking garage. Are you ready for the number of spaces it has? Get ready: 2,589. All that, and yet it gets over 75% filled on weekdays! I guess they really do need all that space. Route 128 has no bike parking, unfortunately, although…who the heck would want to bike here, anyway?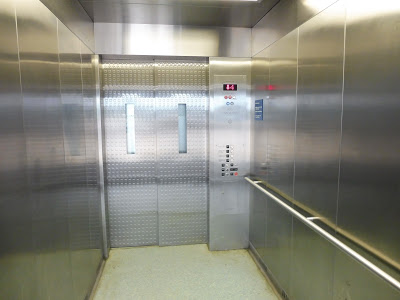 The parking lot elevator.
The parking lot elevator isn't particularly noteworthy. It moves at a fine rate, it doesn't smell, and it generally gets the job done pretty well. The only reason I bring it up is because the floor has air bubbles in it! It doesn't matter too much, but it was fun to step on the bubbles. Okay, this was a pointless paragraph, wasn't it?
The view of the highway.
Unfortunately, the view from the roof of the parking lot is rather underwhelming. You can't see Boston, so the only things in view are the station's namesake, and a bunch of development going on down University Ave. It's probably not worth coming up here if you're looking for a view.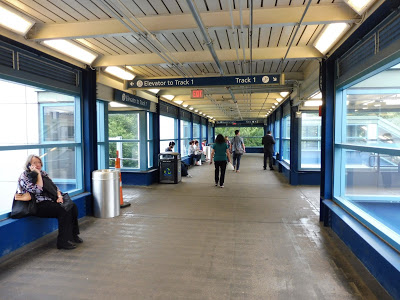 The station's footbridge.
There's a huge footbridge that connects to the main station building and also serves as a bridge between the two platforms. It seems like it's also a popular place for people to wait, despite not having any benches (it does have a wastebasket and a recycling bin, though). They could possibly stick a few seats in here to make the conditions more comfortable, but it would probably be better for people just to wait in the more comfortable waiting room in the building…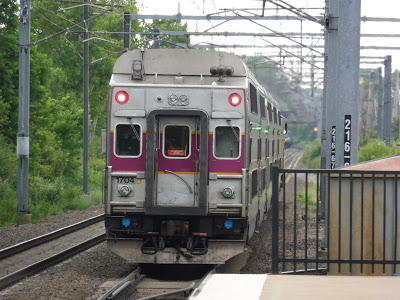 A Commuter Rail train!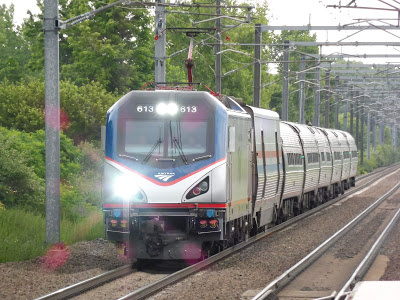 A Northeast Regional train!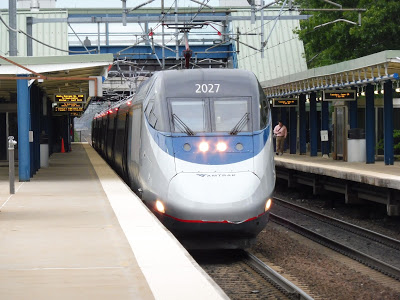 An Acela train!
Station: Route 128
Ridership: This station doesn't actually get too much ridership on the Commuter Rail side of things, relative to the rest of the Providence Line: 853 inbound riders per day. Still, that's pretty good for the Commuter Rail. For Amtrak, however, the station gets 444,670 riders per year, or about 1,218 riders per day. Yes, Amtrak actually gets more ridership than Commuter Rail here!
Pros: Parts of this station really feel like an airport – I wasn't expecting it to have so many amenities! Both waiting rooms are great, as are both cafés. Finally, this station has a huge amount of parking, and as its name suggests, is right off of Route 128 for easy access.
Cons: I have a few very small cons with this station. Firstly, there's that destination board, which is just annoying – if only it could show Commuter Rail trains, too. Also, the maps on the platform are out of date. These are pretty small issues, but issues regardless.
Nearby and Noteworthy: If you like huge expanses of development, then University Ave is for you! You'll find lots of malls along there.
Final Verdict: 10/10
Route 128 is about as near-perfect as a Commuter Rail station can be, though there's no denying that it has a few problems. But still…what other Commuter Rail station has airport-style seating? Or free Wi-Fi? Or two cafés, one of which is open seven days a week? Yes, Route 128 may not be a perfect station, but it's definitely one of the best on the Commuter Rail.
Latest MBTA News: Service Updates