What the heck is this post title? Why the heck is it so long? Why did the MBTA feel the need to list so many different midpoints on this beast of a route? Yes, sit back, ladies and gentlemen, because we've got a long one today: the 134.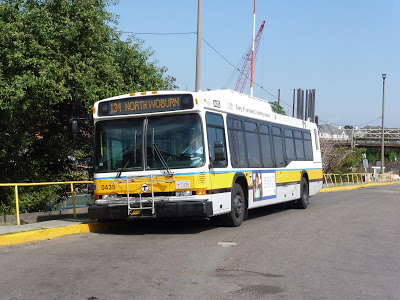 The bus at Wellington.
Leaving the Wellington busway, we headed onto Revere Beach Parkway, going over the Orange Line tracks and passing some development west of Wellington. We made our way up the Fellsway, with houses on one side and a shopping plaza on the other. We then merged onto Riverside Ave, and things started to get industrial.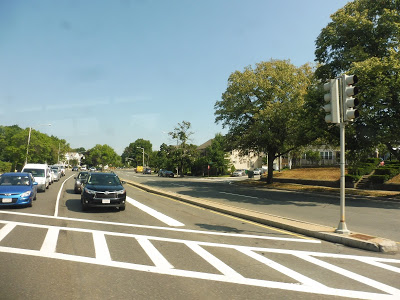 Turning off of the Fellsway.
Unfortunately, we had to make a deviation to serve the Meadow Glen Mall, so we turned onto Locust Street and headed past more industry. At the mall (under construction), we looped around, picked up no one, and returned to Riverside Ave. It was now lined with houses, and continued to be until we went under I-93 and entered Medford Square.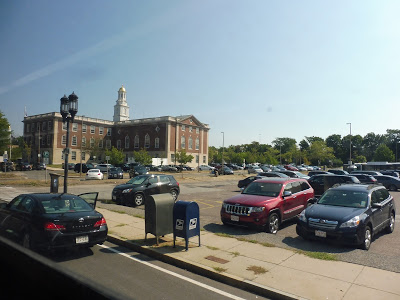 Going by Medford City Hall.
We turned onto City Hall Mall, then onto Salem Street, passing a hospital before going by lots of retail. We merged onto High Street, which continued past the square, with the area becoming more residential. At a rotary, we headed onto Winthrop Street, which was entirely houses.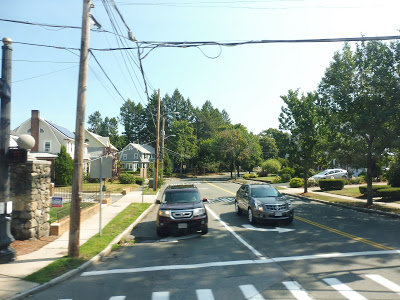 Looking down a side street.
It continued to be residential for the most part, with a bit of a break as we passed a temple and Medford High School in quick succession. Soon after that, we reached the intersection with Playstead Road, which is where every other 134 makes a u-turn and heads back to Wellington. Don't worry, though – the full route continues way past there.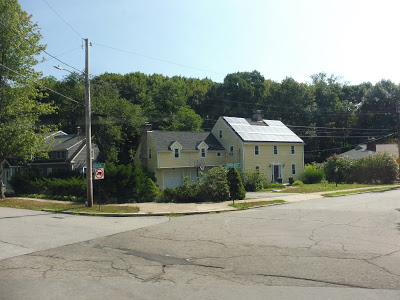 Nice solar, dude!
We passed a graveyard, then the street became Main Street as we entered Winchester. It was still all residential, aside from another small rotary and a recreational area soon after. Eventually, though, things started to get denser – we passed a few schools, then did a few quick turns onto Waterfield Road, where we crossed over the Aberjona River.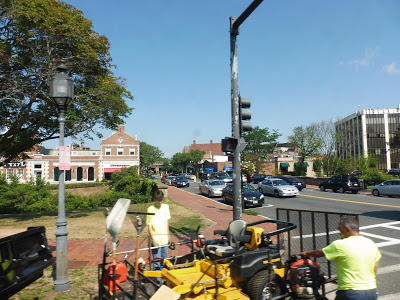 A quick glimpse of Winchester Center.
Next, we turned onto Laraway Road, running alongside the elevated Winchester Center Commuter Rail Station. After that, we proceeded around a rotary and headed up Main Street again, going by the businesses of Winchester Center. We crossed over the river once more, and now the retail was more suburban, with parking lots out front.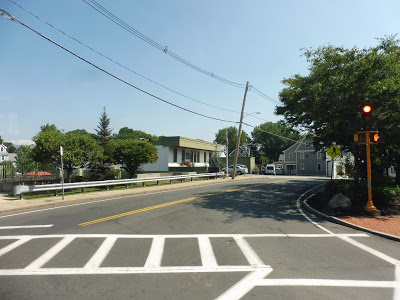 A side street.
It eventually became a mix of businesses, office parks, and a few houses here and there. We also entered Woburn around this time, but the scenery stayed exactly the same when it happened. Well, okay, eventually it changed – once we arrived in Woburn Square, the street became lined with retail again, as well as a lovely little common.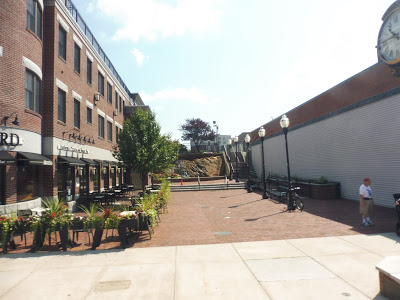 A little plaza in Woburn Square.
Just like in Winchester Center, the businesses started to get more suburban as we left Woburn Square. However, we were also passing a few housing developments along the way. It soon became mostly residential, with a few random businesses here and there.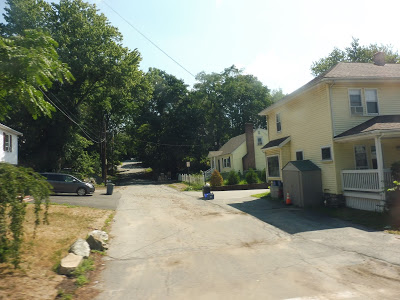 A residential side street.
However, we soon reached a huge rotary – this was an interchange with I-95. We went around and crossed to the other side, and this is where things got interesting. See, my intent with the 134 was that I wanted to ride the 10:10 or 11:10 outbound trips, as those are the only ones that make both of the route's deviations. As it happened, this was the 10:10 trip, and so we entered our first deviation by turning onto Elm Street!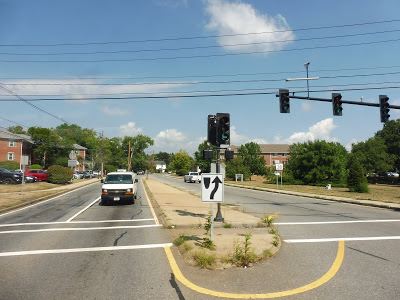 Turning off of Main Street, with its median.
Elm Street curved around past a shopping center, but that wasn't what we were deviating to serve. Nope, we were going to TradeCenter 128, a huge office park! And guess what? We didn't pick up or drop off anyone! I guess that's what happens when you serve a workplace in the late morning!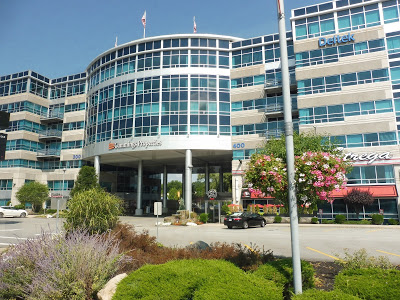 Ew…
We returned to Elm Street, which was now lined with houses. Eventually it curved around back onto Main Street, which we turned on for a second before then going onto School Street. This was our second deviation, going by lots of houses without stops on our way to the Veterans Memorial Senior Center.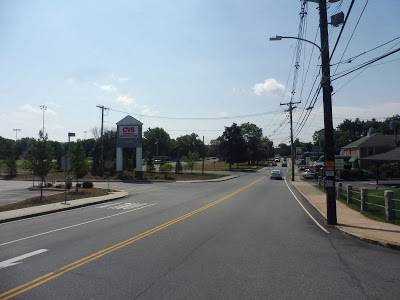 A brief glimpse of Main Street.
Okay, let's talk for a while about the stop at the Veteran's Memorial Senior Center, because it was awful. The stop was located at the edge of the parking lot between cars where no bus could ever fit, so we had to just stop a car-length away from the curb. And then, there's not even a ramp from the curb to the ground, so this poor man with a walker had to shuffle down to the ground and then back onto the bus, which was kneeling. This is a senior center, MBTA! Fix the darn stop!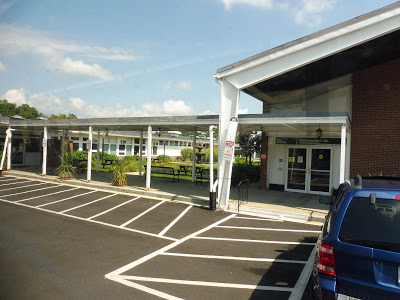 Ridiculous…
We returned to Main Street, which was now lined with suburban businesses. After going by a school, though, it became residential. The houses continued until we crossed over the Wilmington Line, and it was at that point that we reached our terminal, in a rather industrial area. That's right – the MBTA bus system technically goes into Wilmington!
Hoo, boy.
Right, this is another stop we have to talk about. I mean…just look at it! It's just this concrete median in the middle of a road with overgrowth everywhere! And the place where you board the bus (on the other side of the street on the left) is just as ridiculous – it has no sidewalk at all. This may not be as bad as the senior center, but geez, is it bad.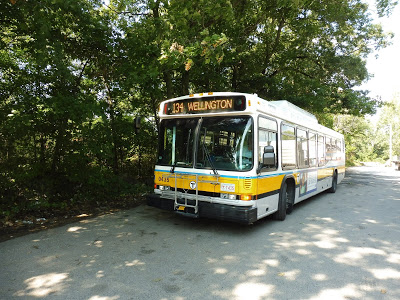 The bus at North Woburn – or is it "South Winchester"?
Route: 134 (North Woburn – Wellington Station via Woburn Square, Winchester Center, Winthrop Street, Medford Square, Riverside Ave, and Meadow Glen Mall)
Ridership: The 134 gets pretty good ridership overall, with 2,149 riders per weekday, 1,357 per Saturday, and 630 per Sunday. Most of it is concentrated on the inner section, which is reflected in the schedule, but we'll get to that right…
Pros: …now. The schedule is pretty good for the route's ridership, with the route running about every 20 minutes during rush hour, every half hour during the day and on Saturdays, and every hour at night and on Sundays. With weekday and Saturday service, every other bus terminates at Playstead Road, which makes sense; with Sunday service, trips only go as far as Woburn Square, which also seems sensible.
Cons: Isn't this route just a bit…insane? Depending on the time, it can terminate at North Woburn (via TradeCenter 128, Veterans Senior Center, both, or neither), Woburn Square, Playstead Road, or even Medford Square, a trip of about 10 minutes! It's just all rather complicated! Also, there are definitely some stops along this route that need to be fixed, most notably the senior center. It may only get a few trips per day, but it's still a senior center!
Nearby and Noteworthy: Both downtowns this route serves seem pretty interesting. The 134 is the cheaper way of getting to Winchester Center (although Commuter Rail runs there too), while it's essentially the only way of getting to Woburn Square outside of rush hour.
Final Verdict: 7/10
You know, I like the 134. It's a long route that serves a lot and gets decent ridership, and its schedule is structured pretty well for the most part. It is strange that the route can take as long as 52 minutes to get to North Woburn or as short as 9 minutes to get to Medford Square, and that senior center stop is abysmal, but this is definitely a good route!
Latest MBTA News: Service Updates