Well…it doesn't get worse than this. We've hit the bottom of the barrel, people. I'm…I'm not even sure to begin with these stations. Let's just head down the line.
Okay, I have four stations to talk about, except none of them have anything! So…yeah, I have no idea how I'll be able to write this review. But yeah, these four stations literally have nothing. Just…asphalt. Sutherland Road has some nice trees on the outbound platform, I guess.
And Chiswick Road is more of the same. I would say that they should put benches on the inbound platforms, but you can't, because they're so narrow! There's no room! When a train goes by, it feels like it could graze you!
Okay, here's Chestnut Hill Ave – looks identical to the other ones, right? WRONG. This station has the most narrow platforms I've ever seen at a train station. The picture is pretty deceiving of this, since the outbound side gets wider by the intersection, but as you go further down, the platform is just the yellow line. Now isn't that funny? Passengers aren't supposed to stand on the yellow line, yet here, there's nowhere else to stand!
Anddddd…yeah, South Street is basically the same as the other ones. So, what else is there to say about these horrible stations? Uh…well, a few of them still have service alerts hanging up from 2012! Great to see that the B is up-to-date! Finally, I figured I'd mention the track connection between Chestnut Hill Ave and Cleveland Circle/Reservoir – it's always cool to see trains running down there.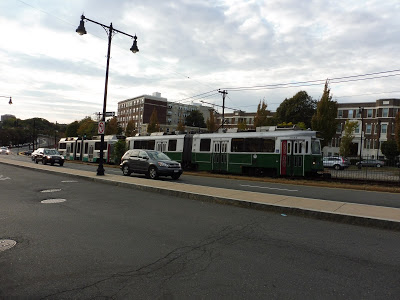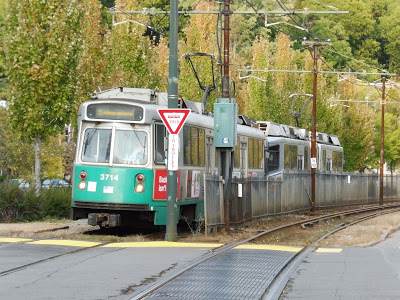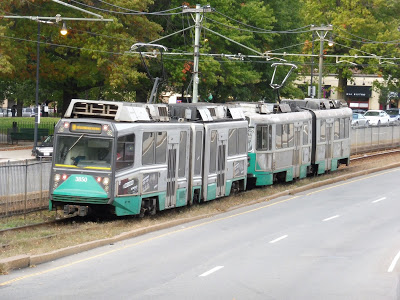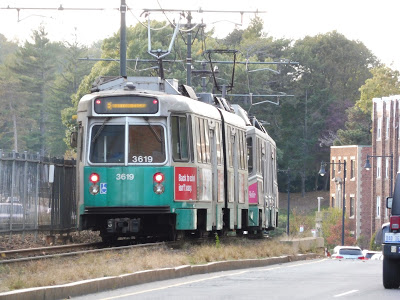 Alright, one train per station. And yeah, I know I used the first one in Washington Street, too…
Stations: Sutherland Road, Chiswick Road, Chestnut Hill Ave, and South Street
Ridership: These are some of the lowest-ridership stops on the B: Sutherland Road gets 856 riders per day, Chiswick Road gets 615, Chestnut Hill Ave gets 626, and South Street gets 214 (the least-used station on the B and the fourth least-used on the whole MBTA).
Pros: NOPE.
Cons: Can these even be considered "stations"? I mean, the MBTA website does, but THAT SEEMS PRETTY DUBIOUS TO ME. They literally have nothing at all. I'm basically reviewing strips of asphalt here! Wonderful!
Nearby and Noteworthy: It's mostly apartments out here, but you'll find a bit of retail in little pockets along Comm Ave.
Final Verdict: 1/10
These are definitely the WORST stations on the Green Line. Yes, the E Line street-running stops are bad, but at least they have T symbols, and some have shelters! Plus, they're on wide sidewalks! I mean, with these stations, if you take a step backward a car will run you over, and if you take a step forward a train will run you over! Yeah, these stations are most definitely deserving of their bottom-of-the-barrel scores.
Latest MBTA News: Service Updates