Nathan and I got on the train at Brigham Circle heading outbound. The train pulled up to a light and waited about 45 seconds for it to change. Finally, we went through the intersection and arrived at the stop just on the other side (a few hundred feet), where Nathan and I ran out of the train as I yelled "THANK YOU!" to the very confused driver. This ride basically epitomizes the street-running section of the E. There really isn't much to say about these stations – they're only signs and sometimes a shelter, if you're lucky – so just enjoy the photos!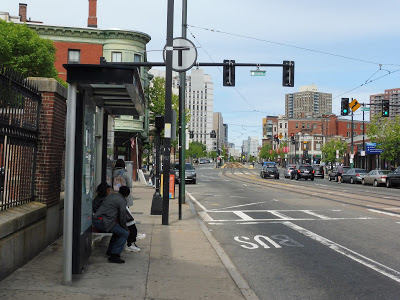 Welcome to Fenwood Road. And what's that platform in the background? Why, I do believe that's Brigham Circle! Geez…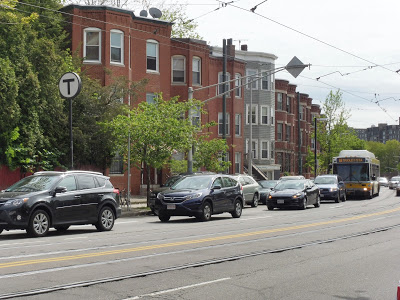 The inbound Mission Park stop, with a 66 getting in the shot.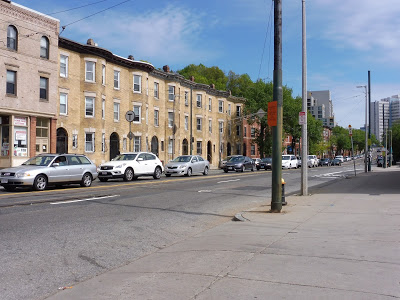 Both sides of Riverway are visible here. Strangely, it's the outbound that gets the shelter.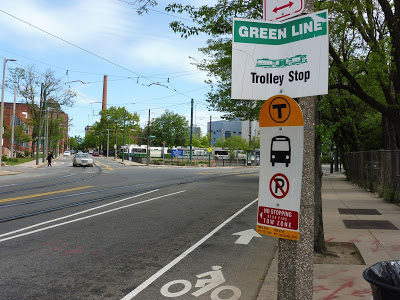 The stop at Back of the Hill…with Heath Street about five feet away in the background.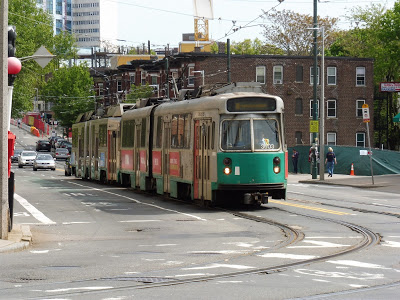 A train about to round the curve at Riverway.
Stations: Fenwood Road, Mission Park, Riverway, and Back of the Hill
Ridership: Ohhh, not very high. Not very high at all. Running down the list, Fenwood Road gets 221 riders per weekday, Mission Park gets 548, Riverway has 495, and finally, we have Back of the Hill with a sickly 39 riders – the lowest-ridership station on the entire system.
Pros: The one good thing I can say is that the 39 uses these stops, too. Thus, if the E is being awful (i.e. all the time), you can just get a bus if it happens to come first.
Cons: Um…you do realize these are just bus stops, right? I mean, you're lucky to even get a shelter at these miserable pieces of junk! Not to mention that the E is so slow over here, since it's running in mixed traffic. And every time the train makes a stop, it slows everyone down behind it because the train's in the middle of the street and people have to run out to get into it. At least the 39 pulls over for you, for heaven's sake!
Nearby and Noteworthy: The scenery is mostly apartments along here, and there isn't too much to see or visit. Riverway is pretty close to Brookline Village, though, if you feel like taking the slow way there.
Final Verdict: 2/10
Hey, at least some of them have shelters. That's worth an extra point, right? Geez, I must be in a good mood…