Heyyyyyy…since when did Amtrak change the station name to West Kingston? Well, on its website, at least. I can't say I head down to this neck of the woods too often, so I'm sure there are other people who would know the answer better than me. Okay, well, Kingston or West Kingston, let's take a look at this charming station in the middle of Rhode Island. Strange that I got to this before Wickford Junction, isn't it?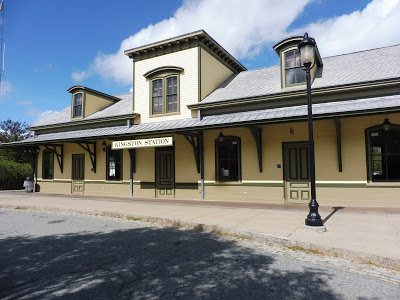 Heyyyy, that just says "Kingston"! What gives?
Ahhh, the building's exterior is BEAUTIFUL! This station definitely has a vintage feel, which is exemplified by the fact that the building is on the National Register of Historic Places. You wouldn't expect to have a proper station building out in (essentially) the middle of nowhere like this, but here it is!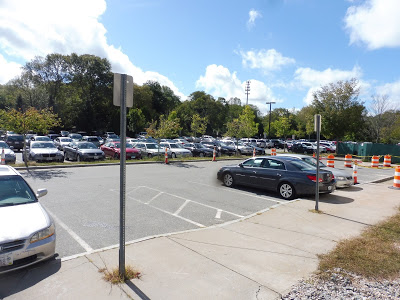 The parking lot.
I'm just gonna make a quick deviation before discussing the building to mention the station parking. The Amtrak website says it has 6 short-term parking spaces and 100 long-term ones, but I think the lot does have slightly more (unless people are just really creative at making their own spaces). That still doesn't seem like that much, but the station does have a relief lot, and parking is free!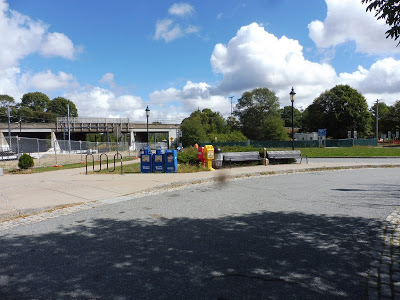 The station drop-off/pick-up area.
Kingston has a nice little drop-off/pick-up loop. It features a few bike racks, some newspaper boxes, and two benches. The bus loop is similar, with another two benches and a wastebasket. A shelter would be nice, but one could also wait under the building if they wished. The station is served by two RIPTA bus routes: the 64 to Newport and the 66 to Providence or Galilee.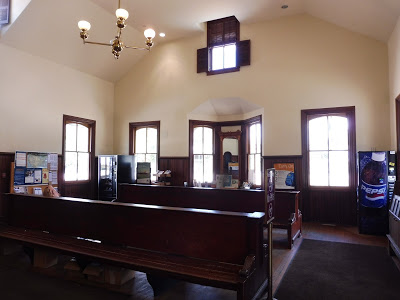 Oh my gosh, I love this building so much!
The inside of the building is simply amazing, and has all these wonderful little details that make it extra special. Starting out, there's the fact that the bright room gets lots of natural light from the many windows, while a quaint little chandelier provides a bit of artificial light. The church pew-esque benches are slightly uncomfortable, but they add a bunch of character, too!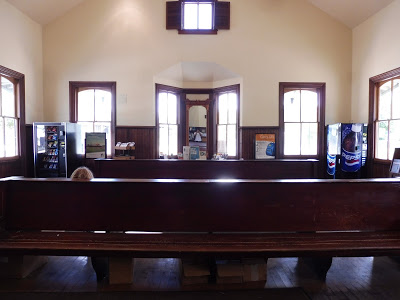 Who's that in the mirror? And Sam's sitting on the bench, for the record.
One side of the benches face a wall, which features windows and a fantastic full mirror! There are two vending machines, one on each side, which are good if people want a snack while they're waiting for the train. Along the wall, there are also a bunch of brochures, bus shelters, and luggage tags (although the station has no checked baggage services). Actually, this station is full of random brochures all over the place!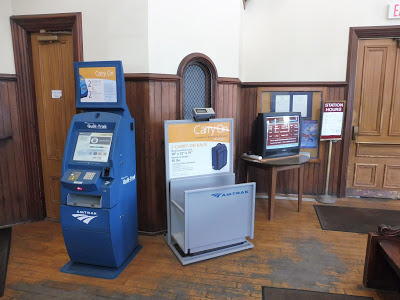 Some more amenities.
Along the wall facing the platform exit, there are some more amenities. The station has both an old-fashioned ticket booth, as well as a Quik-Trak machine for automatic ticket purchasing. Next, there's a carry-on luggage scale, and next to that is the strangest departure board I've ever seen! It's on a dinosaur TV, with a pretty ugly "Welcome to the historic Kingston railroad station" logo written across the top. The departures themselves look fine, though.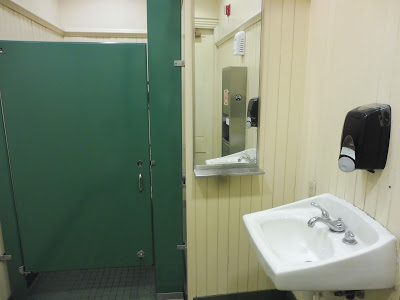 The bathroom!
Yes, the station does indeed feature a bathroom! It's pretty small, but it keeps the character of the rest of the station, and it didn't seem too gross! I guess not too many people use it, but hey – a decent bathroom is a decent bathroom.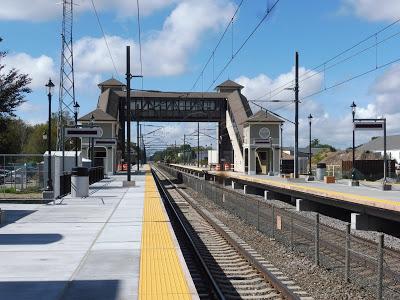 The platforms.
Kingston's high-level platforms are brand new, having replaced the previous low-level ones. Neither the northbound nor the southbound sides have much of note on them, aside from some big wastebaskets, typical Providence Line signs (even though we're not on the Providence Line), and some nice streetlights. After all, most people are going to be waiting in the building, so the platform doesn't need much seating.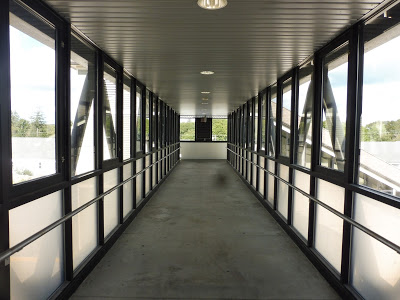 Up on the footbridge.
Of course, since this is an Amtrak station with high-speed trains, one has to use a footbridge to cross the tracks. I really like the architecture of the one at Kingston – it fits the character of the rest of the station. Plus, the inside is enclosed and quite modern and nice!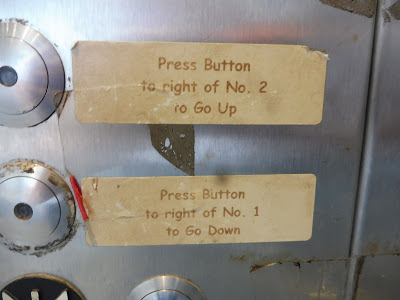 Oh no…
One of the elevators was out of order at the time, and the other one was…less than impressive. It was in pretty bad shape, although I think these elevators were in place before Kingston's renovation, so they'll probably see improvements (maybe that's why the other one was out of order). And for the love of God, please get rid of the comic sans button labels…ech!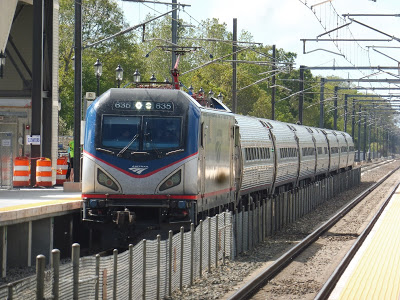 A train comin' in!
Finally, it's worth noting that Kingston is one of two places on the Northeast Corridor where the Acela goes 150 MPH! However, I personally think it's more exhilarating at Mansfield than here, maybe because the awful mini-high there makes the train feel like it's passing through faster. Also, Mansfield is right on the Providence Line, while Kingston is really far away! I did get an Acela video, for the record, but it was really shaky and bad, and there's not much point in putting it up here.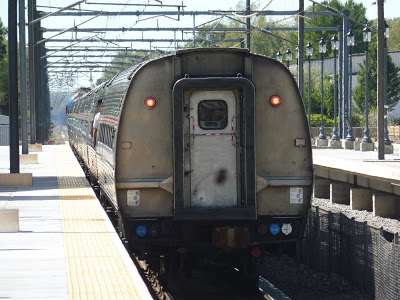 A different train…on the wrong track!
Station: Kingston
Ridership: This is the second-busiest Amtrak station in Rhode Island! …Okay, so there are only three Amtrak stations in the state, but Kingston still gets good ridership – 156,412 riders annually (and rising each year), or a little less than 430 per day. Keep in mind that we're talking about a long-distance service at a station in the middle of nowhere!
Pros: Oh my gosh, I've never been to a middle-of-nowhere station with so many amenities and so much character. Heck, I've never been to a station period with so many amenities and so much character! Sam and I were stuck here for multiple hours (don't ask), but it was still an enjoyable experience thanks to the lovely building. The new high-level platform makes it much easier and faster for trains to board, too.
Cons: Well, I can only assume the elevators will be fixed. Other than that, the fares here are pretty expensive. Yes, I know it's the Northeast Corridor, but $16.00 for the morning commute to Providence seems a little pricey (and that's only if you pay in advance). The 66 is double the time, but only an eighth of the price!
Nearby and Noteworthy: URI is pretty close, but I would recommend taking the bus from here rather than walking for two miles. Other than that, there isn't much around the station that doesn't require taking a car or bus to get to.
Final Verdict: 9/10
I've slowly been falling in love with this station whilst writing this review. That building is so charming it's ridiculous! If only most Commuter Rail stations had this many amenities! The high-level platform is a very welcome addition, as well. The only true complaint I have with the station is its elevators, which I assume are being fixed – the whole fare thing is more Amtrak's fault than the station's. So yeah, overall, I would give Kingston a visit if you're interested in old station buildings and are willing to head out a pretty long distance to find one!
Latest MBTA News: Service Updates