The 66 is a long route. The 66 is a longggggggggggggg route. Traversing almost the entirety of Rhode Island, it runs from Providence to Galilee, on the southern tip of the state. And sure, it's kinda lame that it only takes around an hour and a half to cover an entire state (sorry, Rhode Island, you're small), but the 66 is a neat ride.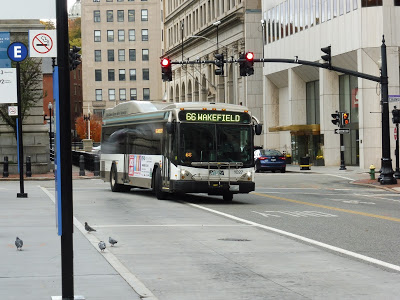 Woah, pigeon photobomb! Check out that gray blur!
Like most other RIPTA routes, we began at Kennedy Plaza in Providence. However, we didn't stay in Rhode Island's capital city for too long – after a quick run on Dorrance Street and Francis Street, we were already heading around a highway interchange onto I-95! Oh yes, time for an express section.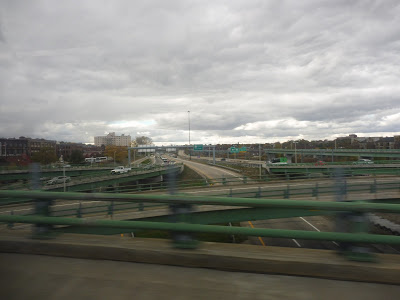 Wow, that's an intense interchange…
The interchange was elevated, but as we merged onto the highway, it headed below ground level. We headed through a dense area for a bit, then went elevated over an industrial section – unfortunately, I missed the bug this time! The area became residential after that, as houses lined the service road next to the highway.
Zooming past a hospital.
We went by RIPTA's Elmwood Garage, then crossed over the Commuter Rail tracks. After that, we passed through a complex interchange with the Huntington Expressway, and it was mostly residential with some industry beyond there. Indeed, it became entirely industrial eventually, interspersed with random stretches of woods.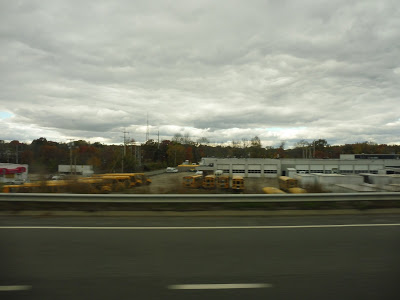 A school bus yard.
We went through another interchange, this time for the T.F. Green Airport Connector Road, and the road passed a wind turbine later on. Next, we went under East Ave – on weekdays, buses take the exit and deviate to serve CCRI Warwick, but on weekends, they speed right through, as did our trip. The highway merged with I-295, and after some more woods, we took Exit 9 onto another highway, Route 4.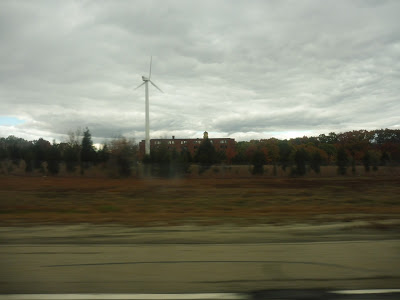 Gotta love wind power!
What grand scenery was there along Route 4? Nothing much, actually…just a lotta woods. The most interesting thing we passed was an interchange for yet another highway, this one bound for Quonset. We took the exit after that onto South County Road, finally ending the express portion. We went by a RIPTA park-and-ride, then various suburban businesses and industrial buildings.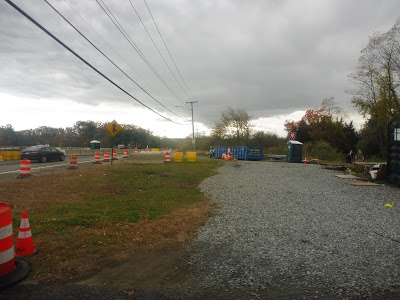 Some industrial something-or-other just off the highway.
The scenery continued pretty much like that as we entered North Kingstown and the street became Quaker Lane. Right near another RIPTA park-and-ride, we turned onto Ten Rod Road, taking us under some telephone wires and up to Wickford Junction Station. It felt weird to be deviating there on a weekend (when trains don't run to the station), but surprisingly, we ended up dropping a few people off. Well, there are a few shopping centers near the stop, I guess, including a big Walmart.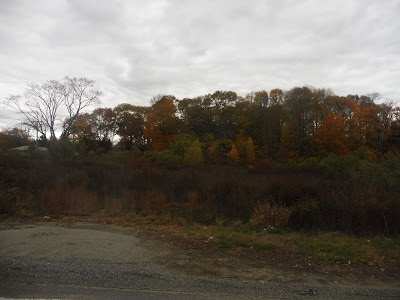 Nice colors!
After that, we headed back the way we came, staying on Ten Rod Road and passing a few more malls. However, after we went under Route 4, it was more residential, aside from one "family-owned' business that happened to also have a drive-through! When we turned onto South County Trail, (I guess that name is back?) the surroundings changed drastically and became a lot of…farmland? Wow, we're not in Kansas anymore. Or perhaps we are…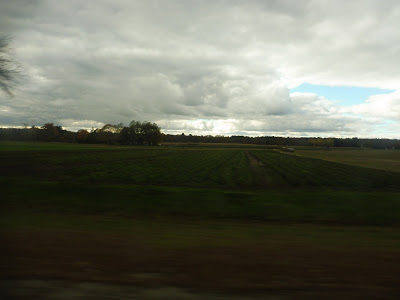 Wowwwww…
As we entered Exeter, the farms gave way to just plain ol' woods. Eventually, we arrived at some sort of small shopping place – the 66 schedule refers to it as "Exeter Variety". Beyond there, a solar farm was hidden behind trees as we reentered the woods. The trees were briefly broken at one point by a shopping center and a recreational center.
A pond view!
It continued to be mostly woods, with businesses popping up every so often. Now in Kingstown, after passing a nursing home, the road briefly skirted a pond, then we got a bit more farmland! We turned onto Kingstown Road, going by more farms, and then we arrived at Kingston Station. Our deviation failed to attract any passengers, alas, and so we returned to Kingstown Road.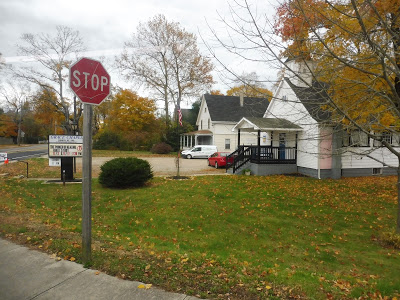 A nice little chapel by the road.
Beyond the station, there was a dense, mostly residential area, then a stretch of woods, and then we arrived at University of Rhode Island. Turning onto Lower College Road, we arrived at the main bus stop at the Student Union, and dropped off many of our passengers. After that, we made our way onto Campus Ave, then Upper College Road, and finally we returned to Kingstown Road.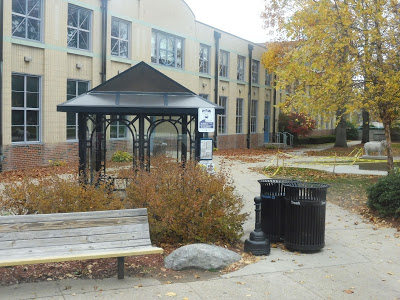 The main university stop.
We passed through a cool historical area with dense housing, then we turned onto Kingstown Road. It was still mostly residential, but less dense. Also, the houses were mostly hidden behind trees, so it felt like we were back in the forest. Eventually we came through a more developed section, with various businesses and housing developments on either side.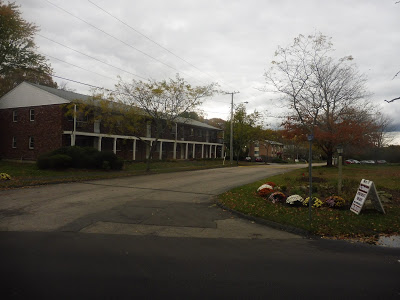 Some sort of apartment complex.
It was more residential for a bit, then it got dense after we passed a bog. There was a big industrial building, and we entered sort of a "downtown" area after that. The street curved past houses and businesses, then we reached a rotary and merged onto High Street. This took us past more (somewhat) dense residences, which continued for a while.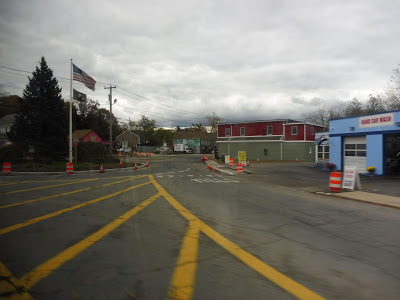 Goin' round the rotary.
Next, we turned onto Main Street, entering yet another downtown area! This felt even more like a town center, with purely retail lining the street. It continued for a good while, too, although the businesses got less interesting as we went along. This culminated when the street became Old Tower Hill Road, where malls and parking lots basically lined the street.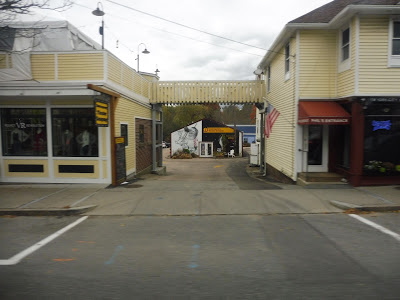 This turned out surprisingly symmetrical considering I was on a moving bus!
Indeed, we even deviated to serve one of the malls! This was the Wakefield Mall, and after some strange madness in the parking lot involving a pedestrian yelling at the driver for seemingly no reason, we returned to Old Tower Hill Road. Next, we got…another express section? Yes, we merged onto the Route 1 highway, staying on for two quick exits before merging onto Woodruff Ave, now in Narragansett.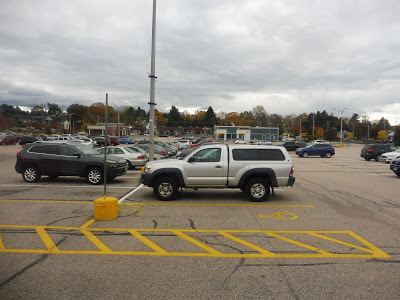 Parking lotsssssss!
And now, we got yet another mall deviation, this time to serve Salt Pond Plaza. Okay, so we went through all that parking lot jazz, then headed down Point Judith Road. We quickly left the horrible mall area, and the wide four-lane road was now mostly passing houses and forest (and a golf course at one point). We even got some more farmland, featuring livestock!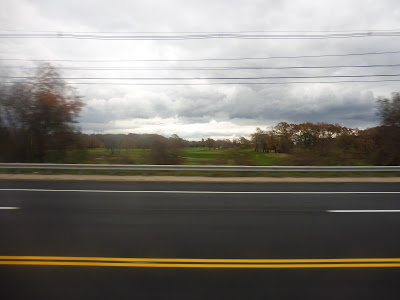 Anyone up for some 5-pars? Or something? I think that's how golf works…
We started to get some houses along the street again, before turning onto Burnside Ave. Another wide road, this took us out to…the beach! Yes, turns out there's a big honkin' beach down here (Scarborough State Beach, to be exact)! There was a great view of the ocean as we turned onto Ocean Road, but the beach buildings and parking lots all felt rather dead. I mean…it's almost winter, after all.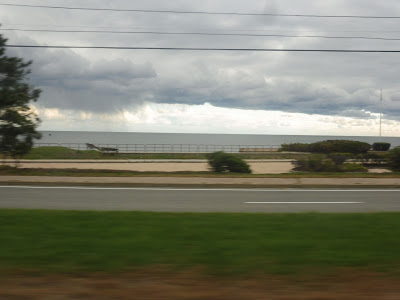 The view of the water!
One side of the road became occupied by houses eventually, and it was all residential once we turned onto Knowlesway (all one word – interesting street name). There was some retail once we rejoined Point Judith Road, but it felt pretty woodsy again as we continued south. We went past a park, then turned onto the narrower Sand Hill Cove Road.
What a beautiful empty beach parking lot…
This street was very marshy, but somehow there were still houses alongside it. As the street made a curve around a bog, we came up alongside another beach! This was Roger W. Wheeler State Beach, and unfortunately, its parking lot was so big that we didn't get a water view this time. Still, it must get packed in the summer!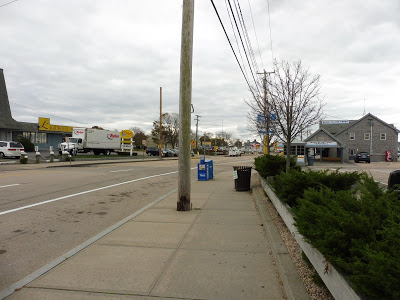 A view of Galilee (from after I got off, obviously).
It was pure marshland from there, with some nice beach houses facing the water. Next, we turned onto Galilee Connector Road, passing lots of overflow parking lots for the Block Island Ferry. This street curved around and took us onto Great Island Road, where we arrived at the last stop. The bus went out of service and headed down the seafood restaurant-filled street to lay over.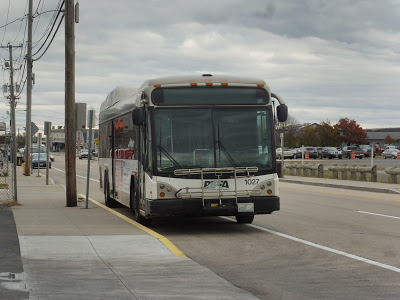 The bus hangin' out.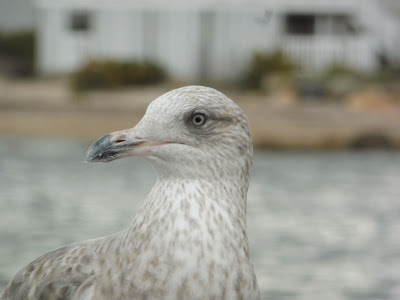 Okay, how could I not include this one?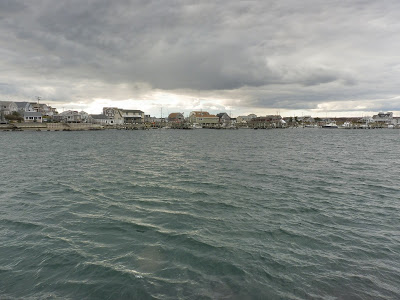 Looking across the harbor to some houses.
Time for the long trip back…
RIPTA Route: 66 (URI/Galilee)
Ridership: Okay, there's a lot to talk about here, but we'll start with the numbers from 2012: the route got 1,636 riders per weekday, 650 per Saturday, and 521 per Sunday, ranking as the 14th-busiest RIPTA route. The 66 gets a huge variety of riders, too – commuters, locals, shoppers, beachgoers in the summer, college students during the school year…it serves a lot. Finally, it's very much worth noting that the route gets over half of its ridership from URI and points north, which we'll discuss later.
Pros: The benefits of the route being so long is that it serves so much. It's also nice that so much of the 66 is express, making the ride at least somewhat palatable – an hour from URI to Providence on weekdays isn't terrible. The headways are pretty sensible for the ridership, too, with 30 minute service at rush hour (including short-turns to URI), 60 minute service middays, 45 minute service on Saturdays, and 70 minute service on Sundays.
Cons: Like I said, it's a long route – almost 40 miles! That affects both on-time performance and the costs to run the route, both of which are worse as a result. One semi-solution for this is to have the route balance its ridership better, something it's not particularly good at now – there need to be more short-turns from URI to Providence, where the majority of the ridership is. If it was coordinated well, it could help prevent empty buses. The current weekday URI short-turns are usually scheduled to leave just before a full trip to spread the people over two buses, but if short-turns were made full-time, it would be optimal to have them coordinated for more consistent headways.
Nearby and Noteworthy: The area around URI seems pretty cool, and that "downtown" area had some decent-looking attractions. Definitely the biggest draw of the 66 is its southern section, where beaches surely draw throngs of riders in the summer. Couple that with the Block Island Ferry at Galilee, and you've got lots of noteworthy places along here!
Final Verdict: 7/10
The ability to get down the entire coast of Rhode Island for 2 bucks is pretty darn great, and the express portion definitely improves the ride a bit. The typical rider probably won't have too many problems with the route, aside from maybe Sunday frequency, but the ridership doesn't seem to be there to justify more service. From a planning perspective, the 66 has some logistical problems, for sure, particularly when it comes to balancing the ridership – I would love to see URI short-turns on Saturdays to allow for more frequent service along the busier part of the route. Regardless, the 66 serves a huge part of the state, and serves a multitude of different purposes. Plus, it's a really fun ride from beginning to end!
Latest MBTA News: Service Updates
Yeah, yeah, I know I never update this section, but here's an interesting tidbit: starting December 31st, the MBTA will reroute its Alewife routes to travel via Acorn Park Drive when coming in on Route 2. It should hopefully help the buses avoid traffic, but I'm just interested in what it'll be like to ride the bus through the office parks along there!