Mansfield is quite possibly the most exhilarating station on the Commuter Rail. You see, this is one of two places in the entire country (the other being Kingston, RI) where the Acela is allowed to go its top speed of 150 MPH. Let me tell you, it's an amazing experience when one goes by. So, does that make Mansfield a great station? Well…no, not really.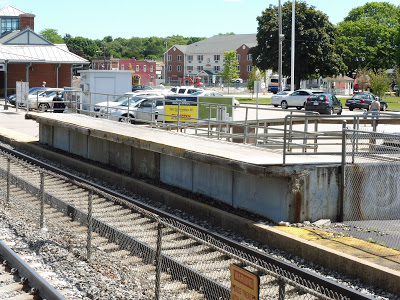 WELL…NO, NOT REALLY.
This station has the absolute worst mini-high platforms I've ever seen. First of all, they're completely bare, without shelter or benches or anything. This would be an annoyance already, but then there's the fact that the platforms are completely deteriorating! Parts of them are chipped off, and they're covered in loose wooden planks to try to hide the even worse-looking concrete underneath.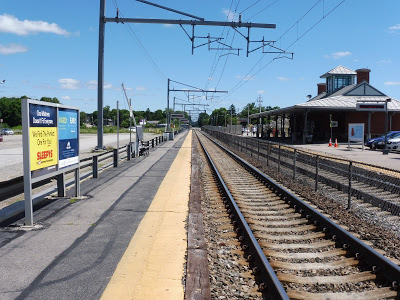 Looking down the platform.
The outbound platform is mostly bare, but it does have some quirks. For example, there's a pay phone that's more or less destroyed, with this big metal thing leaning out from the top. Also, there's a station sign that's balanced on two posts and wiggles at the slightest touch. Oh, and there are some benches, ads, and wastebaskets as well.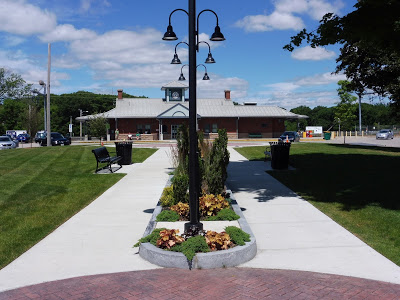 It's from the town common, but here's the building.
The station's building was opened in 2004, and it definitely has a modern feel. It has benches on both the platform side and the drop-off/pick-up side, although for the former, you would have to walk to the mini-high when the train comes. I will say that the benches are unique, with "Mansfield" formed into the metal they're made out of.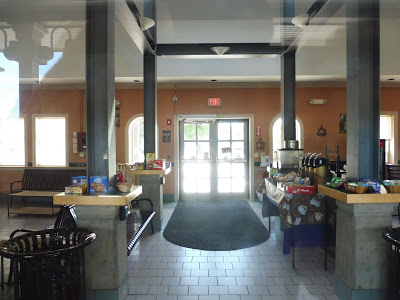 The inside of the building.
The station building was closed since it was a Saturday (it's only open during the morning rush), but looking through the doors, it seemed like a nice place. It has a café with beverages and snacks, as well as indoor seating. I would imagine both are popular with commuters when waiting for trains into the city.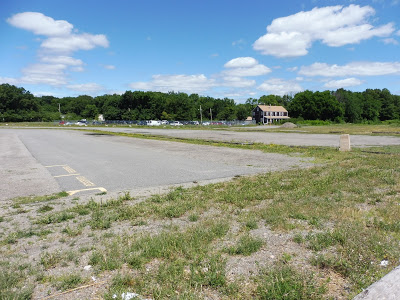 This is station parking, huh?
Mansfield's main parking lot is in…interesting condition. I mean, look at it! Yes, a good portion of the lot not seen in the picture is decent, but as you get to portions further out, it's not even paved! The lot can get busy on weekdays, and the cars do actually stretch out that far, so a repaving is definitely in order. There is also a small lot next to the building, but it's for Mansfield residents only.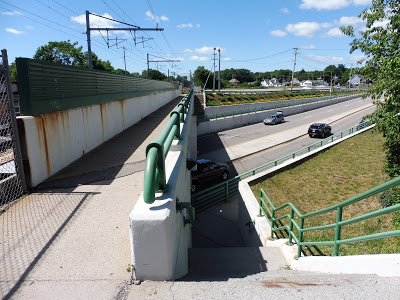 One of the station's footbridges.
Chauncy Street next to the station is basically a highway, but there are convenient footbridges from both platforms over it. On the outbound side it leads to another station lot, but stairs leading down are also the way of crossing between platforms. Not everyone seems to be aware of that, though; I had to help a few people who were heading into the city that were lost about which platform to board on.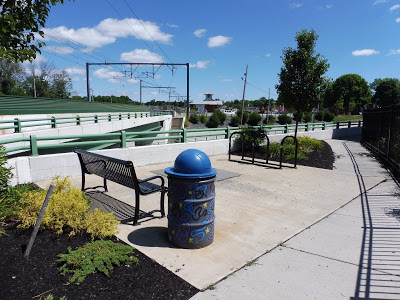 A little plaza.
Meanwhile, the footbridge on the inbound side leads to a surprisingly charming plaza. It doesn't really serve much of a point aside from some bike racks, and even then, there are more racks that are closer to the station in one of the parking lots. The plaza has a bench and a wastebasket, too, but I don't know why anyone would need to sit out here.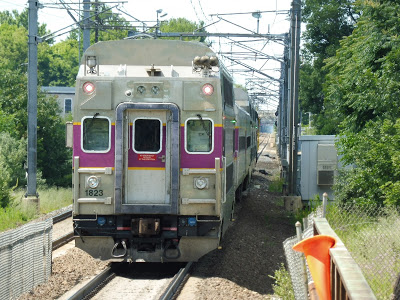 Here's a Commuter Rail train, but no one cares about that. Here's the main attraction (with my friend Harry also filming the train):
Station: Mansfield
Ridership: So. Much. Ridership. Mansfield is the second-busiest station on the Providence Line, and the fifth-busiest on the whole Commuter Rail, with 1,707 inbound riders per weekday. Considering that Mansfield is a pretty small-ish town, I think many of those people drive in from elsewhere and park in the huge lot(s).
Pros: I would say that everything in the general vicinity of the building can be considered "good." The building, of course, is great and convenient, and it provides sheltered seating outside as well as inside. Also, I like how the small lot next to it is for residents only, since a lot of people probably drive in from other towns. The parking amounts to 806 spaces in total, which is huge, while the GATRA runs a fine route here (although it lacks signage). Oh, and you haven't experienced Mansfield until you've witness an Acela go by. It's incredible.
Cons: Basically, everything at this station that's not around the building. The platforms are decrepit for the most part, and don't even get me started on the mini-highs – that's a safety hazard right there. Also, the main parking lot is a huge mess, and really should be repaved.
Nearby and Noteworthy: Mansfield isn't the biggest town in Massachusetts, but there are definitely a good amount of businesses and restaurants close to the station.
Final Verdict: 6/10
Oof, this is tough. There's a lot to like about Mansfield, but the mini-high truly threatens the safety of this station's passengers with its loose wood planks, especially considering that Acelas speed through here several times per day. That said, the Acelas are really awesome… Honestly, this station really deserves a 5, but I'll throw in an extra point for that high-speed action.
Latest MBTA News: Service Updates