As the name suggests, GATRA's 140 route is a bus meant for students at Wheaton College. I checked Wheaton's website for more information: "The GATRA route 140 schedule is a campus favorite." Barring the strange inclusion of "schedule" in that sentence, the website definitely makes the route seem appealing. Why, I'll bet it's gonna have lots of people! Oh wait…it's summer. Why do they still run this thing??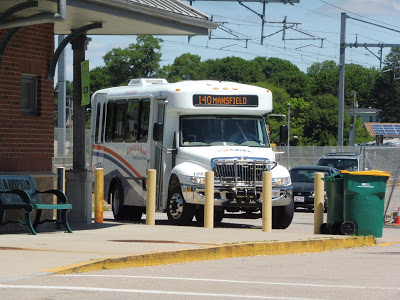 What a strange-looking bus. There was no signage at Mansfield, incidentally.
The 140 uses a pretty interesting minibus, although personally I'm not the biggest fan of how it looks on the outside. Still, it seats a lot of people on the inside, and there was even a screen in front! There weren't announcements, unfortunately (aside from "stop requested"), so the screen just repeated the date and time over and over again. Finally, the bus was pretty quiet, owing to the fact that its wheelchair lift wasn't too jiggly.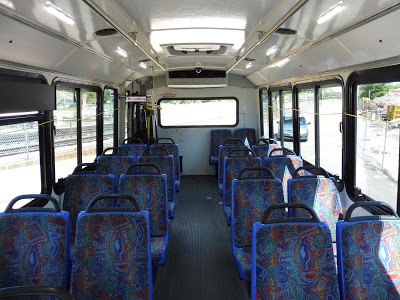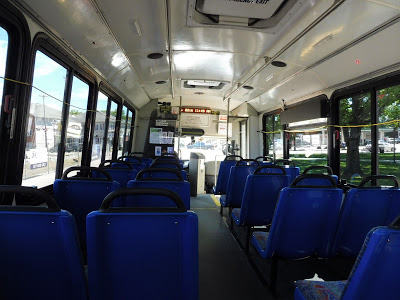 The inside of the bus.
From the station, we headed onto Crocker Street, running alongside a common. We turned onto North Main Street from there, then Old Colony Road. The scenery was mostly apartments, but once we merged back onto North Main, there were businesses everywhere.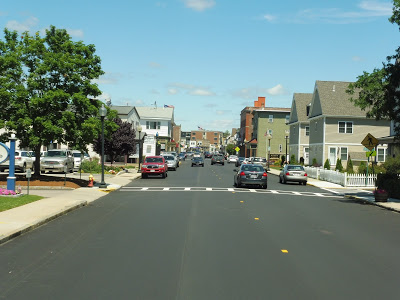 Prepare for lots of back views – rear windows are fun!
The street turned into South Main Street at another common, and it got residential south of there. We turned onto Spring Street, and after some more houses and an apartment, there was a short woodsey section where we went over a river. The houses came back after that, and we also passed a cemetery.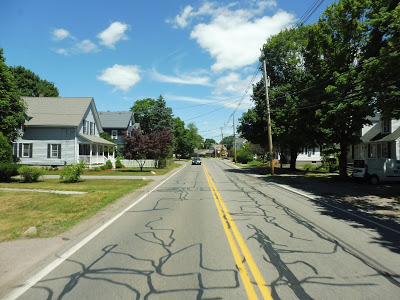 Spring Street.
We merged onto School Street, which became quite wide as we passed through a huge intersection. On the other side, we entered the Mansfield Crossing shopping complex. Lots of businesses and parking lots lined the road, culminating in a big parking lot for a mall, through which we looped and picked up no one.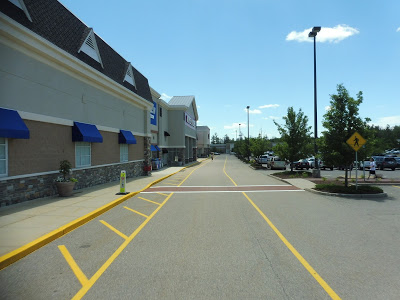 Was there signage? Ha!
We went back the way we came, except this time we turned onto the wide Commercial Street (Route 140). It was basically a highway running through the woods, which became even more so when we merged onto I-495. It was only the distance of a single exit, and a close one at that, but it was still cool to have a bit of an "express" section.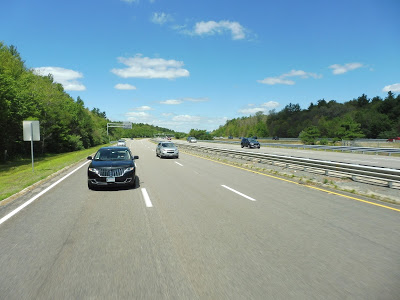 The section on I-495.
We turned onto South Main Street once more at the next exit, intermittently passing random businesses with parking lots. When we entered Norton, the street became Mansfield Ave, and soon after we went by an apartment development on one side of the road. We then reached another mall (Great Woods Plaza), and of course we had to go in and serve it! Hey, wanna guess if there was signage or not? Answer: NO!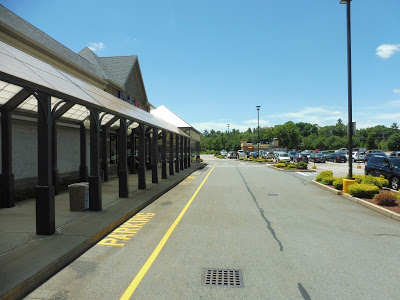 Sigh…
We went by a trailer park upon returning to Mansfield Ave, but then the scenery got really nice – for a decently long stretch, the street ran alongside or even over the Norton Reservoir! On the land portions, it was a solid mix between houses, businesses, and industrial buildings.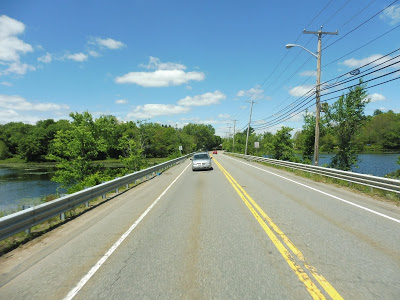 Beautiful!
After the reservoir, it became mostly houses again. Eventually, we turned onto West Main Street in downtown Norton…if it can be called that. It was basically just a common and a church, with a few businesses down Taunton Ave. We turned onto Howard Street, which was lined with Wheaton College buildings, and reached the last stop (with a sign!). Here, we laid over for a bit before leaving again to return to Mansfield.
Oh boy…this is not a photogenic bus.
GATRA Route: Wheaton T Shuttle/Route 140
Ridership: Look, I'm sure this route gets great ridership when school is in session. Sure, it only gets about 80 people per weekday, but that jumps up to around 130 per Saturday – GATRA's fifth-busiest route. The 140 even has Sunday service when school is in session, and the Wheaton College website goes as far as to call it a "campus favorite." But on my summer ride? No one. Not a soul.
Pros: The 140 is a quick link (25 minutes) from Wheaton College to the Commuter Rail, and it serves a number of malls and shopping centers along the way. The schedule can be roughly simplified to every 30 minutes rush hour, every 90 minutes during the day, and every hour on weekends, although it's really not that consistent.
Cons: Well, firstly, a 25 minute trip means you can easily have a clockface schedule, but the 140 refuses to do this most of the time. I also question the 70 minute layover at Mansfield on Saturdays – it's clearly for the driver's break, but having a driver switch would allow for one extra trip. Of course, I consider all of this to apply only to school days, because…WHY DOES THIS ROUTE RUN DURING THE SUMMER?! It's clearly meant for students, and if my Saturday afternoon round trip was any indication, no one uses this thing during school vacation.
Nearby and Noteworthy: Students seem to use this route mostly for shopping, and you can, too! It serves a few malls, with Mansfield Crossing seeming to be the most interesting one.
Final Verdict: 6/10
There's certainly no denying that the 140 gets ridership during the school year. But based on my experience (maybe it was a quiet day for one reason or another), no one uses this thing during the summer. The schedule could definitely be toned down when school isn't in session, and could generally be tinkered with to give the route clockface headways. The 140 is definitely a solid route, but it has a lot of problems that need to be fixed.
Latest MBTA News: Service Updates