WELP, I DON'T THINK I'LL EVER BE ABLE TO SEE PROPERLY AGAIN, FOR MY EYES WERE BLINDED BY THE VIEWWWWWWWWWWWWWS!!!!!
(the 64 is insanely scenic…)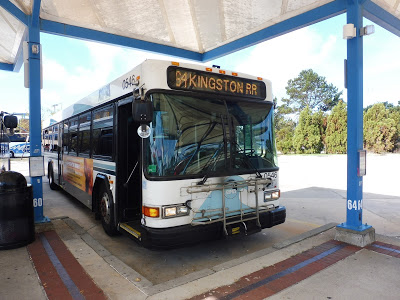 The bus at the Newport Gateway Center.
But what the heck even is the 64? Where does it go? Well, it's a route from Newport to the Kingston Amtrak station, via URI. It's ostensibly meant to bring college students from URI to Newport, I think, but it doesn't seem like too many people actually utilize that connection… Well, let's find out, I guess. Prepare for some amazing views!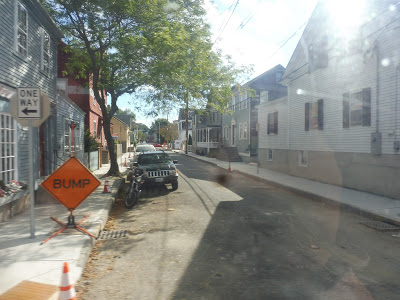 Well, okay, not yet, but that's a nice little street.
We headed up the narrow one-way 3rd Street, going by lots of dense, charming houses. It was a tight squeeze, but eventually 3rd Street finally became two-way, and a bit wider. We went under Route 138, then passed through a strange neighborhood with houses, apartments, and weird industrial backlots. We also went by a rather intimidating US Navy complex.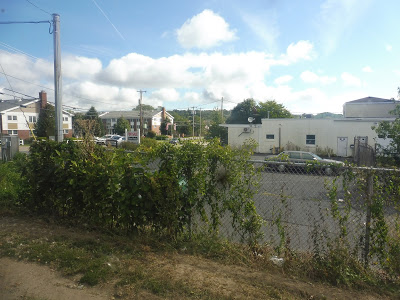 This is weird…
Next, we turned onto Admiral Kalbfus Road, heading around a rotary. Now, keep in mind that our ultimate destination was Route 138, and there was a tantalizing interchange with it here. But could we get on the highway? NO, we had to do a bunch of random deviations first! So we – ugh! – pulled into the parking lot for a shopping mall called – UGH! – "Newport Towne Center".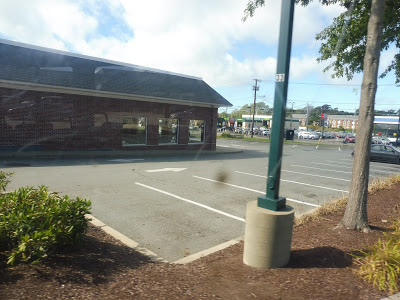 Gotta love parking lotsssss…
After that madness, we continued north, running up JT Connell Highway past industrial buildings and a weird motel. Yes, we had to deviate to serve CCRI Newport…on a Saturday. Uh-huh, that makes a lot of sense. No one was there, which is a big shocker. At least we finally turned around and went back to that rotary…now we could get on that stupid highway. We passed a dog park and a few industrial buildings before…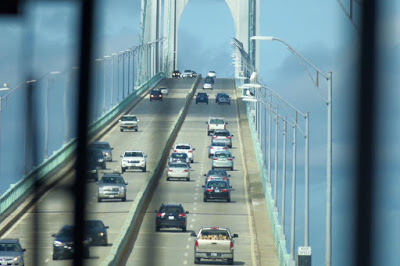 Woah woah woah WOAH WOAH WOAH WOAHHHHHH
ALL OF A SUDDEN WE CAME ONTO A BRIDGE! And it was weird, because at first it was low and almost at water level, but then suddenly IT ROSE UP AND GAVE THE MOST SPECTACULAR VIEW! Oh my gosh, we were simply so high up and there was so much to see!!! That picture heading up the bridge was Sam's, by the way.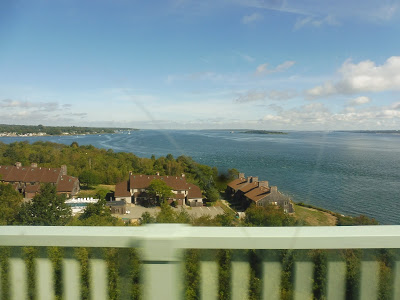 WOWWWWWW!
We passed through a toll, then took the exit into Jamestown. Merging around a little pond thing in the interchange, we headed down East Shore Road, which took us onto Conanicus Ave. We went by a police station on one side and a golf course on the other, then the street became lined with nice houses. Next, the road came up along the coast, and my immediate reaction was to force myself past Sam to the other side of the bus in order to get a picture. Sorry, Sam…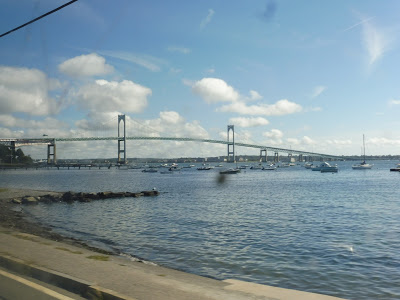 Man, that's a beautiful bridge!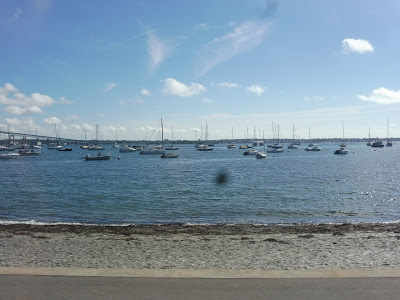 Lots o' boats in the harbor.
Next, we turned onto Narragansett Ave, which was the main drag of Jamestown. It was a very pleasant downtown, with most of the businesses housed in…houses! Or, converted houses, at least. As we left the center of town, we passed a fire station, some churches, and the very charming town hall. After that, we turned onto North Road.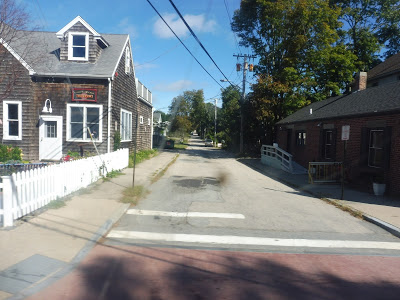 A side street downtown.
We went by a cute little bakery and a gas station, then an auto shop and some houses. After that, there was a golf course, but it was hidden behind some trees – Jamestown definitely seemed like the kind of town that would have a golf course. Next, the road went into a marsh and we got yet another awesome little view!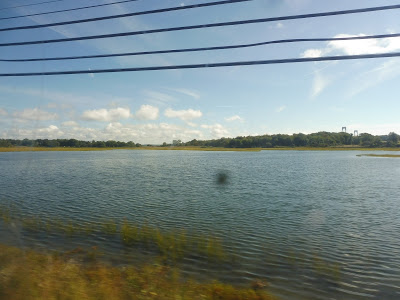 Nice!
Past the marsh, it was pure farmland. And it was beautiful! Eventually, it became entirely trees and woods, until finally we came back to Route 138 and took the on-ramp to continue west. The highway passed mostly more woods, as well as a cemetery, until…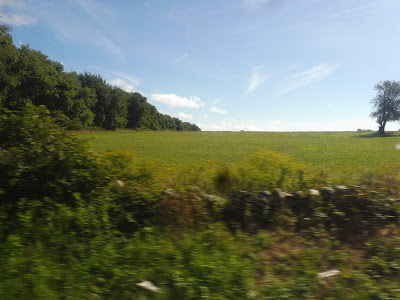 Okay, I wanted to at least put one farmland picture here before we get to…
WE WENT UP ONTO ANOTHER SUPER HIGH BRIDGE! AND ONCE AGAIN, IT WAS INCREDIBLE! Plus, this bridge had all of its support down below, so there was an unobstructed view from the bus! Oh my gosh, just water and land and islands and currents all over the place…once again, it was truly incredible.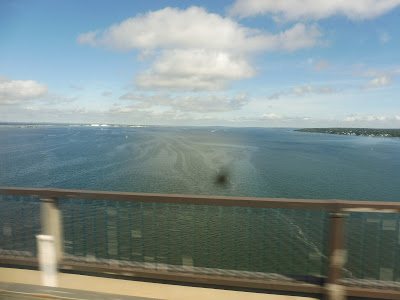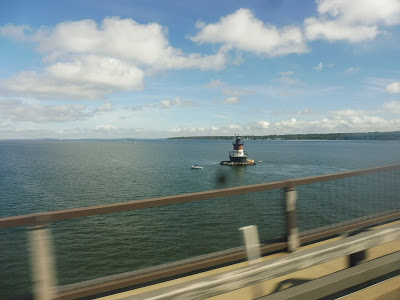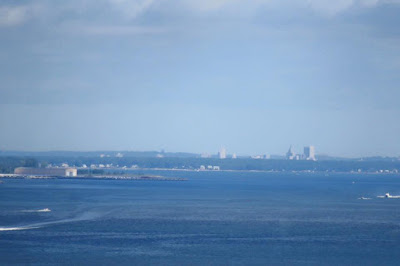 I HAVE NO WORDS TO DESCRIBE THE WONDER! Also, Sam managed to get a zoomed-in shot of Providence in that last picture!
On the other side of the wonderful bridge, now in North Kingstown, we took the first exit and almost immediately pulled into a park-and-ride. No one was waiting (I'll bet most people use it for the 14, which runs to Providence), but it had a nice shelter and some bike spaces, which was good. Now we headed down Boston Neck Road, which was mostly forest with driveways leading to houses.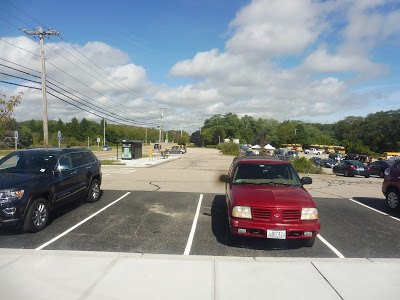 The park-and-ride.
A water tower was visible down one side street, and we passed through some more farmland a little later. As the road curved a bit, there was a very quick water view, with the bridge from Newport to Jamestown visible way in the distance. We went by a charming little post office, and then it was fairly woodsy again (with houses down the side streets).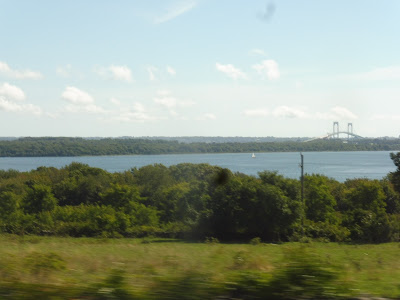 It's such a striking bridge!
On weekdays, buses make an extra deviation around here – they turn onto South Ferry Road, run through the woods a bit, and loop around the URI Bay Campus. However, this was a Saturday trip, so we turned onto Bridgetown Road instead, which was more consistently lined with houses. The street curved south a bit, then east again for a lovely little river crossing.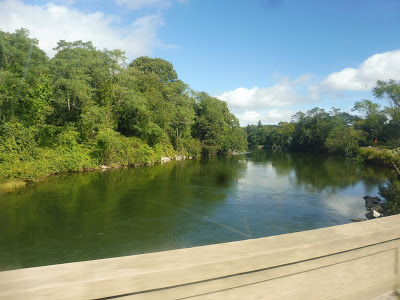 This route has so many views…
The road gained a median beyond the crossing, and grew rather wide by the time we reached the intersection with Route 1. There were a few suburban businesses at the intersection, but then the street became Mooresfield Road, and it was pure woods. And it was awesome!
We really are in the middle of nowhere, aren't we?
For the next while, the scenery consisted of mostly forest, with the occasional break for a farm. Houses became a little more frequent as we went along, but they were always hidden behind trees and driveways. There were a few developments here and there, as well. Finally, we started to see some really charming old houses and businesses – we were approaching URI!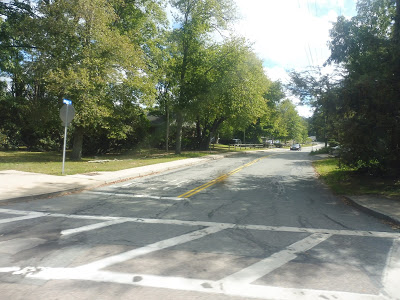 What a nice-looking side street!
We turned onto Upper College Road, which was lined with more houses, then we turned onto Campus Ave. From there, we went around a small bus loop to serve URI. The campus is quite pretty, although the loop was mostly surrounded by ugly brick buildings – I guess you have to go further into the college to find the cool historic ones.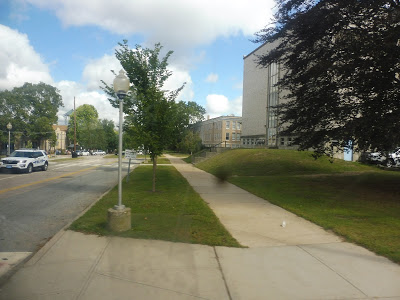 Come on, URI, you can do better than that!
From the loop, we headed down Lower College Road, then turned onto Kingstown Road. We went by a gigantic university parking lot, and then it was back to more woods. It wasn't for too long, though, as eventually a gas station, an art center, and a post office cropped up along the road. And just before it went onto a bridge over the Amtrak tracks, we turned off and entered the loop for (West) Kingston Station!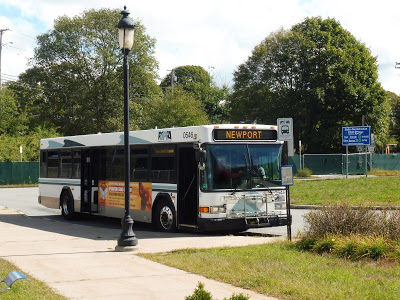 Why doesn't the bus say "64"? Beats me…
RIPTA Route: 64 (Newport/URI)
Ridership: The 64 either has bad ridership…or decent ridership. Yeah, it depends on how you look at it. RIPTA's automatic passenger counters in 2012 said that the route gets an average of 234 riders per weekday, which is pretty small; however, their farebox data said that the route got just shy of 500 riders per weekday, double what the APCs said! I'm not sure what to say about that discrepancy, but at least we can all agree that Saturday ridership stinks: 66 people.
Pros: THE VIEWS THE VIEWS THE VIEWS!!!! In all of my transit adventures so far, this has been the absolute most scenic route I've ever been on. From the sweeping water views of the two bridges, to the charming harborside running in Jamestown, to the nice little river crossing on Bridgetown Road, to the woods and farmland along Mooresfield Road…the 64 has everything! Too bad everything else about it is terrible…
Cons: What do we start with? How about the route itself? A connection from URI to Kingston just doesn't make that much sense, and ridership is very limited beyond the first two and last two weekday trips – why they even run this thing on Saturdays is beyond me. Also, what's with all those deviations in Newport? Why not leave them to the 63, which already serves those places much more frequently? And I haven't even mentioned the fact that the entire section of the route from Newport to Boston Neck Road is shared with the 14. There has to be a better way of arranging those services…and it has to be said that the Newport trips on the 14 get more ridership than the 64…
Nearby and Noteworthy: Who cares about getting off the bus when the views are so great?! But Jamestown does look like a pretty cool place, so there's that.
Final Verdict: 3/10 (but a perfect 10 for those views!)
Gosh, I could see the argument for the 64 being a rush hour only route. After all, it gets very few people, doesn't have too many notable unique sections, and is quite expensive to run. And sure, those views truly are amazing, and I wholeheartedly recommend taking a ride on the route if you feel like heading out there, but…the 64 just isn't very good!
Latest MBTA News: Service Updates