The last time I tried to ride the 114 was during the Blizzard of 2015. I waited there at Maverick in the snow for about an hour, but all that came by were 116/117s and 120s. Eventually, I gave up and headed onto the Blue Line. Presumably, the MBTA had used the bus that was going to do the 114 for a shuttle service or something since they figured no one would care – and it seemed they were right. But now, in the safety of summer, I've finally given the bus a ride, and…uh…it sucks.
Argh, another bus got in the way!
We left Maverick and headed up Meridian Street, following the route of the 116/117 (and carrying their riders). We passed the East Boston District Court and Post Office, but for the most part, the street was lined with businesses and apartments on top. After going over the portal for the Callahan/Sumner Tunnels, we navigated through some construction at a common.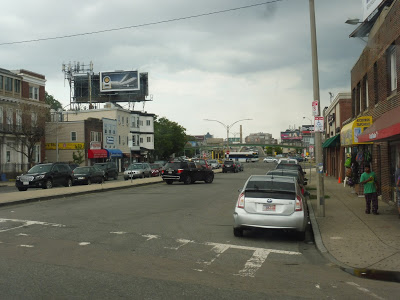 Looking down Porter Street.
The businesses continued past the square, but became dense apartments as we ascended a slight hill. We then started to head down until we reached the Andrew McArdle Bridge, which took us into Chelsea. There was a short industrial section before the street, now called Pearl Street, became lined with apartments.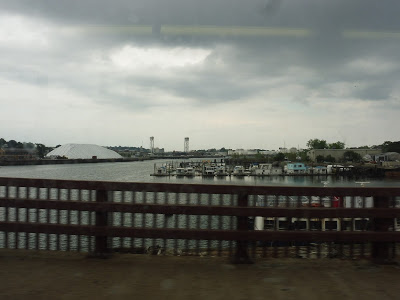 The view from the bridge! The other side had a better view, but I was sitting on the right, unfortunately.
Eventually, we merged onto Park Street, which was lined with businesses, then apartments. We then merged onto Hawthorne Street, which turned into Broadway when we entered Bellingham Square. There were lots of businesses here, but they stopped briefly as we turned onto City Hall Ave, which went around Chelsea City Hall.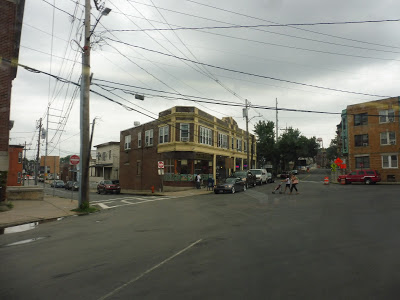 Some buildings in Chelsea.
Now we turned onto Washington Ave, heading back the way we came into Bellingham Square. We ended up back on Broadway, running past lots of businesses. Soon, we turned onto 3rd Ave, which went under the Tobin Bridge and merged onto Everett Ave. We went by more retail before turning into the Market Basket parking lot.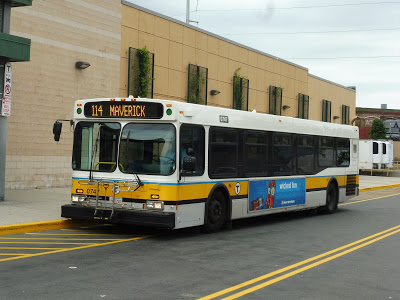 The bus at Market Basket.
Route: 114 (Bellingham Square – Maverick Station)
Ridership: The 114 gets an average of 459 riders per weekday, and considering that's only 18 one-way trips, that's great! Wow! My trip got 25 people – wonderful! But wanna know how many people used the bus past Bellingham (i.e. the shared section with the 116/117)? Two. And one of them got on at Bellingham, so they could've just used the 112.
Pros: The least I can say about the 114 is that at least it only uses one bus, so it's dirt cheap to run, at only $0.83 per passenger.
Cons: You know what else costs $0.83? Whatever the heck these action figures are (at the time of writing)…and both are equally useless. Yes, the 114 does get ridership, but that's just from passengers who would only have to wait a few minutes for the next 116 or 117. Indeed, the 114 has absolutely no coordination with the 116/117, meaning buses are scheduled to bunch. Honestly, this route is just…completely useless! Use the bus for something else, MBTA!
Nearby and Noteworthy: Look, I don't care what noteworthy things are along the 116/117 corridor (and I'm sure there are many) – the only reason you would specifically use the 114 is if you're going direct from East Boston to Market Basket. That's it! Otherwise, you could also use the 116, 117, or 112 (if you're going from Bellingham to Market Basket).
Final Verdict: 2/10
Kill it! Kill it with fire! This is a bus that absolutely does not need to exist. The only reason it gets a 2 instead of a 1 is because it's cheap to run…but that's no excuse! Yes, it gets riders from the 116/117, but it ultimately just causes bunching and messes up the coordination along Meridian Street in East Boston. The 114 could go away, and I'm sure no one would miss it.
Latest MBTA News: Service Updates