Oh, how I hate the 77 sometimes. After waiting 20 minutes for a bus on a Saturday (when headways should be 10), I ended up just walking from North Cambridge to Arlington Center. And the whole way, I kept checking back to see if a bus was coming, and when one finally did come, I got on and realized that Arlington Center was literally a few blocks away. But because of traffic and the sheer amount of people on the bus, it took forever to go just a couple of stops! Ugh! Sigh…okay, with that out of the way, here's the 80.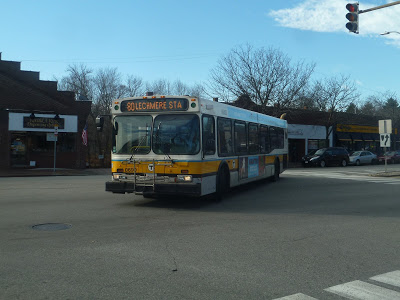 The bus rounding the turn onto Medford Street in Arlington Center.
The 80's stop in Arlington Center is different from the 87's, which also goes to Lechmere. This one is on Medford Street outside of a theater, and it's basically just a sign. Of the few people who were waiting with me, some stood under the canopy of the theater, while others just paced around. The bus came late, and then the driver left to go somewhere. 10 minutes later, the driver came back and let everyone on, now even more late than before.
That destination board is awfully faint…
Leaving the street stop, we headed down Medford Street, and the businesses of Arlington Center stopped pretty quickly. After passing a cemetery, the street was leafy and lined with dense houses. We went by a little park and playground, then the road curved east. There was a rotary that led to a crossing over the Mystic River, sending us into Medford on High Street.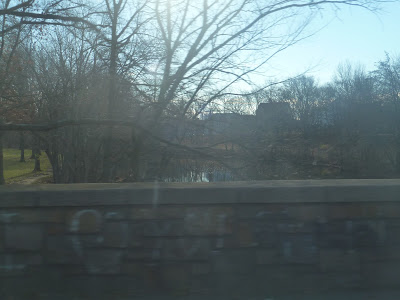 Did I get a bad picture of the river crossing? Of course I did!
There was another rotary in Medford, but the surroundings were basically the same as they were in Arlington. After a small retail block, we turned onto Boston Ave, joining the 94 and passing more houses. Eventually, we went over the Mystic River again, entering a brief industrial section in Somerville before once more returning to Medford.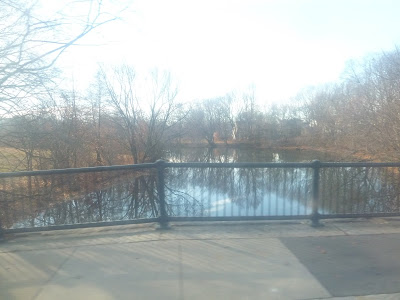 A second river crossing meant I could redeem myself, picture-wise! Too bad I didn't…
As we got closer to Tufts, a bunch of university-related businesses started coming up. We came into the university itself soon, passing lots of college buildings, which continued when we turned onto the suitably-named College Ave and entered Somerville. At the rotary of death known as Powderhouse Square, we headed onto Broadway, which soon became lined with businesses.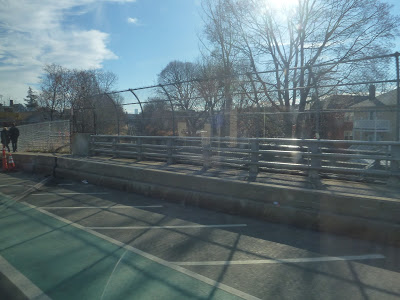 If you look closely, you can see the John Hancock building peeping up in the distance!
We crossed over the Commuter Rail tracks, then passed a field a little further down Broadway. We then turned onto Medford Street (a different Medford Street from the one in Arlington), which became residential after a little while. There were a few businesses on occasion, but it was mostly houses all the way to when we turned onto Pearl Street.
There was a small apartment building and dense houses past there. We turned onto the huge Mcgrath Highway, which rose up onto a bridge over the Commuter Rail tracks. Curving south, we exited off as the highway started to go up onto an elevated section. There was this little inlet we merged onto, which went underneath the highway and had a really dingy stop on it. We then had to deal with the strangest traffic light setup ever! Two traffic lights were right next to each other on the exact same road, but they corresponded to two intersections that were so close together that the bus was too long for the section in between!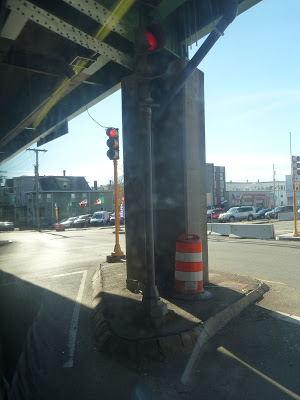 That's right…that tiny little section between the two traffic lights is the split between two intersections.
Returning to the main road, we continued alongside the highway, which was now industrial. We then curved east, rising up to join the highway as it crossed the Commuter Rail tracks once more. After a stop at the Twin City Plaza shopping center, we entered Cambridge, and reached Lechmere Station a little further down the road.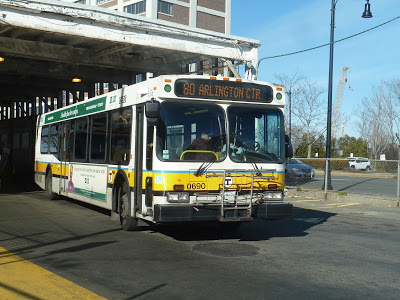 And the Lechmere busway sits in the background rusting away…
Route: 80 (Arlington Center – Lechmere Station via Medford Hillside)
Ridership:
Of the three "80s" routes that serve Lechmere, the 80 is the least-used by a wide margin. That said, it's still reasonably busy, with 2,058 riders per weekday, 1,415 per Saturday, and 826 per Sunday. My Saturday ride had decent ridership, with about 20 people in total. Only 3 of that total came from Arlington Center, while most of the riders got on during the Somerville section.
Pros: This route serves a lot and connects it to the Green Line – indeed, it roughly follows the path of the may-or-may-not-happen Green Line Extension. Also, it has a pretty good schedule most of the time: every 20 minutes during rush hour, every 25-30 minutes during the day, every 30 minutes on Saturdays, and every hour at night and on Sundays.
Cons: Yeah, okay, that last one is pretty bad. No one likes every hour bus service. But honestly, I think it makes sense here. Running every hour, the 80 can use a single bus going back and forth, and on Sundays the ridership averages out so that each trip has a decent number of people on it.
Nearby and Noteworthy: I would say Arlington Center is the most interesting locale this route serves, but it does hit up a lot of other businesses on its way down to Lechmere.
Final Verdict: 8/10
All of the "80s" routes out of Lechmere may not have the best schedules all the time, but they always make sense. Every hour on Sundays isn't optimal service, but it's efficient service. One bus shuttling back and forth along this route generally picks up a good amount of people on Sundays, and of course, it runs often most other times. Overall, this route is run as efficiently as possible, and manages to be somewhat frequent in doing so.
Latest MBTA News: Service Updates